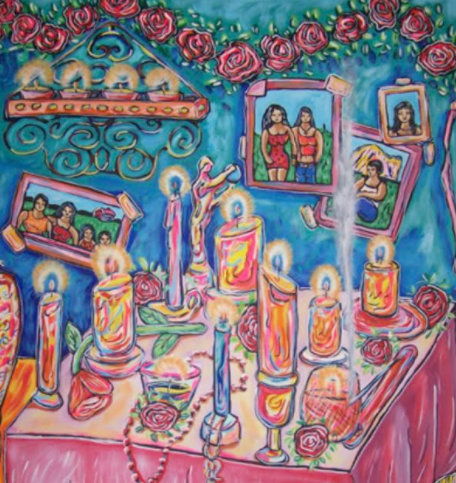 Three West Hollywood residents have received $5,000 grants as part of the city's 2021 WeHo Artist Grant program.
The grants are intended to help nurture the careers of artists, recognizing artists must have time to create his/her art while at the same time earn money for rent, food, utilities, etc. The city feels having artists living in the city contributes to the vitality of the city and overall quality of life for the residents.  
"In providing WeHo Artist Grant awards to individual artists, the City of West Hollywood aims to keep artists in the city of West Hollywood, to attract new artists to the city, and to contribute to the quality of daily life in the city," the city said in a statement.
This year's recipients are:
Antonio  Rael – a visual artist who has been a WeHo resident for the past 30 years, he is known for creating and donating art to LGBTQ causes. He hopes that this grant will support the creation of new paintings, which bring positive imagery to the community.
Samantha Lavin – an award-winning DGA director, assistant director and writer who has worked on film/television projects including Lucifer, The Mayor and Criminal Minds. She believes that film making is a collaborative process and a natural fit for community engagement in West Hollywood. She has previously served on the city's Lesbian and Gay Advisory Board.
Tristan Kilmer – a senior industry artist with a degree in experimental animation from Cal Arts. His professional work includes being a previsualization artist at Digital Domain (on Star Trek Picard and Freeguy), animator at Halon (for  Disintegration  and  Borderlands 3  cinematics), key layout artist at MPC (for Detective Pikachu, Aquaman, Dumbo, The Predator and more), and an animation director at One Roof Entertainment (for 2001: An Edm Odyssey). He hopes that this grant will allow him to improve the performance of his digital actors.
The city's Arts and Cultural Affairs Commission reviews eligible grant applications it receives each year and makes recommendations to the City Council, which makes the final decision on the WeHo Artist Grant funding.
In 2020, the city awarded artist grants to Carolyn Campbell, Fletcher Crossman, Carolina Hoyos, Ryan McCann, Felice Picano and Don Tinling.
In 2019, the city awarded grants to Matthew Finley, Rachael Mason, Brian McCarty and Steven Reigns.