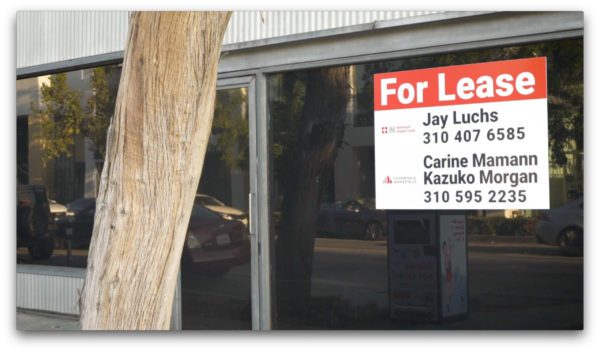 Walking or driving through the commercial areas of West Hollywood, it's impossible not to notice all the vacant stores with For Lease signs in them.
The City of West Hollywood is attempting to beautify those empty store fronts and also bring attention to properties that are for rent by creating temporary art exhibitions in those store windows via a program called Windows of WeHo (WoW).
The WoW program hopes to have full-scale window installations or other inventive storefront art exhibitions in vacant stores all across town by late spring. That's also about the time that it is hoped enough people will be vaccinated and an economic recovery can truly get underway.
To get the WoW program started, the city is creating a list of artists to pre-qualify for a chance to create art exhibitions in those store windows. Artists are invited to submit an application along with a CV/resume, an artist statement and a visual portfolio of up to 15 works. The deadline to submit those applications is Wednesday, Jan. 13 at 5 p.m. To apply CLICK HERE.
The city's Arts and Cultural Affairs Commission will review the applications in late January. Those approved will be placed on a list of pre-qualified artists for the WoW program.
In February, the city will make that list available to property owners and help match those owners to the right artist to create the full-scale window installations for the WoW exhibition.
The city expects that eight to ten artists will be selected through the pre-qualified list and they will each receive a $1,000 award.
The WoW storefronts will be installed in late spring 2021 and be on display through early fall. The city hopes these art installations will bring extra attention to vacant commercial properties, while at the same time deterring graffiti and vandalism of the buildings.
"The collection of the reimagined spaces will become an outdoor gallery exhibition where art will act as a mechanism to keep the city's commercial corridors visually engaging, while simultaneously showcasing retail spaces to the next wave of commercial tenants," the city said in a statement.
The WoW program is being run through the city's Arts Division. For more information contact the city's acting arts manager, Rebecca Ehemann, at (323) 848-6846 or at rehemann@weho.org.