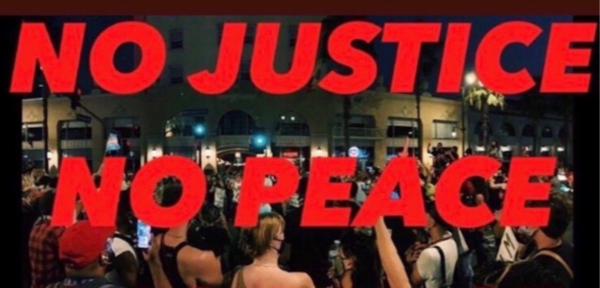 A Black Lives Matter protest, with a bit of an entertainment angle, is scheduled for the intersection of Santa Monica and San Vicente boulevards this evening.
The event, promoted in a post that says "No Justice No Peace F-ck LASD" is supposed to take place at 6:30 p.m.  "Dance for Black lives," says the promotional material, which notes that there will be dancing, a DJ, and "libations."
The West Hollywood Sheriff's Station will be closing down streets in the area as necessary.
The protest is the latest in a series that have taken place across the country since the death in Minneapolis on May 25 of George Floyd, who died after an arresting officer kneeled on his neck after handcuffing him.
A number of recent  incidents in Los Angeles County involving the deaths of or serious injury to people of color shot by Sheriff's deputies have brought the issue of police brutality to boil again here. They include Andres Guardado, the 18-year-old Salvadoran-American who was shot in the back and killed on June 18 by a police officer as he ran away from two deputies and into an alley, and and Dijon Kizzee, a 29-year-old Black man who died after Sheriff's deputies fired 19 bullets at him. The deputies stopped Kizzee for riding a bicycle on the wrong side of the street and alleged that he pulled a gun on them, an allegation that has been disputed.