The MaskHoles are at it.
Rob Bergstein and neighbors on the Eastside of West Hollywood have shared with WEHOville photos of city signs alerting people to the importance of social distancing that have been defaced by what appears to be a COVID-19 disease denier.
"Lies" is spray painted across the yard signs on Genesee Avenue, Curson Avenue and Hampton Avenue.
The signs call out the importance of staying at home (except for essential tasks), wearing a face covering, and keeping your distance from others to reduce the chance you will be exposed to the virus  in West Hollywood, where one of every 77 residents has been confirmed to have been infected.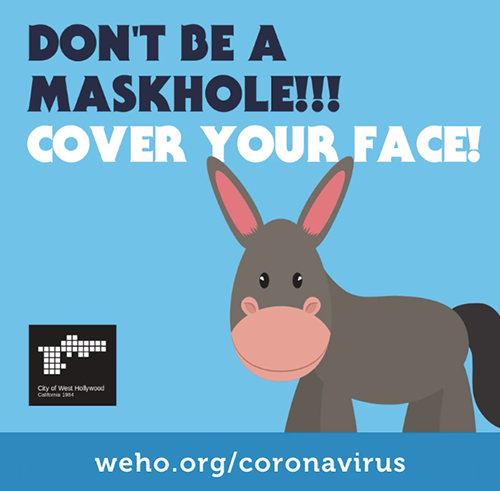 As part of its edgy "Don't be a maskhole!" campaign,  the City of West Hollywood has put up banners all over the city with messages to cover that face and maintain your space. The street pole banners have been installed on 280 street light poles throughout the city along commercial corridors. Digital graphics have been added to the rotation of images and advertising on large digital billboards on the Sunset Strip and at The Gateway, as well as to digital billboards in bus shelters in West Hollywood.
Bergstein said he has reported the defacing of the signs to the West Hollywood Sheriff's Station. Sheriff's deputies have been out enforcing the city's requirement to wear a face covering in public by issuing tickets that come with a fine of $250 with an added $50 administration fee.
Information about the COVID-19 virus and resources available to deal with the impact of it can be found on the city's website.