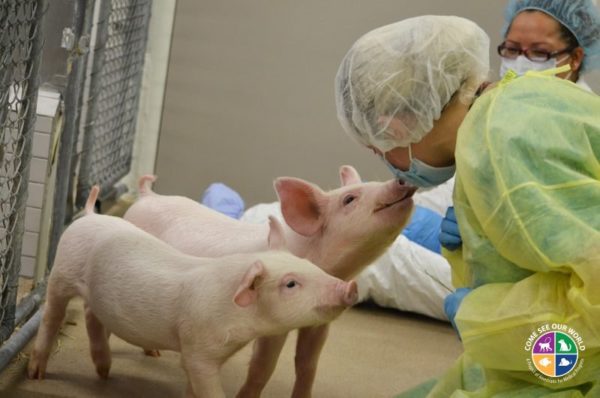 An organization that describes its mission as forcing an end to the abuse of animals in laboratories has filed a complaint with the U.S. Department of Agriculture over the death of a pig at Cedars-Sinai Medical Center.
SAEN (Stop Animal Exploitation Now)  says it has obtained a report from by Cedars that says a pig died on Feb. 12 while undergoing a "surgical procedure to evaluate how infusion of cool saline around the heart via catheter may mitigate detrimental effects of myocardial infarction."
"Approximately 15 minutes after beginning the cooling stage, the pig died under anesthesia," says the report, which noted that individual who performing the cooling procedure "was 'in training' for this procedure and not directly supervised by the lead surgeon who was occupied by a separate surgery in an adjacent operating room."
Cedars, which is located adjacent to West Hollywood and is one of the most prominent hospitals in California, is known for its medical research, with more than 100 laboratories.
SAEN said the pig's death occurred during surgery associated with a project that receives nearly $900,000 annually from the National Institutes of Health, which requires compliance with the Guide for the Care and Use of Laboratory Animals.
SAEN filed the complaint with the Agriculture Department, the agency charged with enforcing the federal Animal Welfare Act, asking that Cedars be fined $10,000, the maximum penalty for an infraction involving one animal.
"Cedars-Sinai's negligence has caused an unnecessary death," said Michael A. Budkie,  co-founder of SAEN.  "They shouldn't get away with this."
A spokesperson for Cedars said that "During a Feb. 17, 2020 procedure, an unanticipated event resulted in the death of an anesthetized laboratory pig. Cedars-Sinai promptly informed the appropriate federal authorities, conducted  an in-depth investigation and took the steps necessary to ensure the safety and integrity of our research. Those actions have resulted in both of the agencies notified  issuing letters stating that Cedars-Sinai's research programs continue to be compliant and in accord with all regulatory policies and rules.
"Cedars-Sinai has highly rigorous standards throughout our research programs to ensure the safety and humane treatment of the laboratory animals. We regret this occurrence. "