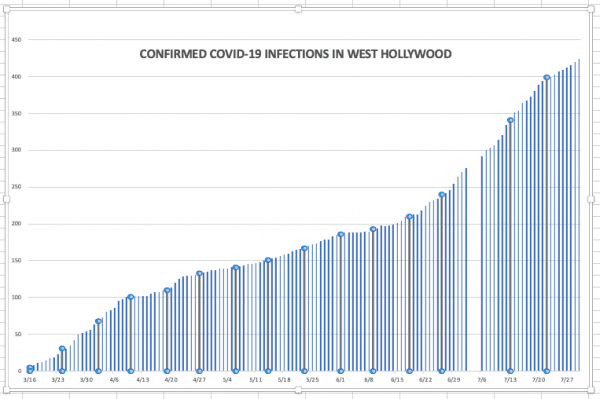 As of today, there are 2,626 newly confirmed COVID-19 infections in Los Angeles County and 41 new deaths related to the virus.  The Los Angeles County Department of Public Health to date has confirmed 185,872 infections countywide and 4,552 deaths.
The number of confirmed infections in West Hollywood has increased by four to a total of 424. There has been no increase in the five COVID-19 related deaths.
The Health Department today announced that it is launching "Angelenos in Action," a text-based survey to monitor COVID-19 symptoms in Los Angeles County. Those 18 and older who can send and receive text messages can participate in the survey. It is confidential and includes only five questions. You can enroll by texting @PROTECT to 35134. The survey is available in English and Spanish.
It also reported that it is dealing with a surge in complaints about people and businesses not adhering to COVID-19 safety measures. "In the last several months, the department has received and responded to between 2,000 and 3,000 complaints a week that come via phone, web, and email," the Health Department said today. "The paramount concern is for the safety of all employees and their families, and the department continues to actively monitor facilities and other work sites to fully implement the infection control and distancing safety requirements."
Residents are encouraged to report suspected outbreaks and notify the department if their employer isn't protecting them by following the critical infection control protocols in place. Residents can call 888-700-9995. These tips can be submitted anonymously.
In Beverly Hills, the number of confirmed infections has increased by four to 534. The number of deaths remains at nine. In Culver City there have been five more confirmed infections, bringing its count to are 318. The number of deaths has increased by one to 28.
Hollywood has 850 confirmed infections, up nine from Wednesday's count. The number of deaths remains at eight. The Melrose neighborhood has 1,411 confirmed infections, up 16 from yesterday. There has been one new death, bringing the total to 50.
Public Health has a dedicated call line for confirmed cases of COVID-19. If you are positive for COVID-19 and have not yet connected with a public health specialist or need more information on services, call toll-free at 1 (833) 540-0473. Residents who do not have COVID-19 can continue to call 211 for resources or more information.
As noted before, one way the virus can be transmitted is through a cough, a sneeze or even through air that comes from the mouth when someone talks. For that reason, residents must wear face coverings when out in public and can be cited for not doing so. The citations come with a $250 fine and a $50 administrative fee.
West Hollywood residents with questions about the COVID-19 pandemic or who are looking for resources to deal with it can find answers on the City of West Hollywood's website. Here is a list of links to sections about particular subjects and issues: