'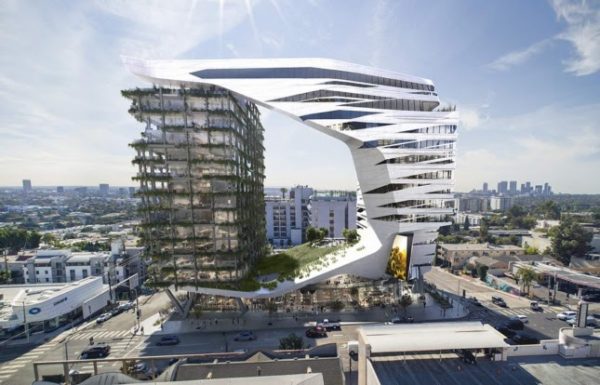 The West Hollywood Planning Commission's Design Review Subcommittee on Thursday will review plans for a 15-story, two tower hotel and residential complex at 8850 Sunset Blvd.
Slated to encompass the entire block on the southern side of Sunset between Larrabee Street and San Vicente Boulevard, the 369,000 square-foot project will be 200 feet tall, as measured from the lowest point on the site, and 185 feet tall from the Sunset Boulevard side. The designer of the project is Culver City-based Morphosis Architects, which is headed by award-winning architect Thomas Mayne.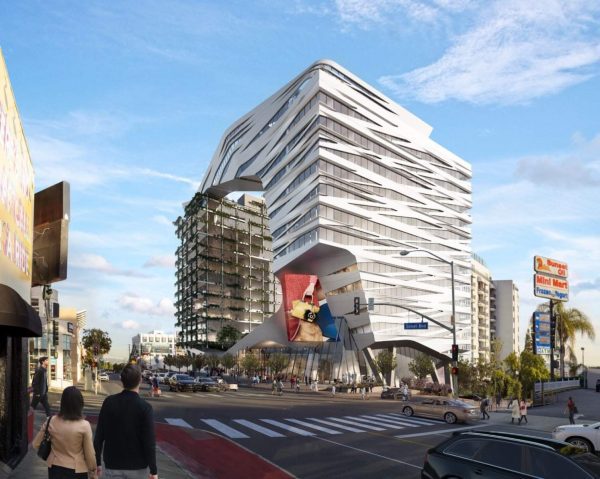 It will have ground-level retail and restaurants while a hotel in the western tower will have 115 guest rooms. The eastern tower will have 31 luxury condominiums plus 10 units set aside for low-income residents. With a 100-foot-wide opening in the middle separating floors three through 14, the two towers will be connected on the top (15th) floor, which will have a restaurant and bar open to the public.
The virtual meeting will take place at 5:30 p.m.  Those interested in participating can click on this Zoom link.
If you want to speak during the public comment period, email David Gillig at dgillig@weho in advance of the meeting to be put on the public speaker list. Include your name, the phone number from which you will be calling and note that it is agenda item 4A. To speak during the public comment period, you will need to use the "raise hand" feature in the Zoom application and will be called on.
You also can provide public comment by telephone by dialing 10 minutes prior to the 5:30 p.m. meeting. The number is (669) 900-6833, and the the meeting ID number is 966 2727 7589. You will be put on hold until it is your time to speak.
You also can email your comment to dgillig@weho.org no later than 4 p.m. on Thursday to have your comment included with the Subcommittee's agenda.