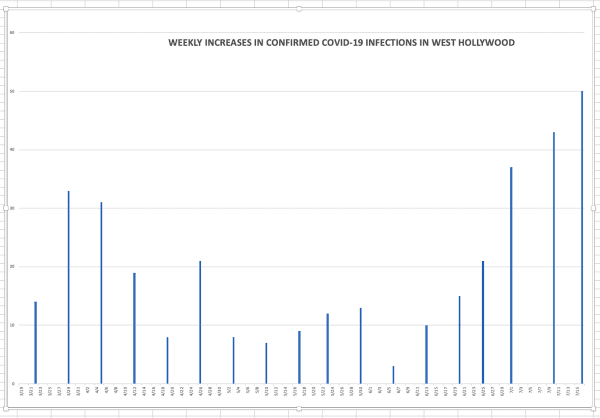 The number of COVID-19 infections and deaths associated with the virus has gone through the roof.  The L.A. County Department of Public Health today reports 4,592 new infections and 59 deaths. "This is the largest increase in new cases, surpassing the count from July 14," the Health Department said in today's announcement. "Over the last 48 hours there have been 7,350 new cases."
To date, the Health Department has identified 147,468 positive COVID-19 infections across Los Angeles County and a total of 3,988 deaths.
Of those infected, 2,173 are in the hospital with COVID-19 related illness. Twenty-seven of those people are in the intensive care unit and 17% are on ventilators.
"This week we've hit concerning milestones," said Dr. Barbara Ferrer, director of the Health Department. "We have reported the most cases in a single day, the most hospitalizations and tragically high death numbers. Each case represents a person that is capable of, and in all probability is, infecting at least one other person.
"If you do the math, it is easy to see why the alarm. In a matter of weeks, the 4,600 positive cases today could lead to over 18,000 infected people in a few weeks. And this is just from one day of new cases. Without aggressive action on the part of every person, we will not get back to slowing the spread."
Gov. Gavin Newsom and county health officials have been rescinding earlier decisions to let some non-essential businesses remain open. Indoor operations now are banned at gyms and fitness centers, places of worship, offices for non-critical sectors, nail and beauty salons and massage and tattoo parlors, and indoor malls.
Residents must wear face coverings when out in public and can be cited for not doing so. The citations come with a $250 fine and a $50 administrative fee.
The number of West Hollywood residents confirmed to have been infected now is 364, an increase of 10 from yesterday's count and an increase of 50 over the count on July 10. That is the largest weekly increase in confirmed infections to date.
The daily increase is even larger in nearby Beverly Hills, which today has 453 confirmed infections, up 28 from yesterday's count of 425. Culver City's infections total 272, up six from yesterday's 266. In the Hollywood neighborhood,679 people have been confirmed to be infected, up by 34 from yesterday's count. And in the Melrose neighborhood, the number is 1,153, up 37 from the 1,100 reported yesterday.
The number of COVID-19 related deaths of West Hollywood residents remains at four. Eight Beverly Hills residents have died and 27 Culver City residents have died.
West Hollywood residents with questions about the COVID-19 pandemic or who are looking for resources to deal with it can find answers on the City of West Hollywood'swebsite. Here is a list of links to sections about particular subjects and issues: