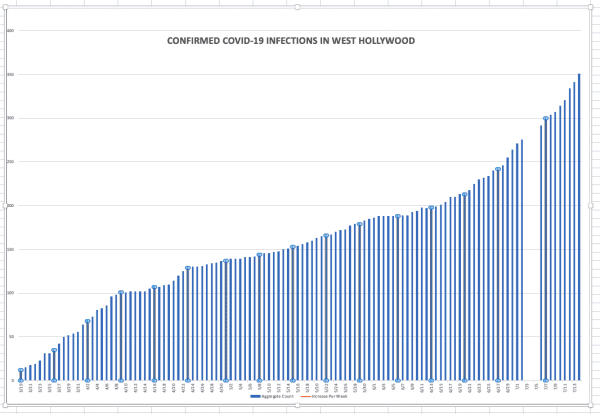 The Los Angeles County Department of Public Health (Public Health) today confirmed the highest number of new COVID-19 cases and hospitalizations reported in a single day with 4,244 new cases and 2,103 people currently hospitalized.
The rolling seven-day average of those testing positive for the virus is now 9.8%. It had been nearly 14% in April and then fell in May to less than 5%. By the end of May, the percentage of confirmed infections had begun a steady climb.
The Health Department also has confirmed 73 new deaths associated with Covid-19, the highest number reported in a day. The Health Department said there was a large lag in the reporting of deaths over the weekend, which may explain why so many are reported in today's count.
In West Hollywood, 351 people have been confirmed to have been infected with COVID-19, an increase of 10 from Monday's count. The number of confirmed infections in Beverly Hills as of today is 419, an increase of 17 from the 402 reported on Monday. Today's count in the Hollywood neighborhood is 635, up from 619 on Monday. And in the Melrose neighborhood, the count as of today is 1,100. It was 1,083 on Monday.
The growth in the number of confirmed infections has led to Gov. Gavin Newsom and L.A. County health officials reversing earlier decisions to let restaurants resume offering indoor dining and to open bars, gyms, nail and nail salons, barber shops and houses of worship. Those openings all came with strict sanitation and social distancing requirements. Yesterday Newsom rescinded his earlier decisions to let those businesses open.
There currently is no vaccination for the virus, and it poses a major risk to older adults and people with pre-existing health conditions such as diabetes and heart disease.  In addition to banning large indoor gatherings, officials in Los Angeles County and the City of West Hollywood are requiring that people wear face coverings.  A cloth that covers ones nose and mouth reduces the chance that one can transmit the invisible virus to another person by coughing, sneezing, or talking loudly.
In West Hollywood, the Sheriff's Station has been patrolling West Hollywood and Plummer parks and highly trafficked area to warn people that they can be issued a citation for not wearing a mask. That citation comes with a $250 fine and an additional $50 administration fee. Sheriff's deputies have handed out over 100 masks thus far to people they spot who aren't wearing them.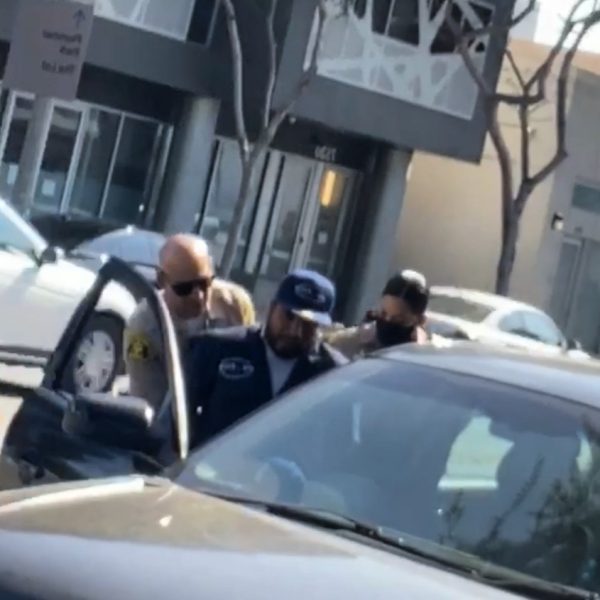 However, local residents object that enforcement isn't rigorous enough. They cite people jogging on sidewalks and standing near them in public without wearing masks. One resident sent WEHOville a photo of a Sheriff's deputy who was not wearing a mask when he and another deputy (who was masked) arrested a man today on Santa Monica Boulevard near the Trader Joe's store.
"As I was walking around 9:36 near the Trader Joes, two sheriff officers pulled a civilian over who quickly pulled to the side (7541 Santa Monica Blvd. to be exact)," he said inn an email. "The two officers got out at the same time, the passenger side officer pulled her mask out and started putting it on as she approached the passenger side of the civilians' car while the main officer decided he didn't need to put on a mask as he approached the civilian on the drivers side window. After a few seconds the civilian got out of his car and the main officer began to handcuff him. Sadly I doubt the civilian was even given a chance to put a mask on and the officer carelessly decided to move forward and handcuff him as his partner at that point stands next to him wearing her mask."
Seven people working at the West Hollywood Station have been confirmed to have been infected with COVID-19. Lt. William Moulder of the Sheriff's Station said they were looking into the incident.
Dr. Barbara Ferrer, head of the L.A. County Department of Public Health, today reiterated the importance of social distancing and wearing face coverings. "Today's numbers are alarming and unfortunately are the result of many businesses and individuals not adhering to the basic public health requirements of distancing and wearing face coverings," she said. "We are just not able to continue on a recovery journey without everyone doing their part. Keeping businesses open is only possible if we get back to slowing the spread. "
To date, Public Health has identified 140,307 positive cases of COVID-19 across all areas of L.A. County, and a total of 3,894 deaths. Ninety-two percent of people who died had underlying health conditions. Of the new cases reported today, 59% occurred among individuals under the age of 41 and the median age of new cases has dropped to 35.
West Hollywood residents with questions about the COVID-19 pandemic or who are looking for resources to deal with it can find answers on the City of West Hollywood'swebsite. Here is a list of links to sections about particular subjects and issues: