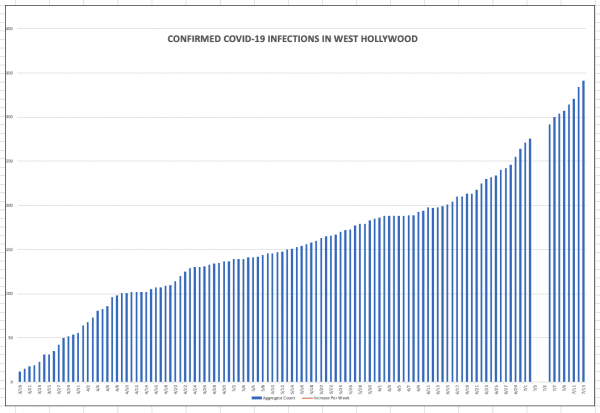 The Los Angeles County Department of Public Health today confirmed 2,593 new COVID-19 infections and 13 new deaths from COVID-19 related illnesses.
In response to the increasing surge in infections, the Health Department has modified its regulations of local businesses to comply with Gov. Gavin Newsom's order today that indoor gyms, hair salons and barber shops, houses of worship, and nail salons, massage parlors and tattoo parlors must close.
To date, Public Health has identified 136,129 positive cases of COVID-19 in Los Angeles County, and a total of 3,822 deaths associated with the virus.
There are 2,056 people hospitalized with COVID-19 related illnesses, with 28% of them in the intensive care unit and 20% on ventilators.
In West Hollywood, 341 residents are confirmed to have been infected with COVID-19, up by six from yesterday's count of 335.
The Health Department today reported 402 confirmed infections, up from 389 yesterday, in Beverly Hills. One new confirmed infection in Culver City brings its total to 248. Confirmed infections in the Hollywood neighborhood have increased by 13 to a total of 619.  In the Melrose neighborhood, there are now 1,083 confirmed infections, an increase of 20 from yesterday's count.
Residents with questions about the COVID-19 pandemic and who are looking for resources to deal with it can find answers on the City of West Hollywood's website. Here is a list of links to sections about particular subjects and issues: