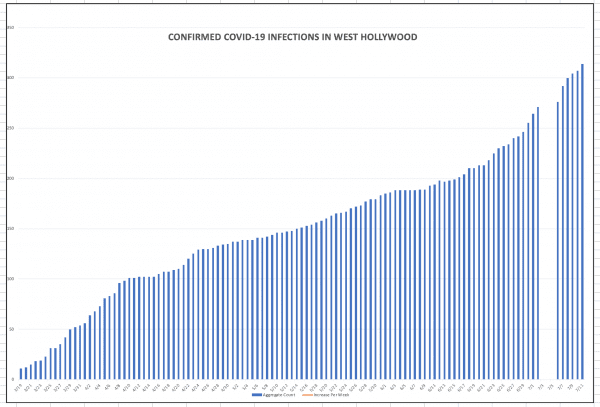 The latest data on the COVID-19 pandemic shows alarming increases in several measurements.  The Los Angeles County Department of Public Health (Public Health) today confirmed 57 new deaths and 2,916 new cases of COVID-19. 
As of today, there are more than 2,000 people currently hospitalized with COVID-19 related illnesses, with 27% of them in the intensive care unit and 18% on ventilators. This remains substantially higher than the 1,350 to 1,450 daily hospitalizations seen four weeks ago.
To date, Public Health has identified 130,242 positive cases of COVID-19 across all areas of Los Angeles County, and a total of 3,793 deaths.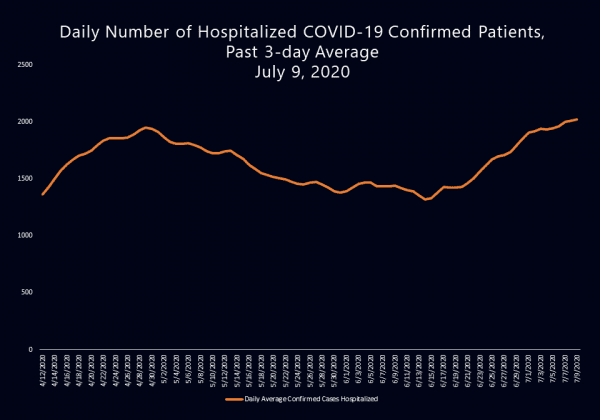 In West Hollywood, 321 residents are confirmed to have been infected with COVID-19, up seven from yesterday's count of 314.
For the second day in a row, there was been a big increase in confirmed infections among Beverly Hills residents. The Health Department today reported 21 newly confirmed infections there, bringing the total to date to 372. On Friday it reported 20 newly confirmed infections among Beverly Hills residents. Culver City today reports 242 infections, up three from yesterday. An additional 13 infections have been identified among residents o the Hollywood neighborhood, where the total is now 583. And there are 1,041 people in the Melrose neighborhood who have been confirmed to be infected, up 12 from yesterday.
Residents with questions about the COVID-19 pandemic and who are looking for resources to deal with it can find answers on the City of West Hollywood's website. Here is a list of links to sections about particular subjects and issues: