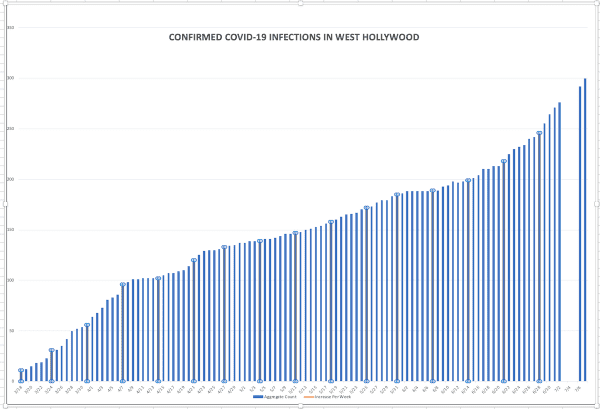 The Los Angeles County Department of Public Health today reported the highest number of new COVID-19 infections yet, although it acknowledged that the number includes a backlog of 2,000 test results from one lab from July 2 through July 5.
Today's count is 4,015 new cases, which brings the total number of infections confirmed since March to 120,539. The Health Department today reported 46 new deaths, bringing that count to a total of 3,579.
In West Hollywood the number of confirmed cases now is 300, an increase of eight from yesterday's report, according to today's Health Department announcement. However, the Health Department's COVID-19 dashboard, which it recently redesigned, continues to report 239 infections in West Hollywood and four deaths.
According to the Health Department, testing results are available for over 1.2 million people, with 9% of them having tested positive. However, the percentage of positive results has been climbing, with an average of 11.6% of those getting tested turning out to have the virus over a recent seven-day period.
The Health Department also reports that hospitalizations of people with COVID-19-related illnesses continues to grow. There are 1,969 people currently hospitalized, with 27% of them in hospital intensive care units and 18% on ventilators. That is substantially higher than the 1,350 to 1,450 daily hospitalizations seen three weeks ago.
The number of confirmed infections continues to grow in communities adjacent to West Hollywood. The Health Department today reported 311 confirmed infections about Beverly Hills residents, an increase of five over yesterday's count. Culver City today reports 232 infections, up by two from yesterday. The Hollywood neighborhood is home to 543 infected people, an increase from the 526 reported on Monday. And there are 1,005 people in the Melrose neighborhood who have been confirmed to be infected. Yesterday's count was 978.
Barbara Ferrer, the L.A. County Director of Public Health, today spoke out again about the importance of wearing face coverings and maintaining distance from people when outside one's home. "Our actions have consequences and they affect real people in our community," she said. "Choosing to not practice physical distancing or objecting to wearing cloth face coverings when around others can be a life-altering decision. Everyone shares the collective responsibility to slow the spread of COVID-19 to prevent an overwhelming surge of COVID-19 to save lives."
Residents with questions about the COVID-19 pandemic and who are looking for resources to deal with it can find answers on the City of West Hollywood'swebsite. Here is a list of links to sections about particular subjects and issues: