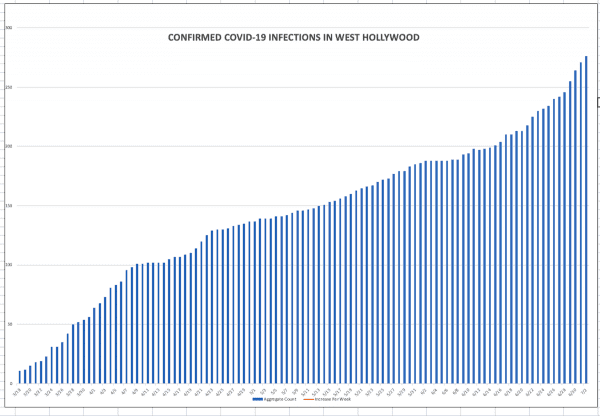 As West Hollywood heads into the July 4th weekend, county health officials and law enforcement officers will be enforcing stricter regulations on public gatherings in response to large increase in COVID-19 infections.
Those including issuing citations to people in West Hollywood who are not wearing a face covering. "Beginning this month, we will continue to utilize education and persuasion and hand out face masks, however, we will begin issuing city of West Hollywood Municipal Code citations to people who refuse to follow the face mask order while in public," said Sheriff's Capt. Edward Ramirez.
Those citations come with a fine of $250 and an additional $50 administrative fee. Bars will remain closed and restaurants are banned from permitting indoor dining. County beaches also have been closed. The Health Department is recommending that people stay at home to celebrate the holiday. "All events and gatherings unless specifically allowed by the Health Officer Order remain prohibited," it said in an announcement today. "Please enjoy your weekend with your household only. If you do go out, Public Health urges everyone to avoid the three C's: Crowded places, Confined spaces and Close contact with others not in your household. Everyone should always wear a face covering securely over your nose and mouth and keep six feet apart from others not in your household when out in public."
In a walk up and down Santa Monica Boulevard today, this writer noticed a small number of people not wearing face coverings. They included a young man carrying a skateboard, several other men who appeared to be in their 30s, a woman who appeared to be in her 70s and several homeless people. Several who were told that not wearing a fine made them subject to a citation were unaware of that.
The Los Angeles County Department of Public Health today reported 2,204 new cases of people confirmed to be infected with COVID-19. That is the fifth consecutive day that the number of new cases exceeds 2,000. And, the Health Department notes, today's count doesn't include test results it hasn't yet received from one of the larger labs that conducts such tests. There are 1,893 people hospitalized with COVID-19-related illnesses, the largest number since early May.
The Health Department reports 55 new deaths, bringing that total to 3,454.
In West Hollywood there are now 276 confirmed COVID-19 infections, an increase of five from yesterday's count. As of today, the Health Department reports that 5,824 WeHo residents have been tested for the virus. That means 4.7% of those tested have been found to be infected.
In Beverly Hills, 246 residents are confirmed to be infected, an increase of three from yesterday's count. The number of infections in Culver City is 218, up four from yesterday. The Hollywood neighborhood has 490 confirmed infections, an increase of 13 from yesterday. And the Melrose neighborhood now has 930 confirmed infections, up 28 from yesterday.
Face coverings have been determined to reduce the risk of transmission of the COVID-19 virus from an infected person to others nearby. The virus can be expelled when someone sneezes or coughs or even talks. Many people who are infected may not realize it in the early stages of the infection.
Residents with questions about the COVID-19 pandemic and who are looking for resources to deal with it can find answers on the City of West Hollywood's website. Here is a list of links to sections about particular subjects and issues: