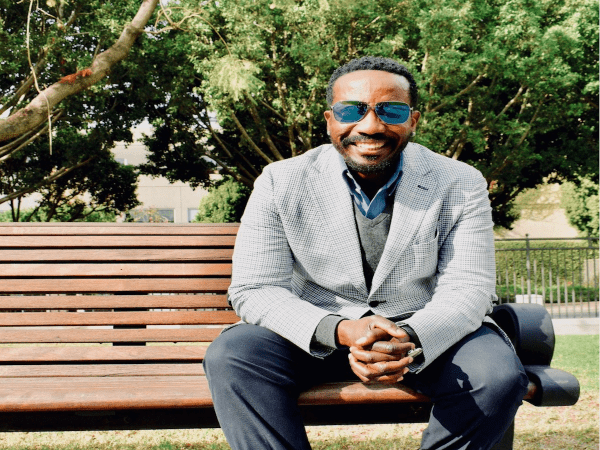 Dear White people. No, scratch that. Dear gay White people. We need to chat.
I'm a gay Black man, 58 years old, and a 30-year plus resident of West Hollywood, so I feel I'm a pretty good authority on the topic of racism within our community, yes within the LGBTQ Los Angeles community.
When I moved to WeHo in the mid-eighties, you could count the number of Black gay men in Boystown on one hand minus your thumb, and I was one of them. It was overtly apparent that gay Black men weren't welcomed, especially in the bars and night clubs, and if a White guy started chatting with you the conversation would quickly turn to "are you selling." Referring to drugs. I remember the first time it happened to me I was beyond furious and insulted. Unfortunately it happened more times then I care to remember. In the mid-'90s this great new music wave hit the scene called House Music and almost overnight White West Hollywood flocked to the biggest gay-owned Black night club, Jewel's Catch One, located at Pico and Crenshaw. The Catch, as we called it, became predominantly White leaving many in the Black gay community angry as we were losing the one place that we could call our own to the crowd who wasn't as welcoming to us in WeHo. But that's a topic for another time.
On Sunday, June 14, the day that would have been our LA Gay Pride Parade, I marched in an event that was organized by Black LGBTQ leaders as a solidarity march in support of All Black Lives Matter, which was truly an amazing multicultural and multigenerational march. But the event got off to a rocky start when CSW (Christoper Street West), which produces LA Pride, felt it was the organization to spearhead such an event. Now I can't say that CSW's intentions weren't good. However, when I heard about its plans, I questioned the motivation as holding the march on the same day that would have been our LA Pride parade seemed too coincidental. So, I asked CSW what I felt were key and very important questions: Which Black gay organizations are you partnering with, and which prominent Black community leaders were speaking? I was puzzled by the answers received as the event seemed rushed and hurried, and once again it made me feel that this was another situation of White people or an organization doing for Black people what they felt Black people needed without including our voice, which is part of the damn problem.
We are a community that since the Black Cat and Stonewall protests have fought for equality as LGBTQ individuals. But for me, as a gay Black man, I've always questioned if the fight included the Black gay community. We are a community that has its own race issues silently buried within because — news flash — just because you're gay and White doesn't mean you're not a racist.
Now I know what some of you are probably thinking. Oh, he's just another angry Black man. But let me assure you that is the furthest thing from the truth, nor do I believe that all White people in our community are racist. I'm just a gay Black man who's seen it, witnessed it, and lived it.
We are living in a time when the genie is finally out of the bottle. George Floyd wasn't the first Black man or woman killed at the hands of the police. But he's the first who's death unfolded before our eyes for 8 minutes 46 seconds thanks to a video shot by a brave young 17-year-old whose life will never be the same. A video that has sparked a long-overdue movement and call to action and change! I'm hopeful that as a community we will open our own dialogue and look at the prejudices within and take a serious look as to who we are as LGBTQ individuals and come together and celebrate our diversity. How can we demand a seat at the table when some of us are still sitting at the proverbial kid's table?