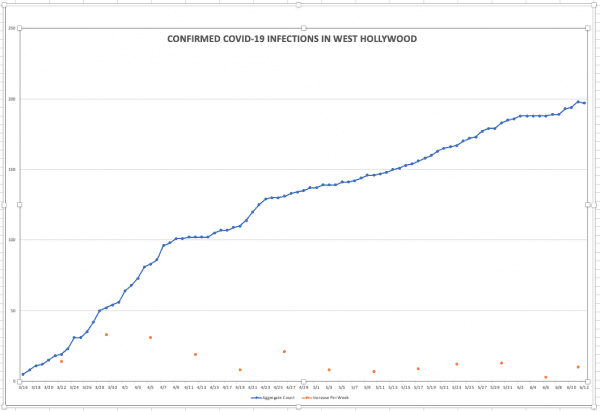 The number of confirmed COVID-19 infections in West Hollywood today is 197 according to the Los Angeles Department of Public Health.  That is one fewer than the number announced yesterday, a reduction that sometimes occurs when the Health Department learns it has the wrong address for an infected person.
The Health Department has confirmed 20 new deaths and 1,633 new cases across Los Angeles County. To date, that brings the number of positive cases of COVID-19 across all areas of LA County to 70,476 and the number of deaths to 2,832. Ninety-three percent of people who died had underlying health conditions.
The Health Department reports that 3,940 West Hollywood residents have been tested for the virus so far and the number of those who have died from COVID-19-related illnesses remains at four.
The number of confirmed infections in Beverly Hills has increased by three to a total of 158. The number of confirmed infections in Culver City has increased by two to 168. The Hollywood neighborhood now has 330 confirmed infections, an increase of five from yesterday's count. The Melrose neighborhood's infections have increased by eight to 668.
Today is the beginning of Phase 3 of the State of California's "Resilience Roadmap," which allows the opening (if certain rules are met) of:
Gyms and fitness facilities
Pro-league arenas without live audiences
Day camps
Museums, galleries, zoos and aquariums
Campgrounds, RV parks and outdoor recreation
Music, film and television production
Hotels for leisure travel
Employees and visitors to these businesses will need to wear a cloth face covering when around other people and practice physical distancing of at least six feet at all times. The City of West Hollywood today released a detailed list of the rules that must be followed for businesses to re-open in Phase 3:
·Appendix P:Reopening Protocol for Hotels, Lodging and Short-Term Rentals
The city's Film Office is currently reviewing guidance regarding music, film, and television production and will not issue permits for production until on or after July 1. Updates will be posted atwww.weho.org/filmas they are available.
The city's Recreation Services Division is maintaining plans for virtual "Summer Day Camp" as part of its #WeRecAtHome programming that prioritizes health, well-being, and social (physical) distancing. Updates will be posted atwww.weho.org/campsas they are available and community members can learn about virtual recreation programs atwww.weho.org/recreation.
In Phase 2 of the Resilience Roadmap, the Health Department authorized the re-opening, with health and safety restrictions, of hair salons, barber shops, religious services, retail, dine-in restaurants, beaches and trails.
Still closed are nail salons, tattoo shops, bars and wineries, movie theaters, live performance theaters, entertainment centers, concert halls and venues, stadiums, arenas, gaming facilities, theme parks and festivals. Click here for a detailed list of what is open and closed in L.A. County.
The Health Department continues to urge people who have symptoms of COVID-19 to get tested.
"COVID-19 testing continues to be prioritized for hospitalized patients, healthcare workers, and first responders with symptoms, as well as residents and employees, both symptomatic and asymptomatic, in long-term care facilities or other congregate living settings where there are outbreaks."
It said that it recommends testing for anyone who is older or has underlying health conditions with symptoms, as well as people who have been close contacts of people who are positive for COVID-19.
"Anyone that has symptoms should also consider testing. It is important to note testing negative for COVID-19 right after being exposed does not mean you can't become infected later during the incubation period. Individuals who are tested too soon after being exposed, are less likely to test positive because the viral load may be undetectable to the test. If anyone was possibly exposed to someone with COVID-19, and the test result is negative, they should remain at home for the full 14 days, to prevent spreading illness to others. For more information on how to get tested, visit  covid19.lacounty.gov/testing.
Residents with questions about the COVID-19 pandemic and who are looking for resources to deal with it can find answers on the City of West Hollywood's website. Here is a list of links to sections about particular subjects and issues:
Residents with questions about the COVID-19 pandemic and who are looking for resources to deal with it can find answers on the City of West Hollywood's website. Here is a list of links to sections about particular subjects and issues: