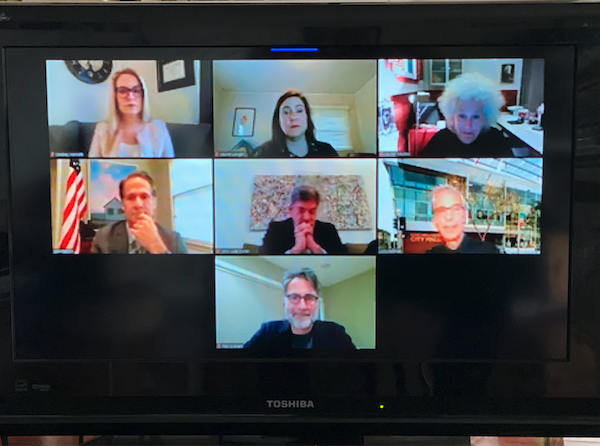 The City of West Hollywood is slowly putting meetings of its six advisory boards and nine commissions back on the calendar for virtual meetings.
The meetings, which used to take place at various locations at City Hall, the City Council Chambers, Plummer Park and West Hollywood Park, were put on hold because of the COVID-19 pandemic.
In a statement today, the city said it is "beginning to resume a more active schedule of advisory board and commission meetings, which will take place in a virtual teleconference format in order to adhere to Public Health guidelines for social (physical) distancing. "
The City Council has continued its twice-monthly meetings, with Council members calling in from home and residents able to watch (and submit statements) electronically.
The calendar on the city's website features an up-to-date listing of city meetings and events at www.weho.org/calendar. It lists a Rent Stabilization Commission meeting at 7 p.m. tomorrow and on June 25, a Planning Commission meeting on June 18, and a Business License Commission meeting on June 25.
Individual calendar listings include links to agendas and information about how to participate; agendas for all advisory board and commission meetings are available online at www.weho.org/agendas.
West Hollywood City Hall is currently closed to the public and has suspended all in-person transactions. Most public city buildings, playgrounds, parks, dog parks, and facilities are closed. City Hall will remain accessible for business and essential services with transactions to be conducted by phone (323) 848-6400 and via the city's website at www.weho.org.