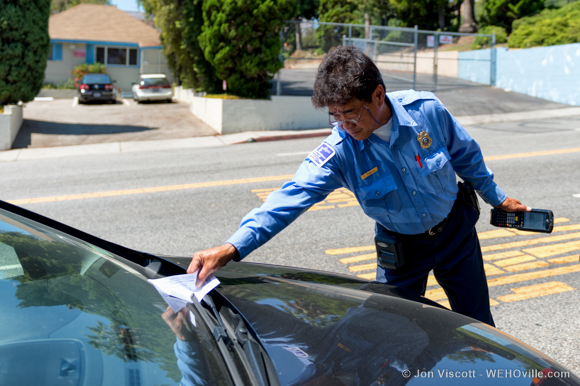 The tickets are coming.
The City of West Hollywood today announced that on June 15 it will begin enforcing previously suspended parking regulations.
Those suspended parking regulations were requirements for permits to park in designated residential areas, a ban on parking on a certain side of the street each week while street sweeping was taking place, a ban on parking on certain streets during rush hours (7 to 9 a.m. and 4 to 7 p.m.), and a ban on parking in spaces reserved for moving trucks. Tickets also will be issued to those whose cars are parked next to expired meters.
Due to the COVID-19 pandemic, on March 16 the city suspended enforcement of those parking regulations.
Given to an increase in people working at home because of offices being closed because of the pandemic, residents with valid resident or guest parking permits will be allowed to park at nearby parking meters (without paying) during street sweeping times. Vehicles must have a permit displayed and may park up to 30 minutes before and 30 minutes after the posted hours for street sweeping at the address where the permit is registered. The ability of permit holders to park at meters for street sweeping will be in effect until Aug. 31.
For the first two weeks of parking regulation enforcement (beginning June 15 and ending June 28), those violating parking regulations noted will only receive warnings and not tickets that they must pay. Beginning June 29, all regulations will be enforced by issuing tickets. Safety violations such as blocking driveways or fire hydrants were not suspended and will continue to be enforced.
For tickets issued on or after June 29, motorists will have 21 days to contest or appeal before the citation becomes delinquent.
For additional information about the enforcement of parking regulations, visit www.weho.org/parking for regular updates. For information about parking citations, call the Parking Violations Bureau at (800) 687-2458.