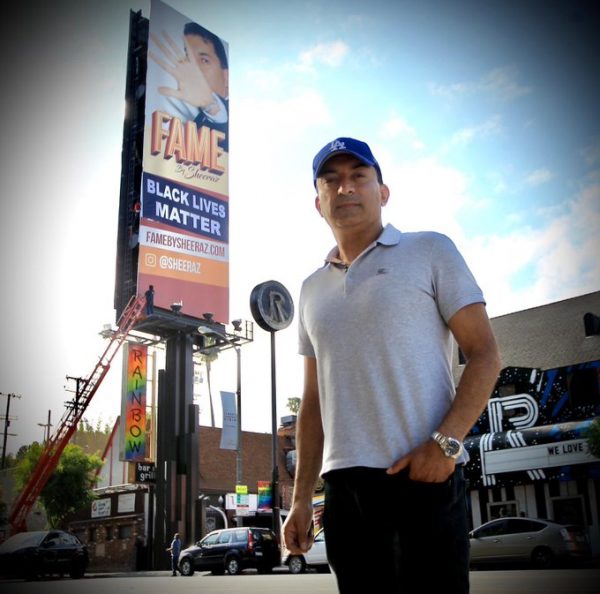 Signs expressing solidarity with Black Lives Matter have been popping up on the fronts of West Hollywood business like The Abbey, Hugo's and PUMP.
But apparently that expression of solidarity isn't quite as popular at one location on the Sunset Strip.
Sheeraz Hasan, known for his promotion on social media of Hollywood celebrities like Justin Bieber, Kim Kardashian and Tom Cruise, put a Black Lives Matter sign across his own sign on the tall billboard at 9015 Sunset Blvd. only to find it had been removed.
Celebrity gossip Perez Hilton reported that Hasan was unhappy about that and is tried to find out who ordered the Black Lives Matter signed from his Fame by Sheeraz sign. He said that the owners of the Rainbow Bar & Grill, which is adjacent to the billboard, hadn't objected to his BLM sign. " Special thanks to @rainbowbarandgrill for supporting #blacklivesmatter we will find the people who removed it thanks for all your love and support!," Hasan posted on his Instagram page #sheerazhasan.
Lindsey Lohan weighed in the matter. " Why did they just remove @sheerazhasan #blacklivesmatter message on Fame by Sheeraz Billboard on Sunset Blvd 😢" she asked on her Twitter page. @Lindsay Lohan. Earlier she has praised Hasan for putting up the BLM sign. " God Bless #BlackLivesMatters @sheerazhasan.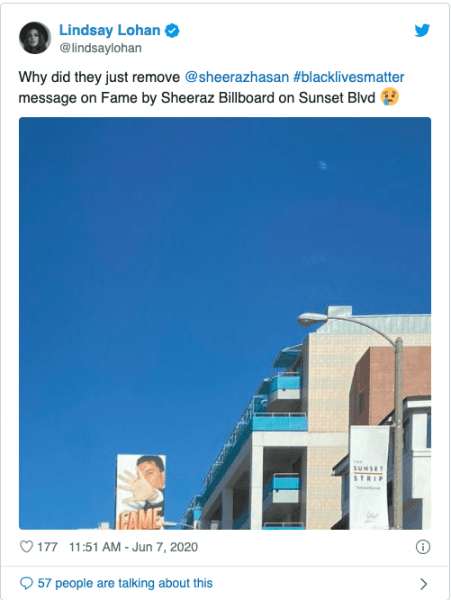 Hasan had anticipated he would face some pushback for putting up the poster. "Make no mistake, in today's climate any message you say about a politically trending topic will cause backlash," he said. "But this doesn't matter. All that matters in this moment are black lives and making sure they are not alone and they are heard."
Perez Hilton speculated that the sign was removed by the owner of the billboard "apparently concerned about the message its sending and the political implications."
"Crazy!!!," Hilton wrote, "What's up with the intolerance?!"
The billboard is the property of Ace Outdoor Advertising, the Utah-headquartered company that has been a major donor to the campaigns of West Hollywood City Council incumbents. WEHOville spoke with Sheeraz Hasan and he wanted to thank Ace Outdoor for supporting his initiative.