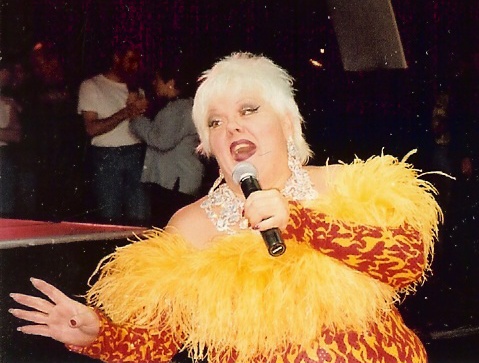 UPDATE: Friends of Irene Soderberg have launched a GoFundMe campaign. "We are opening this GoFundMe to help with Memorial fees and so that we can put together a musical celebration of Irene's life (Irene style!) in West Hollywood that will give us all the chance to express our love and gratitude for all she was, all she did to help anyone who asked, and all she did and does for our hearts," Jenny Perillo said in an announcement of the campaign. "Once the quarantine ends, we will be able to set a date…hoping for end of summer. If there are any remaining funds, they will be also be used to honor Irene's memory further in other cities, and to donate in her name to the AIDS organizations that she was devoted to helping by volunteering for hundreds of benefits that raised millions of dollars."
HIV Plus magazine described her as "equal parts Liza Minelli, Lucille Ball, and Mae West."  The Boston Mirror said she was a "fireball personality with a voice that won't quit." A performer who rose to fame on a stage rather than on YouTube or Instagram, Irene Soderberg was one of West Hollywood's hidden heroes.  Soderberg, 67, died on Sunday.
Soderberg, the daughter of Finnish immigrants, got her start by attending a tap-dancing school in the Bronx when she was three. "Black patent leather shoes with black satin bows were my idea of heaven!" she says in a story about her life. "Move over Shirley Temple, my inner Baby Drag Queen had been born!"
Soderberg grew up in rural Brush Prairie, Wash., and moved her way around the world. When she was working as a bartender at Hamburger Mary's in Waikiki she was offered a contract to perform as a tramp in Stephen Schwartz's "Godspell" musical. She did many other stage performances and has appeared in the "Child of the '70s" TV series.
"This was the impetus to propel me headlong into my dreams of torch singer, comedienne, actress, and drag queen!" Soderberg says of her role in Godspell. "Yes, my inner Drag Queen was screeching to get in on the act, how could I say no?"
Early on, Soderberg was an advocate for those infected by HIV and over the years has raised millions to support them. In 2002, San Francisco declared April 21 "Irene Soderberg Day" in recognition of her contributions.
"I lived in Hawaii for five years, '82 to '87. I talked with my doctor friend who said, 'See those beautiful boys on the beach? Fifteen of those are my patients.' I was devastated!" recalls Soderberg in an interview in HIV Plus. "Having always been a researcher, I knew about GRID [gay-related immune deficiency, as the condition was first called] and Mathilde Krim's work and hypothesis for amfAR, and knew I had to help."
"My reason for being was clear," she said. "It was my job to entertain, enlighten, and bring hope to a generation decimated by AIDS."
Eventually Soderberg discovered that she had been infected by the virus through her husband. She was living in San Francisco at the time.
Soderberg eventually moved to West Hollywood and into the Sierrra Bonita building, a property of the West Hollywood Community Housing Corp. that houses those with disabilities.  The cause of her death is not clear.  She was discovered in her apartment unit by a caretaker who visited because she hadn't responded to telephone calls.