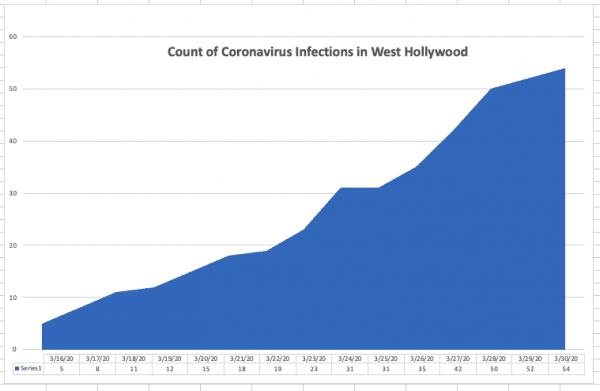 As of noon today, 54 West Hollywood residents have been confirmed to have been infected with the novel coronavirus (COVID-19). The latest number, an increase from 52 on Sunday, means one in every 682 residents has been diagnosed as being infected, and many more are likely to have been infected but not yet showing symptoms. As the number of infections has increased, so are demands by some local residents that city government do more to address the issue.
The number of infections confirmed in Los Angeles County is 2,474, an increase of 16% from
the 2,136 announced by the Los Angeles County Department of Public Health on Sunday. Forty-four people have died of the COVID-19 infection.
In its announcement of the infections today, the Health Department included a calculation of the number of people per 100,000 infected in each of the cities and communities in Los Angeles County. That calculation of 148.05 infections per 100,000 put West Hollywood just behind the Los Angeles neighborhood of Beverly Crest, which had 153.29 infections per 100,000 residents, the most of any city or community in L.A. County.
The Health Department apparently is using old Census data in making its calculations. WEHOville is using the 2019 population estimates of the U.S. Census bureau, which means there can be slight differences in calculations of number of infections per resident.
The Melrose neighborhood on the southern border of West Hollywood, which had 56 confirmed infections on Sunday, saw a huge increase in today, with 82 reported. There were 28 infections reported in Beverly Hills, up from 24 on Sunday, and 14 in Culver City, up from nine previously reported. The Hollywood neighborhood had a reported 49 infections as of today, an increase from the 44 counted as of Sunday.
Forty percent of those infected were between the ages of 41 and 65, according to L.A. County Health Department data, which doesn't include cases in Long Beach and Pasadena, which have their own health departments. Those ages 18 to 40 accounted for 39% of the infections, and those 65 and over accounted for 20% of the infections. Just one percent of those diagnosed as infected were under the age of 18.
With the steady rise in infections in West Hollywood there has been an outcry from some residents who say the city isn't doing enough to address the pandemic.
"Our fair city seems to have been just as sorely unprepared for this health crisis as other cities and the federal government, which is very disheartening," said Stephanie Harker, a resident of West Hollywood's Eastside, in an email to City Council members and others in the community.
"The 'exploring options' should have been done months/years ago," Harker wrote, in a reference to the response from City Hall about some issues like providing access to testing. "The time to make plans for an emergency is NOT a few weeks after the emergency rears its ugly head. What ARE the city's emergency plans, if in a day, a week or a month there is an earthquake or a blackout DURING the health crisis? The lack of long-range planning is appalling and downright scary. We need some (pre-emptive) action."
Larry Block, a local retailer who is also a candidate in the Nov. 3 City Council election, has taken to social media to denounce the City of West Hollywood for not providing face masks to protect residents from the virus, which is transmitted by microscopic droplets from coughs and sneezes of those infected. Block has begun selling masks that he imported from China (and giving them for free to West Hollywood residents who are seniors, ill or disabled.) Block and Manny Rodriquez, a West Hollywood West resident, also have been pushing the City Council and City Manager Paul Arevalo to give residents access to testing kits so they can find out if they are infected by the virus, which can have few to no symptoms among some people who nevertheless can transmit it to others.
Health experts generally have recommended supplying medical masks only to healthcare workers who are dealing directly with people who are or seem to be infected with the COVID-19 virus, citing a shortage of supply. However, more masks are becoming available and experts now are saying that medical masks may offer some small benefit to those who find themselves near people on the sidewalk who cough or sneeze. Health experts also recommend that kits for testing for the COVID-19 infection, which also have been in short supply, be used only with those who show symptoms of infection with the recommendation of a doctor. The City of Los Angeles has provided a link to testing servicesfor those who are ill. To be eligible for testing, one must have symptoms of infection and be 65 or over, or have symptoms and have chronic health issues, or have been ordered to quarantine themselves for 14 days because of exposure to someone who has been infected by COVID-19. City Councilmember Lindsey Horvath says she has been in discussions with Sheila Kuehl, the Los Angeles County Supervisor whose 3rd District includes West Hollywood, about having the county provide access to testing for West Hollywood residents,
Today residents also complained to City Hall about the closure of the SOVA food pantry at 8846 W. Pico Blvd. at Robertson, where people who cannot afford to buy food can go to pick up a five-day supply of free groceries and personal hygiene products. The City of West Hollywood subsidizes the SOVA pantry. Those who go to the Pico Boulevard location now are told to go to the SOVA pantry in Van Nuys, which is located in the Valley. However, SOVA has said that it will continue to make food available every other Friday at 800 N. Kings Rd. between Willoughby and Waring, where it has routinely offered food to residents of that and two adjacent public housing projects.
David Guigni, the city's Social Services manager, has called out other options such as Project Angel Food, which delivers food to those in need, and the L.A. LGBT Center, which provides lunches to seniors that can be picked up at the Harry & Jeanette Weinberg Senior Center at the Center's headquarters at 1118 N. McCadden Place in Los Angeles.
While the City of West Hollywood has been criticized for not doing enough, it has taken number of actions. On March 16 the City Council voted to declare a state of emergency. "The city's ability to mobilize local resources, coordinate interagency response, accelerate procurement of vital supplies, use mutual aid, and allow for future reimbursement by the state and federal governments, are critical to successfully responding to COVID-19," said a memo from City Manager Paul Arevalo describing the need for the state of emergency declaration.
Since then, city also has added to its website a number of resources for residents dealing with the impact of the pandemic. That includes information on the city's moratorium on evictions and links to Southern California Edison and Southern California Gas offers of utility payment assistance. For older adults, the city's website offers links to nonprofit organizations that can help one pay the rent, grocery stores with special hours for seniors, and links to the websites of nonprofits like the Los Angeles LGBT Center and Jewish Family Services that offer special service to older people. For those who are out of work, it offers links to federal, state, and nonprofit organization websites with unemployment resources and to a list of Los Angeles companies that are looking to hire. There also are links to resources for families with children and for small businesses.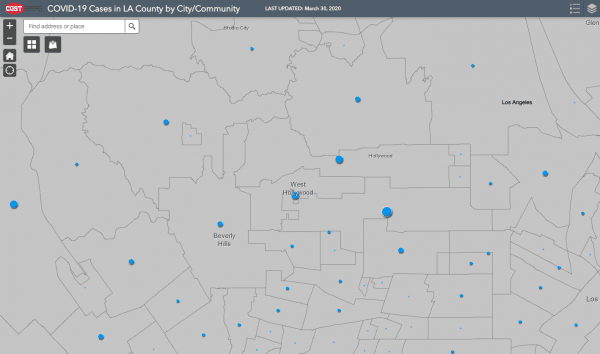 Listed below are cities in Los Angeles County, unincorporated communities in the county and neighborhoods in the City of Los Angeles with the number of confirmed infections, if any, included. In parentheses is the Health Department's calculation of the number of infections per 100,000 people:
City of Agoura Hills 9 ( 42.52 )
City of Alhambra 11 ( 12.69 )
City of Arcadia 9 ( 15.79 )
City of Artesia — ( — )
City of Avalon 0 ( 0 )
City of Azusa 3 ( 6.06 )
City of Baldwin Park 0 ( 0 )
City of Bell 11 ( 30.06 )
City of Bell Gardens 2 ( 4.67 )
City of Bellflower 17 ( 22.35 )
City of Beverly Hills 28 ( 80.8 )
City of Bradbury 0 ( 0 )
City of Burbank 21 ( 20.06 )
City of Calabasas 11 ( 45.49 )
City of Carson 35 ( 37.34 )
City of Cerritos 5 ( 10.15 )
City of Claremont 1 ( 2.77 )
City of Commerce — ( — )
City of Compton 13 ( 12.88 )
City of Covina 8 ( 16.28 )
City of Cudahy — ( — )
City of Culver City 14 ( 34.7 )
City of Diamond Bar 3 ( 5.25 )
City of Downey 25 ( 21.97 )
City of Duarte — ( — )
City of El Monte 1 ( 0.88 )
City of El Segundo — ( — )
City of Gardena 7 ( 11.54 )
City of Glendale 62 ( 30.75 )
City of Glendora 6 ( 11.49 )
City of Hawaiian Gardens — ( — )
City of Hawthorne 13 ( 14.81 )
City of Hermosa Beach 7 ( 35.51 )
City of Hidden Hills 0 ( 0 )
City of Huntington Park 4 ( 6.72 )
City of Industry 0 ( 0 )
City of Inglewood 26 ( 22.34 )
City of Irwindale 0 ( 0 )
City of La Canada Flintridge 8 ( 39.04 )
City of La Habra Heights 0 ( 0 )
City of La Mirada 7 ( 14.15 )
City of La Puente 3 ( 7.43 )
City of La Verne 2 ( 6.04 )
City of Lakewood 13 ( 16.63 )
City of Lancaster 27 ( 17.24 )
City of Lawndale 4 ( 11.98 )
City of Lomita — ( — )
City of Long Beach 99
City of Lynwood 16 ( 22.16 )
City of Malibu — ( — )
City of Manhattan Beach 31 ( 88.14 )
City of Maywood 5 ( 17.78 )
City of Monrovia 4 ( 10.68 )
City of Montebello 4 ( 6.28 )
City of Monterey Park 5 ( 8.18 )
City of Norwalk 15 ( 14.3 )
City of Palmdale 9 ( 5.64 )
City of Palos Verdes Estates 14 ( 102.44 )
City of Paramount 7 ( 12.45 )
City of Pasadena 10
City of Pico Rivera 6 ( 9.37 )
City of Pomona 5 ( 3.22 )
City of Rancho Palos Verdes 10 ( 23.31 )
City of Redondo Beach 34 ( 49.05 )
City of Rolling Hills 0 ( 0 )
City of Rolling Hills Estates — ( — )
City of Rosemead 2 ( 3.63 )
City of San Dimas 3 ( 8.82 )
City of San Fernando — ( — )
City of San Gabriel 6 ( 14.88 )
City of San Marino — ( — )
City of Santa Clarita 41 ( 18.69 )
City of Santa Fe Springs 0 ( 0 )
City of Santa Monica 47 ( 50.32 )
City of Sierra Madre 0 ( 0 )
City of Signal Hill — ( — )
City of South El Monte 0 ( 0 )
City of South Gate 14 ( 14.04 )
City of South Pasadena 5 ( 19.28 )
City of Temple City 1 ( 2.74 )
City of Torrance 43 ( 29.31 )
City of Vernon 0 ( 0 )
City of Walnut 3 ( 9.98 )
City of West Covina 7 ( 6.5 )
City of West Hollywood 53 ( 148.05 )
City of Westlake Village 0 ( 0 )
City of Whittier 8 ( 9.08 )
Los Angeles 1171 ( 29.03 )
Los Angeles – Adams-Normandie — ( — )
Los Angeles – Alsace — ( — )
Los Angeles – Angeles National Forest 0 ( 0 )
Los Angeles – Angelino Heights 0 ( 0 )
Los Angeles – Arleta 5 ( 14.24 )
Los Angeles – Atwater Village — ( — )
Los Angeles – Baldwin Hills 9 ( 30.01 )
Los Angeles – Bel Air 9 ( 109.52 )
Los Angeles – Beverly Crest 19 ( 153.29 )
Los Angeles – Beverlywood 11 ( 82.58 )
Los Angeles – Boyle Heights 11 ( 12.61 )
Los Angeles – Brentwood 34 ( 108.74 )
Los Angeles – Brookside 0 ( 0 )
Los Angeles – Cadillac-Corning — ( — )
Los Angeles – Canoga Park 4 ( 6.28 )
Los Angeles – Carthay 15 ( 111.79 )
Los Angeles – Central 6 ( 15.34 )
Los Angeles – Century City 9 ( 74.31 )
Los Angeles – Century Palms/Cove 8 ( 23.62 )
Los Angeles – Chatsworth 10 ( 27.75 )
Los Angeles – Cheviot Hills 5 ( 53.97 )
Los Angeles – Chinatown 0 ( 0 )
Los Angeles – Cloverdale/Cochran — ( — )
Los Angeles – Country Club Park — ( — )
Los Angeles – Crenshaw District — ( — )
Los Angeles – Crestview 13 ( 113.58 )
Los Angeles – Del Rey 14 ( 47.85 )
Los Angeles – Downtown 11 ( 45.36 )
Los Angeles – Eagle Rock 8 ( 20.42 )
Los Angeles – East Hollywood 10 ( 33.57 )
Los Angeles – Echo Park 5 ( 34.85 )
Los Angeles – El Sereno 3 ( 7.19 )
Los Angeles – Elysian Park — ( — )
Los Angeles – Elysian Valley — ( — )
Los Angeles – Encino 29 ( 68.18 )
Los Angeles – Exposition 0 ( 0 )
Los Angeles – Exposition Park 4 ( 8.85 )
Los Angeles – Faircrest Heights 0 ( 0 )
Los Angeles – Figueroa Park Square 0 ( 0 )
Los Angeles – Florence-Firestone 7 ( 14.33 )
Los Angeles – Glassell Park 8 ( 25.49 )
Los Angeles – Gramercy Place — ( — )
Los Angeles – Granada Hills 9 ( 15.52 )
Los Angeles – Green Meadows — ( — )
Los Angeles – Hancock Park 26 ( 158.3 )
Los Angeles – Harbor City 4 ( 13.81 )
Los Angeles – Harbor Gateway 6 ( 13.73 )
Los Angeles – Harbor Pines 0 ( 0 )
Los Angeles – Harvard Heights — ( — )
Los Angeles – Harvard Park 3 ( 7.57 )
Los Angeles – Highland Park 9 ( 18.68 )
Los Angeles – Historic Filipinotown 0 ( 0 )
Los Angeles – Hollywood 49 ( 75.45 )
Los Angeles – Hollywood Hills 26 ( 90.04 )
Los Angeles – Hyde Park 6 ( 20.42 )
Los Angeles – Jefferson Park 0 ( 0 )
Los Angeles – Koreatown 13 ( 24.71 )
Los Angeles – Lafayette Square — ( — )
Los Angeles – Lake Balboa 11 ( 26.4 )
Los Angeles – Lakeview Terrace — ( — )
Los Angeles – Leimert Park — ( — )
Los Angeles – Lincoln Heights 2 ( 6.05 )
Los Angeles – Little Armenia 0 ( 0 )
Los Angeles – Little Bangladesh 5 ( 17.2 )
Los Angeles – Little Tokyo — ( — )
Los Angeles – Longwood — ( — )
Los Angeles – Los Feliz 11 ( 51.55 )
Los Angeles – Manchester Square — ( — )
Los Angeles – Mandeville Canyon — ( — )
Los Angeles – Mar Vista 13 ( 31.03 )
Los Angeles – Marina Peninsula — ( — )
Los Angeles – Melrose 82 ( 105.62 )
Los Angeles – Mid-city 10 ( 66.39 )
Los Angeles – Miracle Mile 10 ( 56.6 )
Los Angeles – Mission Hills 6 ( 25.03 )
Los Angeles – Mt. Washington — ( — )
Los Angeles – North Hills 7 ( 11.49 )
Los Angeles – North Hollywood 34 ( 22.46 )
Los Angeles – Northridge 8 ( 11.81 )
Los Angeles – Pacific Palisades 18 ( 86.94 )
Los Angeles – Pacoima 4 ( 5 )
Los Angeles – Palisades Highlands — ( — )
Los Angeles – Palms 21 ( 46.5 )
Los Angeles – Panorama City 7 ( 9.21 )
Los Angeles – Park La Brea — ( — )
Los Angeles – Pico-Union 5 ( 11.74 )
Los Angeles – Playa Del Rey — ( — )
Los Angeles – Playa Vista 5 ( 50.08 )
Los Angeles – Porter Ranch 6 ( 18.07 )
Los Angeles – Rancho Park — ( — )
Los Angeles – Regent Square — ( — )
Los Angeles – Reseda 20 ( 26.4 )
Los Angeles – Reseda Ranch — ( — )
Los Angeles – Reynier Village — ( — )
Los Angeles – San Pedro 11 ( 14.14 )
Los Angeles – Shadow Hills — ( — )
Los Angeles – Sherman Oaks 32 ( 37.66 )
Los Angeles – Silverlake 18 ( 41.68 )
Los Angeles – South Carthay 8 ( 75.5 )
Los Angeles – South Park 4 ( 10.23 )
Los Angeles – St Elmo Village 0 ( 0 )
Los Angeles – Studio City 15 ( 70.08 )
Los Angeles – Sun Valley 6 ( 10.87 )
Los Angeles – Sunland — ( — )
Los Angeles – Sycamore Square 0 ( 0 )
Los Angeles – Sylmar 18 ( 21.75 )
Los Angeles – Tarzana 24 ( 79.4 )
Los Angeles – Temple-Beaudry 8 ( 20.52 )
Los Angeles – Thai Town — ( — )
Los Angeles – Toluca Lake — ( — )
Los Angeles – Toluca Terrace 0 ( 0 )
Los Angeles – Toluca Woods 0 ( 0 )
Los Angeles – Tujunga 4 ( 14.2 )
Los Angeles – University Hills 0 ( 0 )
Los Angeles – University Park 6 ( 22.29 )
Los Angeles – Valley Glen 4 ( 13.4 )
Los Angeles – Valley Village 19 ( 81.1 )
Los Angeles – Van Nuys 10 ( 10.77 )
Los Angeles – Venice 18 ( 52.73 )
Los Angeles – Vermont Knolls — ( — )
Los Angeles – Vermont Square — ( — )
Los Angeles – Vermont Vista 5 ( 12 )
Los Angeles – Vernon Central 4 ( 7.39 )
Los Angeles – Victoria Park — ( — )
Los Angeles – View Heights — ( — )
Los Angeles – Watts 2 ( 4.55 )
Los Angeles – Wellington Square 0 ( 0 )
Los Angeles – West Adams 9 ( 32 )
Los Angeles – West Hills 7 ( 17.89 )
Los Angeles – West Los Angeles 19 ( 50.68 )
Los Angeles – West Vernon 9 ( 16.57 )
Los Angeles – Westchester 17 ( 33.47 )
Los Angeles – Westlake 7 ( 11.93 )
Los Angeles – Westwood 26 ( 47.78 )
Los Angeles – Wholesale District 10 ( 26.18 )
Los Angeles – Wilmington 10 ( 17.46 )
Los Angeles – Wilshire Center 8 ( 15.55 )
Los Angeles – Winnetka 9 ( 17.63 )
Los Angeles – Woodland Hills 22 ( 34.09 )
Unincorporated – Acton 0 ( 0 )
Unincorporated – Agua Dulce 0 ( 0 )
Unincorporated – Altadena 10 ( 23.55 )
Unincorporated – Anaverde 0 ( 0 )
Unincorporated – Angeles National Forest 0 ( 0 )
Unincorporated – Arcadia 0 ( 0 )
Unincorporated – Athens-Westmont 7 ( 16.81 )
Unincorporated – Athens Village 0 ( 0 )
Unincorporated – Avocado Heights 0 ( 0 )
Unincorporated – Azusa 0 ( 0 )
Unincorporated – Bandini Islands 0 ( 0 )
Unincorporated – Bassett 0 ( 0 )
Unincorporated – Bouquet Canyon 0 ( 0 )
Unincorporated – Bradbury 0 ( 0 )
Unincorporated – Canyon Country — ( — )
Unincorporated – Castaic 3 ( 10.59 )
Unincorporated – Cerritos 0 ( 0 )
Unincorporated – Charter Oak 0 ( 0 )
Unincorporated – Claremont 0 ( 0 )
Unincorporated – Covina — ( — )
Unincorporated – Covina (Charter Oak) 0 ( 0 )
Unincorporated – Del Aire — ( — )
Unincorporated – Del Rey 0 ( 0 )
Unincorporated – Del Sur 0 ( 0 )
Unincorporated – Desert View Highlands 0 ( 0 )
Unincorporated – Duarte 0 ( 0 )
Unincorporated – East Covina 0 ( 0 )
Unincorporated – East La Mirada 0 ( 0 )
Unincorporated – East Lancaster 0 ( 0 )
Unincorporated – East Los Angeles 11 ( 8.66 )
Unincorporated – East Pasadena 0 ( 0 )
Unincorporated – East Rancho Dominguez 0 ( 0 )
Unincorporated – East Whittier — ( — )
Unincorporated – El Camino Village 0 ( 0 )
Unincorporated – El Monte 0 ( 0 )
Unincorporated – Elizabeth Lake 0 ( 0 )
Unincorporated – Florence-Firestone 0 ( 0 )
Unincorporated – Franklin Canyon 0 ( 0 )
Unincorporated – Glendora 0 ( 0 )
Unincorporated – Hacienda Heights 2 ( 3.66 )
Unincorporated – Harbor Gateway 0 ( 0 )
Unincorporated – Hawthorne — ( — )
Unincorporated – Hi Vista 0 ( 0 )
Unincorporated – Kagel/Lopez Canyons 0 ( 0 )
Unincorporated – La Crescenta-Montrose 0 ( 0 )
Unincorporated – La Habra Heights 0 ( 0 )
Unincorporated – La Rambla — ( — )
Unincorporated – La Verne — ( — )
Unincorporated – Ladera Heights — ( — )
Unincorporated – Lake Hughes 0 ( 0 )
Unincorporated – Lake Los Angeles 0 ( 0 )
Unincorporated – Lake Manor 0 ( 0 )
Unincorporated – Lakewood 0 ( 0 )
Unincorporated – Lennox 7 ( 29.68 )
Unincorporated – Leona Valley 0 ( 0 )
Unincorporated – Littlerock 0 ( 0 )
Unincorporated – Littlerock/Juniper Hills 0 ( 0 )
Unincorporated – Littlerock/Pearblossom 0 ( 0 )
Unincorporated – Llano 0 ( 0 )
Unincorporated – Long Beach 0 ( 0 )
Unincorporated – Lynwood 0 ( 0 )
Unincorporated – Marina del Rey — ( — )
Unincorporated – Miracle Mile 0 ( 0 )
Unincorporated – Monrovia — ( — )
Unincorporated – Newhall 0 ( 0 )
Unincorporated – North Lancaster 0 ( 0 )
Unincorporated – North Whittier — ( — )
Unincorporated – Northeast San Gabriel 0 ( 0 )
Unincorporated – Padua Hills 0 ( 0 )
Unincorporated – Palmdale 0 ( 0 )
Unincorporated – Palos Verdes Peninsula 0 ( 0 )
Unincorporated – Pearblossom/Llano 0 ( 0 )
Unincorporated – Pellissier Village 0 ( 0 )
Unincorporated – Placerita Canyon 0 ( 0 )
Unincorporated – Pomona 0 ( 0 )
Unincorporated – Quartz Hill — ( — )
Unincorporated – Rancho Dominguez — ( — )
Unincorporated – Roosevelt 0 ( 0 )
Unincorporated – Rosewood 0 ( 0 )
Unincorporated – Rosewood/East Gardena 0 ( 0 )
Unincorporated – Rosewood/West Rancho Dominguez 0 ( 0 )
Unincorporated – Rowland Heights 3 ( 5.9 )
Unincorporated – San Clemente Island 0 ( 0 )
Unincorporated – San Francisquito Canyon/Bouquet Canyon 0 ( 0 )
Unincorporated – San Jose Hills 0 ( 0 )
Unincorporated – San Pasqual 0 ( 0 )
Unincorporated – Sand Canyon 0 ( 0 )
Unincorporated – Santa Catalina Island 0 ( 0 )
Unincorporated – Santa Monica Mountains 0 ( 0 )
Unincorporated – Saugus 0 ( 0 )
Unincorporated – Saugus/Canyon Country 0 ( 0 )
Unincorporated – South Antelope Valley 0 ( 0 )
Unincorporated – South Edwards 0 ( 0 )
Unincorporated – South El Monte 0 ( 0 )
Unincorporated – South San Gabriel 0 ( 0 )
Unincorporated – South Whittier 5 ( 8.58 )
Unincorporated – Southeast Antelope Valley 0 ( 0 )
Unincorporated – Stevenson Ranch — ( — )
Unincorporated – Sun Village 0 ( 0 )
Unincorporated – Sunrise Village 0 ( 0 )
Unincorporated – Twin Lakes/Oat Mountain 0 ( 0 )
Unincorporated – Universal City 0 ( 0 )
Unincorporated – Val Verde 0 ( 0 )
Unincorporated – Valencia — ( — )
Unincorporated – Valinda — ( — )
Unincorporated – View Park/Windsor Hills 0 ( 0 )
Unincorporated – Walnut 0 ( 0 )
Unincorporated – Walnut Park 0 ( 0 )
Unincorporated – West Antelope Valley 0 ( 0 )
Unincorporated – West Carson 8 ( 36.49 )
Unincorporated – West Chatsworth 0 ( 0 )
Unincorporated – West LA — ( — )
Unincorporated – West Puente Valley 0 ( 0 )
Unincorporated – West Rancho Dominguez 0 ( 0 )
Unincorporated – West Whittier/Los Nietos 0 ( 0 )
Unincorporated – Westfield/Academy Hills 0 ( 0 )
Unincorporated – Westhills 0 ( 0 )
Unincorporated – White Fence Farms 0 ( 0 )
Unincorporated – Whittier 0 ( 0 )
Unincorporated – Whittier Narrows 0 ( 0 )
Unincorporated – Willowbrook 2 ( 5.78 )
Unincorporated – Wiseburn — ( — )
Under Investigation 222