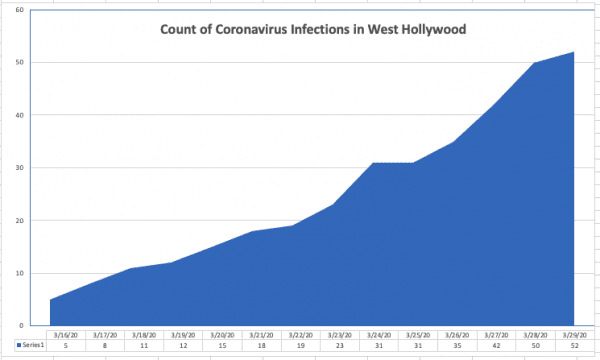 The number of novel coronavirus infections in West Hollywood increased from 50 reported Saturday to 52 as of today, meaning that one of every 709 residents of West Hollywood has been confirmed to be infected with COVID-19. That is the highest rate per capita of any city or community in Los Angeles County.
There were 2,136 confirmed infections across all of Los Angeles County, an 18% increase from Saturday's
count. The number of deaths remained at 37. The City of Los Angeles had 1,020 cases.
In an announcement of the number of confirmed infections, the Health Department said that "five of the six deaths reported as of Saturday occurred in people over the age of 60, and one death was reported for an individual between 50 – 60 years old. Two of these individuals, including the person between 50-60 years old, did not have any reported underlying health conditions. Additional information regarding some of the new cases is pending further investigation."
As of noon today, the number of infections in the Melrose neighborhood on the southern border of West Hollywood had not increase from the 56 confirmed infections yesterday.
The number of confirmed infections in other adjacent cities and neighborhoods as of today is:
Beverly Hills. Twenty four, up from 21 on Saturday.
Culver City. Nine, up from seven on Friday
Hollywood. Forty four, up from 38 on Thursday.
In its latest list of cities and neighborhoods, the Health Department has included those where no infections have been confirmed.
As always, people are reminded that they should practice social distancing – standing six feet away from others who may cough or sneeze and release droplets infected COVID-19. Although people who are sick with COVID-19 are the most infectious, it is possible that some people may spread the virus before they start to feel unwell.
It is also possible that a person can get COVID-19 by touching a surface or object that has the virus on it and then touching his or her own mouth, nose, or eyes, but this is not thought to be the main way the virus spreads.
"If you are mildly sick, stay home for at least seven days and until 72 hours after being fever and symptom free," the Health Department advises. "Call your doctor if you are concerned and/or your symptoms worsen. Individuals who are elderly, have underlying health conditions or pregnant should consider contacting their providers earlier when they are sick."
Residents with questions about the COVID-19 pandemic and who are looking for resources to deal with it can find answers on the City of West Hollywood'swebsite. Here is a list of links to sections about particular issues:
Listed below are cities in Los Angeles County, unincorporated communities in the county and neighborhoods in the City of Los Angeles with the number of confirmed infections, if any, included:
| | |
| --- | --- |
| City of Agoura Hills | 9 |
| City of Alhambra | 10 |
| City of Arcadia | 9 |
| City of Artesia | — |
| City of Avalon | 0 |
| City of Azusa | 2 |
| City of Baldwin Park | 0 |
| City of Bell | 6 |
| City of Bell Gardens | 1 |
| City of Bellflower | 14 |
| City of Beverly Hills | 24 |
| City of Bradbury | 0 |
| City of Burbank | 19 |
| City of Calabasas | 10 |
| City of Carson | 28 |
| City of Cerritos | 4 |
| City of Claremont | 1 |
| City of Commerce | 0 |
| City of Compton | 11 |
| City of Covina | 6 |
| City of Cudahy | — |
| City of Culver City | 9 |
| City of Diamond Bar | 3 |
| City of Downey | 19 |
| City of Duarte | — |
| City of El Monte | 0 |
| City of El Segundo | — |
| City of Gardena | 6 |
| City of Glendale | 46 |
| City of Glendora | 6 |
| City of Hawaiian Gardens | — |
| City of Hawthorne | 11 |
| City of Hermosa Beach | 6 |
| City of Hidden Hills | 0 |
| City of Huntington Park | 2 |
| City of Industry | 0 |
| City of Inglewood | 20 |
| City of Irwindale | 0 |
| City of La Canada Flintridge | 7 |
| City of La Habra Heights | 0 |
| City of La Mirada | 7 |
| City of La Puente | 3 |
| City of La Verne | 1 |
| City of Lakewood | 12 |
| City of Lancaster | 23 |
| City of Lawndale | 4 |
| City of Lomita | — |
| City of Long Beach | 88 |
| City of Lynwood | 14 |
| City of Malibu | — |
| City of Manhattan Beach | 27 |
| City of Maywood | 4 |
| City of Monrovia | 4 |
| City of Montebello | 4 |
| City of Monterey Park | 5 |
| City of Norwalk | 12 |
| City of Palmdale | 7 |
| City of Palos Verdes Estates | 14 |
| City of Paramount | 6 |
| City of Pasadena | 10 |
| City of Pico Rivera | 5 |
| City of Pomona | 4 |
| City of Rancho Palos Verdes | 8 |
| City of Redondo Beach | 29 |
| City of Rolling Hills | 0 |
| City of Rolling Hills Estates | — |
| City of Rosemead | 2 |
| City of San Dimas | 3 |
| City of San Fernando | — |
| City of San Gabriel | 6 |
| City of San Marino | — |
| City of Santa Clarita | 38 |
| City of Santa Fe Springs | 0 |
| City of Santa Monica | 41 |
| City of Sierra Madre | 0 |
| City of Signal Hill | — |
| City of South El Monte | 0 |
| City of South Gate | 12 |
| City of South Pasadena | 5 |
| City of Temple City | 2 |
| City of Torrance | 34 |
| City of Vernon | 0 |
| City of Walnut | 3 |
| City of West Covina | 6 |
| City of West Hollywood | 52 |
| City of Westlake Village | 0 |
| City of Whittier | 8 |
| Los Angeles | 1020 |
| Los Angeles – Adams-Normandie | — |
| Los Angeles – Alsace | — |
| Los Angeles – Angeles National Forest | 0 |
| Los Angeles – Angelino Heights | 0 |
| Los Angeles – Arleta | 5 |
| Los Angeles – Atwater Village | — |
| Los Angeles – Baldwin Hills | 9 |
| Los Angeles – Bel Air | 9 |
| Los Angeles – Beverly Crest | 18 |
| Los Angeles – Beverlywood | 11 |
| Los Angeles – Boyle Heights | 10 |
| Los Angeles – Brentwood | 33 |
| Los Angeles – Brookside | 0 |
| Los Angeles – Cadillac-Corning | 0 |
| Los Angeles – Canoga Park | 3 |
| Los Angeles – Carthay | 13 |
| Los Angeles – Central | 4 |
| Los Angeles – Century City | 8 |
| Los Angeles – Century Palms/Cove | 8 |
| Los Angeles – Chatsworth | 8 |
| Los Angeles – Cheviot Hills | — |
| Los Angeles – Chinatown | 0 |
| Los Angeles – Cloverdale/Cochran | — |
| Los Angeles – Country Club Park | — |
| Los Angeles – Crenshaw District | — |
| Los Angeles – Crestview | 11 |
| Los Angeles – Del Rey | 12 |
| Los Angeles – Downtown | 10 |
| Los Angeles – Eagle Rock | 8 |
| Los Angeles – East Hollywood | 6 |
| Los Angeles – Echo Park | — |
| Los Angeles – El Sereno | 3 |
| Los Angeles – Elysian Park | — |
| Los Angeles – Elysian Valley | — |
| Los Angeles – Encino | 27 |
| Los Angeles – Exposition | 0 |
| Los Angeles – Exposition Park | 4 |
| Los Angeles – Faircrest Heights | 0 |
| Los Angeles – Figueroa Park Square | 0 |
| Los Angeles – Florence-Firestone | 6 |
| Los Angeles – Glassell Park | 7 |
| Los Angeles – Gramercy Place | — |
| Los Angeles – Granada Hills | 8 |
| Los Angeles – Green Meadows | — |
| Los Angeles – Hancock Park | 18 |
| Los Angeles – Harbor City | 2 |
| Los Angeles – Harbor Gateway | 4 |
| Los Angeles – Harbor Pines | 0 |
| Los Angeles – Harvard Heights | — |
| Los Angeles – Harvard Park | 2 |
| Los Angeles – Highland Park | 8 |
| Los Angeles – Historic Filipinotown | 0 |
| Los Angeles – Hollywood | 44 |
| Los Angeles – Hollywood Hills | 24 |
| Los Angeles – Hyde Park | 4 |
| Los Angeles – Jefferson Park | 0 |
| Los Angeles – Koreatown | 10 |
| Los Angeles – Lafayette Square | — |
| Los Angeles – Lake Balboa | 8 |
| Los Angeles – Lakeview Terrace | — |
| Los Angeles – Leimert Park | — |
| Los Angeles – Lincoln Heights | 2 |
| Los Angeles – Little Armenia | 0 |
| Los Angeles – Little Bangladesh | 4 |
| Los Angeles – Little Tokyo | — |
| Los Angeles – Longwood | 0 |
| Los Angeles – Los Feliz | 8 |
| Los Angeles – Manchester Square | — |
| Los Angeles – Mandeville Canyon | — |
| Los Angeles – Mar Vista | 9 |
| Los Angeles – Marina Peninsula | — |
| Los Angeles – Melrose | 71 |
| Los Angeles – Mid-city | 9 |
| Los Angeles – Miracle Mile | 9 |
| Los Angeles – Mission Hills | 5 |
| Los Angeles – Mt. Washington | — |
| Los Angeles – North Hills | 6 |
| Los Angeles – North Hollywood | 30 |
| Los Angeles – Northridge | 8 |
| Los Angeles – Pacific Palisades | 15 |
| Los Angeles – Pacoima | 3 |
| Los Angeles – Palisades Highlands | |