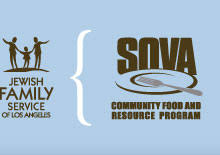 In the latest update on the closing of public events and services, the City of West Hollywood has announced that Jewish Family Services (JFS) has cancelled all activities at the West Hollywood Comprehensive Services Center at Plummer Park until April 10.
The cancellation is in response to the coronavirus and "JFS will make assessments as the situation evolves," says an announcement from the city.
Despite the closing, the announcement states that the JFS meal site will provide a frozen meal for each client coming to its meal sites on Monday and Tuesday, and the organization anticipates providing additional meals for clients in order to minimize client contact and support recommendations for social distancing.
Also, SOVA, the JFS food pantry, located on Pico and Robertson Boulevards, continues to remain open for community members.
"The JFS West Hollywood Comprehensive Service Center remains a vital resource for seniors and people with disabilities and it will continue to be operational at this time.," says the city announcement. The center is funded in large part by the City of West Hollywood and located in the community center at Plummer Park at 7377 Santa Monica Blvd.
 In response to concerns about coronavirus, JFS requests that community members contact the center by phone instead of in person. Currently, case managers are reaching out to connect with clients and assess needs. For more information, please call (323) 851-8202. The City of West Hollywood will post updates on its website at www.weho.org/coronavirus. The city is updating its calendar and information will be available online at www.weho.org/calendar. For updates from the Los Angeles County Department of Public Health about coronavirus, visit www.publichealth.lacounty.gov/media/Coronavirus.