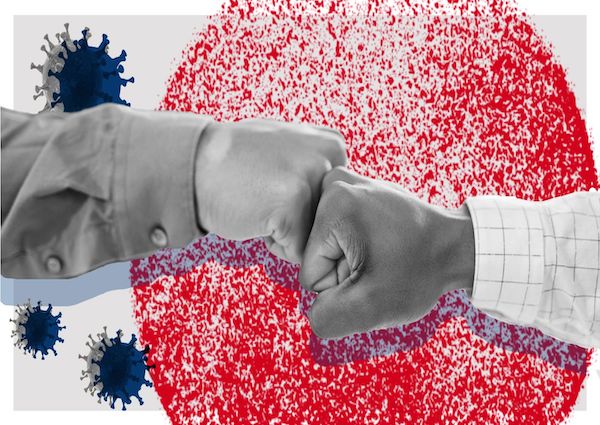 In response to the coronavirus, the City of West Hollywood has announced that it is cancelling all public meetings, including city advisory board and commission meetings through June 30, unless it determines there are essential business items to be discussed. And Christopher Street West, the non-profit that stages the annual LA Pride parade and festival, has announced that it will postpone all events associated with Pride, which was set to be celebrated June 12 through 14 in West Hollywood. That event, which would have been a celebration of Pride's 50th anniversary, typically draws tens of thousands of people to West Hollywood. Christopher Street West hopes to reschedule the event later this year.
The City of West Hollywood also will postpone or cancel all events with more than 100 potential attendees that are funded, sponsored or co-sponsored by the city or that require a city permit. That will include the Helen Albert Farmer's Market, which takes place at Plummer Park every Monday.
The city is reviewing the current calendar of meetings for the West Hollywood City Council (whose next meeting still is scheduled for Monday) and will post updates about that on its website.
The city said it is "continuing to follow the lead of the Los Angeles County Department of Public Health (Public Health), the California Department of Public Health (CA Public Health), and the Centers for Disease Control and Prevention (CDC) to respond to coronavirus disease (COVID-19).
"The City of West Hollywood is taking every precaution to prioritize community health and well-being. Based on public health recommendations from lead agencies and in an effort to safeguard public health and slow the rate of transmission of novel coronavirus, the City of West Hollywood is immediately implementing a series of immediate actions."
In addition to the steps noted above, the city's announcement states:
The city encourages postponement or cancellations for private gatherings that cannot accommodate space for social distancing of at least six feet per person;
The city encourages businesses in the community to develop plans to limit occupancy in order to encourage social distancing mindful of public health recommendations;
Gatherings of individuals who are at risk for severe illness from novel coronavirus, such as seniors and people with immunodeficiency or autoimmune disorders, should be limited to no more than 10 people (examples include people at senior centers, assisted living facilities, multi-unit housing buildings, and support groups for people with underlying medical conditions);
The city is immediately implementing the following actions regarding recreation programs for a one-week period through March 19. In its announcement, the city says it will "assess public health guidance during this period in order to extend cancellations, if necessary, in order to safeguard public health:"
The West Hollywood Aquatic Center/Pool and all current recreation programs and classes are cancelled immediately for a one-week period; and
Childcare programs will remain open, but are subject to change based upon public health direction.
"Public safety is job number one and the City of West Hollywood is taking great care to assist our partners in public health to the fullest extent possible," said Mayor John D'Amico. "Right now, our focus is doing our part to flatten the curve of the disease progression by focusing on essential city business functions and cancelling events under the city's purview. Social distancing has been proven effective in other regions, and we are following best practices to slow down the spread of this virus so our healthcare system does not become overwhelmed at this time.
"Please remain calm and take care of yourselves and each other. Follow the guidance from L.A. County Public Health and the CDC. Our community navigated the global HIV/AIDS pandemic, and we will get through this if we follow guidelines – and, please, let's do this the WeHo way with kindness and empathy."
In its announcement, City Hall says the decision to cancel and postpone events and meetings "is a precautionary measure in response to public health recommendations for social distancing. The timely implementation of aggressive strategies that create social distance and those that reduce close contact of people not regularly together, including limiting gatherings, has proven effective in prior pandemics at delaying rates of transmission and reducing illness and death.
"In a recent statement, Los Angeles County Director of Public Health Barbara Ferrer said: "With the discovery of community spread yesterday, we will continue to see more cases of COVID-19 in L.A. County. With more cases, we are urging people with underlying health conditions, pregnant women, and the elderly to practice social distancing by avoiding non-essential travel, public events, community gatherings, and indoor venues'."
The epidemic curve, a statistical chart used to visualize when and at what speed new cases are reported, could be flattened, rather than being allowed to rise exponentially, by employing tactics such as social distancing and cancelling of non-essential events and travel.
City Hall will remain open for business transactions with newly implemented protocols for sanitization. At city facilities, the schedule of sanitization and cleaning has been increased and additional hand-sanitizer stations and individual hand sanitizer bottles at service counters have been made available; disinfecting wipes are available on an as-needed basis. The city has also begun use of a disinfectant solution at all transit shelters and kiosks and in heavily trafficked locations in public rights of way.
The City of West Hollywood will post updates on its website and the city encourages community members to follow @wehocity on Twitter and Facebook and Instagram and turn on notifications for up-to-date information regarding details in the City of West Hollywood.
Some essential city meetings can be viewed on WeHoTV, which can be accessed in multiple ways:
www.weho.org/wehotv
www.youtube.com/wehotv
Spectrum Channel 10 (in West Hollywood)
AT&T U-verse Channel 99 (in Southern California)
SmartTV Apps: AndroidTV; AppleTV; FireTV; and Roku