As you sort through the advertising flyers, SoCal Edison statement and other bills in your mailbox over the next few weeks, keep an eye out for mail that will really matter. That will be an envelope from the U.S. Census Bureau.
You can expect that 2020 Census letter to arrive sometime between Thursday (March 12) and March 20.  Using the code included on the letter, you can go online and fill the form out. You also can call the Census Bureau and do it over the phone.
Why does this matter? It will have an impact, in one way or another, on your life as a citizen of West Hollywood and of the State of California.
In a campaign to get the word out about the once-in-a-decade Census count (which began in 1790), the City of West Hollywood notes that federal funds are distributed and assigned to communities based on their population. And that's how the 435 Congressional seats are apportioned. California has 53 seats. The state's number of congressional representatives increased by one after the 2000 census count but remained steady in the 2010 count. However, that count saw increases in conservative states like Texas (36 representatives), Georgia (14), South Carolina (7), New Mexico (9) and Arizona (4).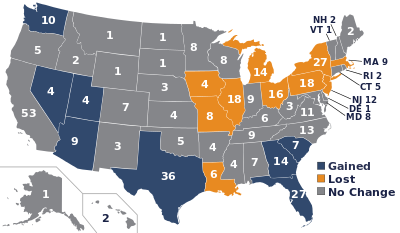 According to Hernan Molina, the city's government affairs liaison, who is overseeing the city's effort to promote participation in the 2020 Census, California runs the risk of losing at least one Congressional seat due to slower population growth and a possible inaccurate population count.
The Census also will give the city an important count of its population, which was 34,399 according to the 2010 Census and had grown to 36,854 in 2019 according to the U.S. Census Bureau's "Quick Facts," which is an estimate based on Census and other data that the actual 2020 Census is needed to confirm.
With the direction of the City Council, City Hall put together a "Complete Count Committee" (CCC) comprised of about 35 community members to figure out how to get the word out about the Census, and particularly how to reach hard to count populations such as immigrants, the city's Russian-speaking folks, LGBT people, and individuals with disabilities. That can be a special challenge in a city like West Hollywood whose population is dominated by renters, who are more likely to move from place to place and city to city than are homeowners.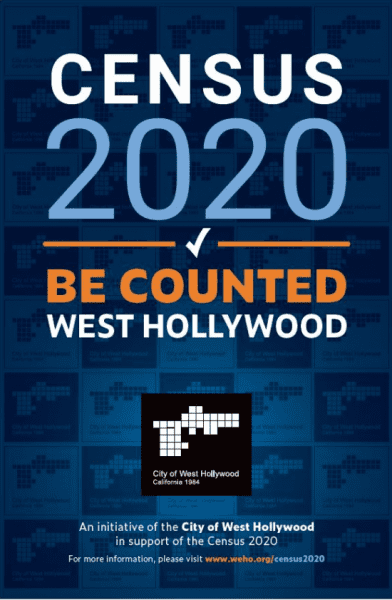 One of the ideas the Complete Count Committee embraced is designating "ambassadors," who are individuals willing to receive accurate information about the Census and pass it along to friends, family members and acquaintances.
"As trusted messengers, they are encouraged to use their social media networks, emails, etc.," Molina said. "Becoming an ambassador is a way to exercise personal leadership within your own community. The focus of our current effort is to enroll as many ambassadors as possible."
Banners in the city's parks and public facilities also will be displayed starting later this week.
In addition to stressing the impact of the Census on the city and state, the city's wants to let residents know that the personal information they share on the Census form is totally confidential and will not be shared with other federal departments or law enforcement agencies.
You can keep up to date on the city's Census campaign by checking out its social media sites:
The official Census Day is April 1. The questions on the Census form cover anyone and everyone who is living in your home as of that date. Census takers will begin visiting homes that haven't responded to the Census form from May through July. In December, it will deliver its final count to the President and Congress. And My March 31 of next year, it will send redistricting counts to states, letting them know exactly how many people they can elect to the U.S. House of Representatives.
The U.S. Census Bureau offers answers to many questions on its own website 2020census.gov. For example, you can find a sample of the question form here.
And here you can learn how to count people who live in more than one place, people who are moving on Census Day (April 10), people who are born or die on Census Day, and people who are homeless.
The Census Bureau also explains how it keeps your informational confidential.
CORRECTION: An earlier version of this story stated, based on information on the U.S. Census website, that actual forms would be mailed to individuals. In fact, the U.S. Census Bureau is mailing letters that include unique codes that one can use to go online and complete the Census questions. The story has been updated to reflect that.