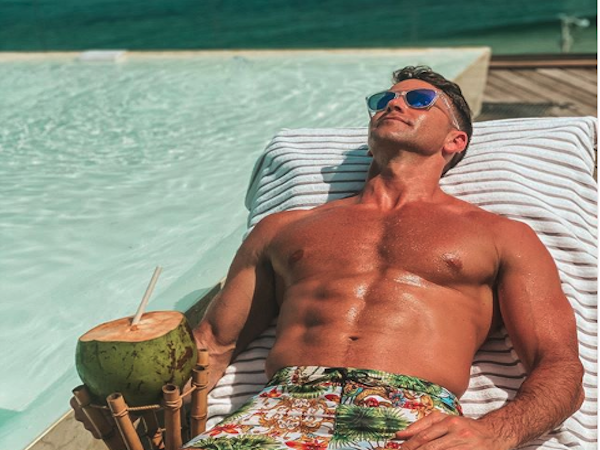 Aaron Schock is gay. Duh!
Former Illinois Congressman Rep. Aaron Schock , a Republican, was known during his 2009-2015 term in Congress as
a vote anti-gay legislators could count on. And for a financial scandal that resulted in him giving up his Congressional seat.
And recently he has become better known for the photos of him, shirtless and often in a very tight bathing suit, frolicking with gay guys (including some from West Hollywood) at events such as Coachella and a pool party at the Standard Hollywood.
But despite photos circulating online that showed him sliding his hand down the swimsuit of a gay man, Schock kept his lips sealed about his sexual orientation. Until today, when he announced in a post on Instagram that he is gay.
"For those who know me and for many who only know of me, this will come as no surprise," Schock wrote. "For the past year I have been working through a list of people who I felt should finally hear the news directly from me before I made a public statement. I wanted my mother, my father, my sisters, my brother, and my closest friends to hear it from me first."
That post on Instagram is adjacent to a photo of Schock laying poolside in a bathing suit in Rio de Janeiro, showing off his six-pack.
LGBTQNation reports that "Schock had a 0% rating on HRC's Congressional Scorecard. He voted against repealing the ban on LGB people in the military and against expanding hate crimes legislation to include sexual orientation and gender identity. In fact, he opposed any attempt to pass pro-LGBTQ legislation when he was in Congress, not just those bills related to marriage."
Now? ""The truth is that if I were in Congress today, I would support LGBTQ rights in every way I could," Schock said on his Instagram post.