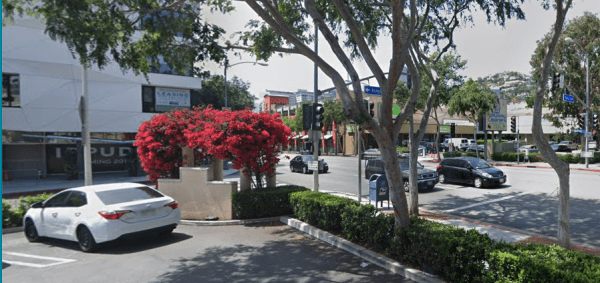 UPDATE: Capt. Ed Ramirez of the West Hollywood Sheriff's Station told WEHOville today that deputies were quickly sent to the scene of an alleged attack on a homeless woman Monday on Santa Monica Boulevard near Kings Road. Ramirez said that when the resident who witnessed the incident called the Sheriff's station, the dispatcher took important information such as the man's height and weight and what he was wearing. While the man who called to report the incident did offer to send a photo of the alleged attacker, the dispatcher is not allowed to share his or her telephone number to receive such a text.
Ramirez's statement is likely to defuse the anger expressed by some West Hollywood residents, who viewed the Sheriff's Station as having not acted in response to a call about the incident. Ramirez said deputies eventually found the witness (who supplied a photo to WEHOville of the alleged assailant) and the victim. The victim said the photo was not of her attacker and she didn't want to press charges. Deputies nonetheless took a report of the incident. WEHOville erred in not waiting for a response from the Sheriff's Station before publishing the story.
A West Hollywood resident driving on Santa Monica Boulevard near Kings Road this afternoon witnessed a man brutally kicking a homeless woman in the back.
He said the woman, who is often seen sitting on the sidewalk on Santa Monica Boulevard outside of Gelson's grocery store, was knocked over, leaving her belongings scattered.
The man, who asked not to be identified, said he reached out to the West Hollywood Sheriff's Station and was told they were not interested in his photo of the man alleged to have attacked the woman. WEHOville has published the photo with this story.
The witness said he also saw what appeared to a scattering of the belongings of other homeless people near the bus stop on the southeast corner of Santa Monica Boulevard and La Cienega, several hundred feet away.
Anyone who can identify the man is urged to call the Sheriff's Station at (310) 855-8850 and to call WEHOville at (323) 454-7707 or email Henry@WEHOville.com to share that information. WEHOville will not reveal the source of the information.