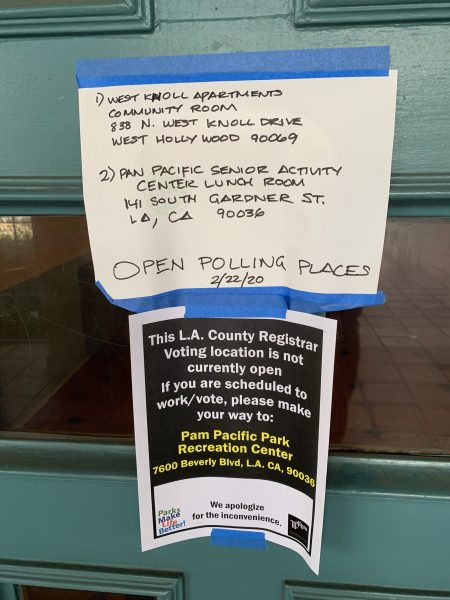 Early voting for the March 3 election opened at 7 a.m. this morning, but a glitch of some sort immediately shut down one of the two voting centers in West Hollywood.
A sign posted today at Plummer Park's Fiesta Hall said "This L.A. County Registrar voting location is not currently open. If you are scheduled to work/vote, please make your way to Pam (sic) Pacific Park Recreation Center, 7600 Beverly Blvd., L.A.," which is 1.6 miles away.
The option within West Hollywood is the Community Room at West Knoll Apartments, 838 N. West Knoll Drive in West Hollywood. It is open to voters from 7 a.m. to 8 p.m. every day through March 3.
Others nearby in Los Angeles are the Laurel Elementary School Auditorium, 925 N. Hayworth Ave., the Fairfax Senior Center Multi-purpose Room, 7929 Melrose Ave., the Rosewood STEM Magnet School Auditorium at 503 N. Croft Ave., and the Fairfax High School Rotunda Room, 7850 Melrose Ave.
A spokesperson for the L.A. County Registrar's Office said they were looking into the cause of the issue.