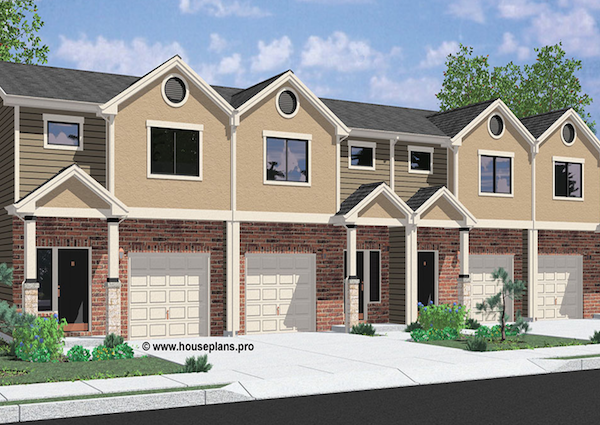 West Hollywood seems to have an abundance of luxury housing units for high-income residents as well as its share of "affordable units" for lower-income residents. However, there has long been a shortage of work-force housing.
West Hollywood's City Council hopes to do something
about that, unanimously approving at its Tuesday night meeting a study to find ways to entice developers to build more housing for middle-income households.
The type of housing envisioned is that which falls between a single-family house and a three-story or higher apartment building. The proposal is talking about finding ways to build more duplexes, triplexes, fourplexes, live-work units, row houses and bungalow courts, as well as guest houses and granny flats, the type of housing that generally hasn't been built in West Hollywood since about the 1940s.
This housing is often referred to as the "missing middle," an industry term used to describe certain types of housing products as well as the households in the middle tier of the income distribution, according to the staff report.
This "missing middle" housing would be for people who make 100% to 150% percent of the area's median income, where 100% is currently defined at $66,000 and 150% is defined at $99,000. Thus, it would be for people who do not need a housing subsidy, but still would be priced out of the market if they tried to purchase a home in West Hollywood.
Councilmember Lauren Meister initiated the idea, explaining in the staff report, "High land prices, investment expectations, few options for alternative forms of housing, and consistently rising construction and labor costs push builders to target the top end of the market, where they can find stronger profit margins. The result is that new market rate housing is priced at the upper end of the economic scale."
The proposal would see the Rent Stabilization and Housing division working in conjunction with the Planning and Development Services division and the Urban Design & Architecture Studio to figure out ways to get create this housing. Experts in the field would also be called in to help devise solutions.
Among the things they will likely consider are changes to zoning laws and building codes to encourage creation of this "missing middle" housing. As the report notes, some cities have incentivized missing middle housing by allowing duplexes and triplexes to be built in single-family neighborhoods or by relaxing requirements on setbacks and yard sizes.
West Hollywood may want to follow those examples for expanding its middle-income housing, or may want to devise completely new ideas, which is what the study will examine.
Councilmember John Duran supported the item, saying he supports any ideas for creating more housing. However, Duran felt the city already has middle-income housing, better known as condominiums.
"To me, the middle-class housing has always been the rent-controlled apartments and the condos," said Duran.