West Hollywood's Planning Commission on Thursday night delayed voting on an ordinance that would make it illegal to solicit residents to become hosts for short-term rental services like Airbnb, saying the item needed to be refined.
The ordinance was intended to prevent short-term rental companies from approaching people about hosting for the service. However, the commissioners felt the ordinance as written was so broad, a bus driving through West Hollywood with an advertisement for Airbnb on the side could be considered in violation.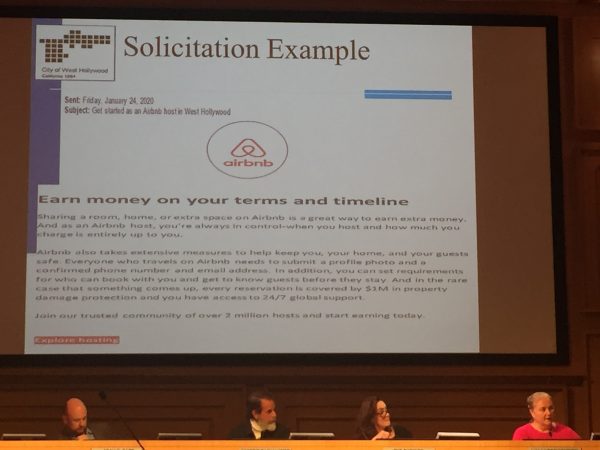 The City Council banned short-term rentals in rent-stabilized apartment buildings in March 2018 but did allow it for homeowners who want to rent out their extra bedrooms to short-term guests. However, those homeowners must obtain a home-sharing business license from the city. To date, only 24 people have obtained such a license.
Code compliance manager Danny Rivas showed a solicitation email that Airbnb recently sent to a resident encouraging him to host. The email said in part, "Earn money on your terms and timeline." Rivas explained this was the type of solicitation the ordinance was trying to prevent.
The Commission felt the intention of the ordinance was good, but the lines were "blurry," as Commissioner Lynn Hoopingarner phrased it.
As the ordinance was written, the only people whom a short-term service could legally contact about hosting are those who already have a home-sharing license. It would be illegal to contact a homeowner who has not yet registered with the city. Thus, there are currently only 24 people in the city a short-term hosting service could legally contact.
Commissioner Adam Bass said the ordinance's definition of "solicitation" was far too broad. The ordinance said, "'solicit' or 'solicitation' shall mean in-person, written, electronic and telephone-marketing communication."
Bass pointed out by that definition two neighbors talking about Airbnb could be considered in violation. He posed an example of a homeowner who hosts Airbnb guests and is registered with the city recommending to another homeowner who is not registered that hosting is a great way to earn extra money.
"How can we make it illegal for me to suggest you do something that's legal?" asked Bass.
Meanwhile, Commissioner Sue Buckner questioned how the city could possibly enforce such an ordinance.
"What's the point? I don't see how you can enforce it," said Buckner. "What's the point of having laws on the books that are very difficult and almost impossible to enforce?"
City Attorney Lauren Langer explained this ordinance would be another tool for the city to use to crack down on illegal short-term rentals.
The ordinance as written did not contain any specifics about a penalty such as a fine for violation. Buckner said without any "teeth" the ordinance was meaningless.
"Something like Airbnb to pay a $50 fine is not going to stop them. What's the consequence?" said Buckner.
Langer replied a $50 fine for one email might be inconsequential, but if the city collected thousands of solicitation emails, then the fine would have some bite.
The Commission recommended city staff revise the ordinance based on their comments and return at a future date.
To obtain a home-sharing business license, a person must prove they own the home and will be living in the home during the time the short-term guests are renting a room there. The cost of a home-sharing license is $100 for initial registration. Yearly renewals of that license are $50.