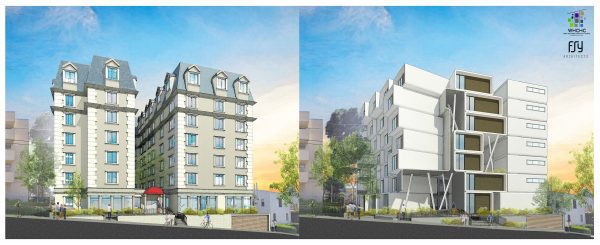 The West Hollywood Community Housing Corporation (WHCHC) has announced plans for a building with up to 100 units of affordable housing in the Norma Triangle neighborhood.
The Wetherly Palms will be located on North Wetherly Drive just north of the First Baptist Church of Beverly Hills, which is on the northeast corner of Wetherly and Cynthia Street.The seven-storybuilding will have a mix of apartment units ranging from studios to two-bedrooms. One two-bedroom unit will be reserved for a full-time resident manager.
In its announcement of the development, WHCHC said that "all units will be fully accessible to people with mobility impairments. Wetherly Palms will include ample common amenities such as outdoor recreational open space, a community room with a kitchenette, library, and computer area, a fitness room, a resident manager's office, and offices for on-site social service providers."
WHCHC staffers have been interacting with residents in nearby buildings to get their input on the project, whose height typically would draw opposition from nearby residents. The WHCHC hasn't settled on a design for the project and is seeking input from community members on various options.
"We are thrilled about the response we're receiving," said Jesse Slansky, WHCHC President & CEO. "People from all walks of life are coming together to support Wetherly Palms. West Hollywood residents know that this is a real crisis and are stepping up to be advocates for more affordable housing."
In its announcement, WHCHC notes that affordable housing is a major issue in West Hollywood, as it is elsewhere in Los Angeles County.
According to the 2019 West Hollywood Community Study, residents listed the "cost of housing and housing affordability" a top issue. Over the past decade, wages have not kept up with rents. According to the City of West Hollywood's 2017-2018 Rent Stabilization Annual Report, many in the city are paying 50%–or more–of their income on rent.
One aspect of the project that WHCHC called out is its inclusion of workforce housing.
"Workforce housing is affordable housing for households with earned income that is insufficient to secure quality housing in reasonable proximity to their workplace," the announcement noted. "The majority of people employed in West Hollywood work in the service industries including accommodation, food, and retail. These jobs do not generally pay wages high enough for people to live where they work, averaging below $40,000 annually. Approximately 80% of people employed in West Hollywood commute in, exacerbating traffic and congestion. By locating housing near jobs, Wetherly Palms addresses this quality of life issue that impacts everyone."
"Wetherly Palms is exactly the type of apartment community that is supposed to be here," said Karl Lott, WHCHC board chair and a Norma Triangle resident. "In addition to affordable housing, it offers the opportunity for us to provide workforce housing to the 'missing middle'."
Matt Mason, WHCHC's director of real estate development, noted the apartment building won't require the demolition of existing housing because it will be built on an empty 14,400-square foot lot behind the church.
"There is no tenant displacement, no environmental remediation and no historic preservation," he said. "The existing surface parking lot is a non-conforming use in an area zoned for high-density, multifamily residential housing. "
Evidence of the support that WHCHC has gathered for the project is evident in a quote in its announcement from Manny Rodriquez, an active member of the West Hollywood West Residents Association which represents the single-family and duplex homeowners south of Santa Monica Boulevard and has pushed back against proposals like state Sen. Scott Wiener's SB50, which would allow construction of denser housing near transportation hubs. WHWRA objects that SB50 would allow construction of four-story buildings in its neighborhood.
"In West Hollywood, we have always rallied to help when community members are in need," said Rodriguez. "Wetherly Palms is a continuation of the core values that drove the movement for Cityhood. It is the right thing to do, plain and simple."
"We're really quite heartened," Slansky said. "Usually, you hear about local opposition to affordable housing (NIMBYism). In this case, the community knows us, knows our work, and knows that our residents are part of the fabric of West Hollywood."
West Hollywood Community Housing Corporation (WHCHC) is a 501(c)(3) non-profit community housing development organization. It has been building affordable housing and providing services to residents since 1986. WHCHC currently houses over 800 residents in 16 affordable apartment communities in three cities. WHCHC has seven projects currently in development.