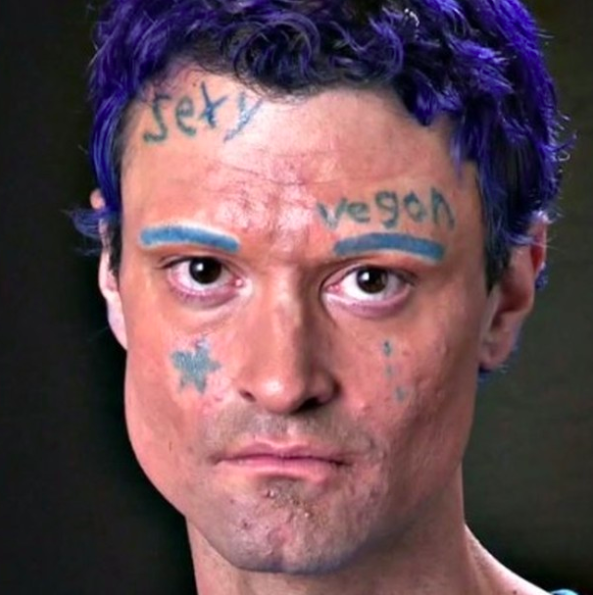 Sexy Vegan, aka Hansel DeBartolo III, pleaded no contest today to a misdemeanor charge of disturbing the peace stemming from a video he posted online last year that prosecutors
said showed a pit bull "licking the defendant's rear end."
DeBartolo, who is said to bea resident of West Hollywood, was immediately sentenced to two years of summary probation, 100 hours of community service and 52 weeks of a sex offender program.
He will be barred from owning any animals during his time on probation, according to the District Attorney's Office.
Prosecutors said in a statement that DeBartolo "posted a video on a social media account depicting a pit bull licking the defendant's rear end." He originally had been charged with misdemeanor counts of sexual assault on an animal and posting obscene matter.
DeBartolo, 37, was arrested in September Newhall on Thursday, where the Santa Clarita News reported that he maintains a home that detectives searched. Two dogs were removed from the home by the Los Angeles County Department of Animal Care and Control.
While DeBartolo has a home in Newhall, his IMDB profile says that he moved from a Chicago suburb to West Hollywood in 2016 and a City News Service story about his arrest identified him as a WeHo resident. He legally changed his name to Sexy Vegan after moving to West Hollywood and had the name tattooed on his forehead and chest. On his IMDB profile, he claims that he is running as an independent candidate in the 2020 presidential election.
Sexy Vegan has built his social media following largely by promoting his buttocks. He has appeared on the Dr. Phil show, where he promoted himself as a friend of insects.
"He … always provides ventilation as to not trap insects & keeps the cap off drinks and other items as to not trap insects," says his IMDB profile, which apparently was written by him. "He puts toothpaste on bottle caps and sticks them to drawers and freezer/fridge so that insects have a way to come and go without losing their freedom as well as colder water as well as always leaving zipper and other doors/compartments open a little as not to trap insects. He also doesn't use soap cause it paralyzes insects and is toxic to skin."
DeBartolo still maintains an Instagram account @sexyvegan6969.  Another earlier Instagram account — @skinnywithabigbutt  – is also live.