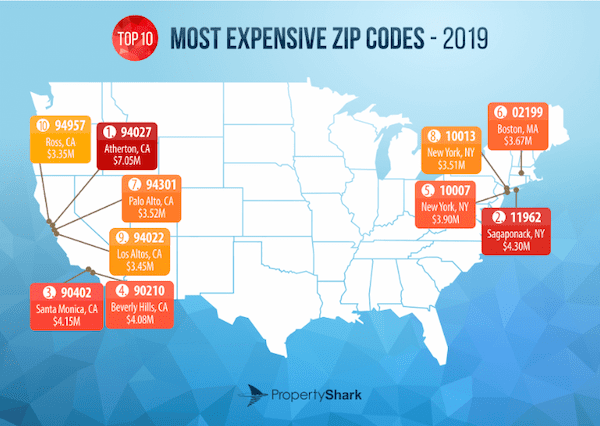 Los Angeles County ranks second among all counties in the United States in the number of homeless people. But when it comes to the high cost of housing, it ranks No. 1 in a list of the "Top Most Expensive Zip Codes in 2019," compiled by PropertyShark, the real estate data service.
PropertyShark reports that 21 of the 125 most expensive zip codes in America are located in L.A. County. One of them, ranked the 66th most expensive in the nation, is 90048. A small portion of that zip code includes West Hollywood West, a neighborhood dominated by single family homes. The median sale price in 2019 of a home in the 90048 zip code, which is the statistic on which the ranking is based, was $1.675 million.
Santa Monica's 90402 zip code had the third highest median sale price in the nation — $4.154 million. Beverly Hills' 90210 ranked fourth with a median sale price of $4.080 million. Beverly Hills' 90212 zip code ranked 39th
with a median sale price of $2 million and its 90211 zip code ranked 42
nd
with a median sale price of $1.968 million. Culver City's 90232 ranked 89
th
at $1.475 million.
The zip code that ranked No. 1 in PropertyShark's list of most expensive sales in 2019 was 94207 in Atherton, where the median property sale was $7 million.  Atherton is an affluent city in San Mateo County south of San Francisco.