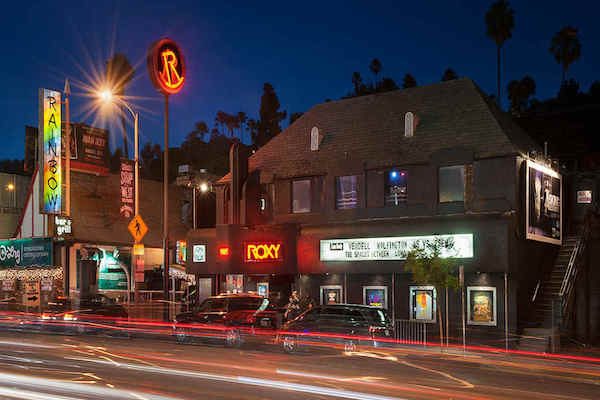 DEEGAN ON LA—"California Dreaming," the 1960's Mamas and Papas hit that has added an evocative phrase to our vocabulary, could become elevator music for a collection of rock and roll themed hotels on the Sunset Strip, if it ever came to that.
Hard Rock Hotels, which they have branded as "Made for Music," describes its two dozen hotels around the world as being "rooted in the spirit of music." Another nine are coming soon. They have proved that theming a hotel is not just for the Las Vegas Strip: maybe it could also work on the Sunset Strip, which is deeply rooted in music with legendary spaces like the Roxy, the Whisky A Go Go, the Rainbow Bar and Grill, and the Viper Room.
What a Sunset Strip attraction a collection of rock and roll hotels would be, with brand extensions for already iconic brands—imagine: The Viper's Guest Rooms, Rainbow Dreams, On the Roxy,
or Whiskey Nights, each with guest rooms and suites available for your party and play, or comfort and dreams. Like Hard Rock, they could eventually franchise into other locations, referencing their Sunset Strip legacy.
The kickoff to the "wonderland" of this dream is the proposed new hotel at the Viper Room site, where noted architect and 2005 Pritzker Prize winner Thom Mayne and his Morphosis Architects, wants to combine a fabled location (the Sunset Strip), and a well-known club brand (The Viper Room) into elements of an ambitious dream that developers are imagining, and neighbors are resisting, in a storied corner of West Hollywood.
The 15 stories high mixed-use project at 8850 Sunset Boulevard would become what Morphosis describes as a "re-envisioned, larger Viper Room with recording studio" and a 5-star luxury hotel with 115 hotel guest rooms, plus 31 condo units, 10 units of affordable housing, a restaurant, a bar, and retail spaces. 
Is this just an extension of the saturation of hotels on the Sunset Strip, and does West Hollywood really need more hotels? The answers could be "maybe" and "yes," when you look at the economic impact hotels have had on the finances of West Hollywood, and what a leading role they play in sustaining "the creative city".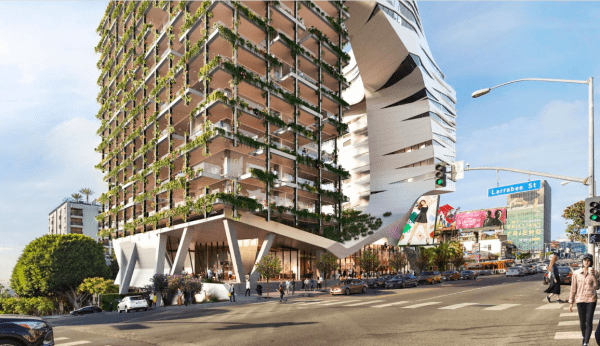 We may not separate out "bed taxes" that are a part of our hotel bills when we travel, but the politicos sure do. The Transient Occupancy Tax (TOT) charged by a West Hollywood hotel throws off 12.5% of the gross hotel room rent. It's an easy stream of revenues to be caught by City Hall.
In 2018, West Hollywood received $24.8 million in Transient Occupancy Taxes (on hotel room rents of nearly $200 million), second only to the $25.2 million of Property Taxes. Sales taxes came in third at $18.0 million. Taken together, these three revenue streams accounted for 80% of the city's general revenues. The bed taxes, alone, contributed one-third of the city's general revenue. They are that significant.
The twelve hotels that were reported in West Hollywood's 2018 Comprehensive Annual Financial Report are incredibly important to the financial health of West Hollywood. An addition of four "rock and roll" hotels on the Strip, comparatively, could bring in $40 million annually in bed taxes. The voice of a representative ownership coalition of that cluster could be amplified way beyond that of individual hoteliers, giving them magnified political power in the city.
Annual financial reports by the city show that bed tax revenues have more than doubled (from $12.1 million to $28.4 million), and the number of hotels has increased almost 50% (from 14 to 20), in the past ten years.
No wonder so many hotels are being built…they are not only helping to drive the West Hollywood economy but also provided 1,515 jobs in 2018 which is 6% of the 26,000 jobs in West Hollywood, says the annual report.
And, unlike payers of property or sales taxes, the hotels that pay bed taxes have the ability to band together and lobby for amenities from the city.
What's not to like? Plenty. The streets are already choked with traffic. Billboard blight is overpowering. Neighbors and community groups are already stressed enough just living with the existing onslaught of construction. They are opposing the Viper Room project and would be expected to fight hard against a notional Roxy-Whiskey-Rainbow collection of hotels.
An advantage for the opponents of this growth is that the City Council of West Hollywood has been elected each term (with two exceptions) in elections where the total number of ballots averaged 5,200. It doesn't take too many votes to win a council seat; in some cases, not even 1,000 votes.
The hotel building boom was authorized by the City Council, which is the change agent for unhappy community stakeholders. For decades, since the city was incorporated in 1984, it was a closed shop. Until voter-approved Measure C established a limit of three 4-year terms for members of the West Hollywood City Council just five years ago, being a serial city councilperson could be, and often was, a career. For example, one council member, John Heilman, until recently had served 30 years, often as mayor. Another serial seat holder, Abbe Land, was mayor five times in her 23 years as a council member.
Power can go to the people that are able to mount a GOTV (Get Out The Vote) movement behind three "slow growth" candidates that would need (historically) around 1,500 votes each to win the majority of council seats, and then have a majority voice in who the Mayor would be. The existing politicos are not going to kill the growth of bed tax profits and then have to find an alternative cash cow to help finance the city's operations.
Until that voter pushback, developers and politicos will continue to be dreaming their rainbow dreams.
EDITOR'S NOTE: This article was shared with WEHOville by CityWatch Los Angeles, Los Angeles's leading opinion, news and information website, and newsletter.