Todrick Hall is perhaps best known for making it to the semi-finals on American Idol and serving as a judge on RuPaul's Drag Race, and, in West Hollywood, for his appearance as the lead
in several of the city's promotional videos.
Now he's in the news after a series of tweets by his former personal assistant alleging sexual assault and harassment, racism, and other bad behavior.
In a tweet on Oct. 19, Tommy McKissocksays he knows "every detail of his life including deliberate non-payment to people, racism, sexual assault, sexual harassment, online bullying, exploitation, illegal business practices."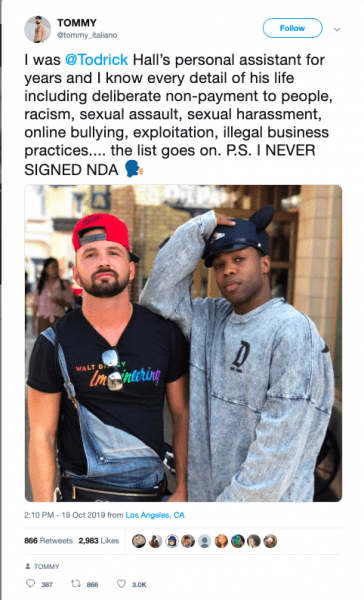 "I don't want anything out of this," hetweetedon Oct. 19. "I just want people to know he is a very bad person. He manipulates, hurts & deceives anyone he can use because he is a narcissist. I have many receipts- I produced a docu-series on him. Stay tuned."
McKissock also shared a link to a lawsuit filed in New York by a lawyer for Stephen Land, who worked on Hall's "Straight Outta Oz" tour. In the suit, which was settled out of court, Land said had failed to pay him for his work and claimed that Hall had sexually harassed him, having "persistently asked Land if he could feel his buttocks."
Queerty,  the popular gay website, reported that "McKissock wrote that he has been 'silent for so long' because Hall threatened him 'severely.' But now he's 'not scared' of the American Idol alum attacking him online. 'He settled his own sexual harassment lawsuit with a former tour manager as well,' he added. 'The details are gross'."
Others jumped on the Tweet, with many criticizing McKissock for continuing to work with Hall after the alleged misbehavior. Some also shared their difficult experiences with Hall, including allegations that he didn't pay them for their work. Perez Hilton, a popular social media gossip, tweeted that "@todrick Hall allegedly told a group of black dancers, 'This is looking a little too chocolate… Can I get some lighter people behind me'."
Todrick Hall jumped into the fight with a post on his personal Facebook page, which someone with access to it shared on Twitter:
"My comment; I adore Thom, like LOVE him. This is surprising to me, he hasn't been paid yet, he will be…not because he's trying to "expose" me but because he deserves it. I only got two texts, no calls, I was over seas opening my tour & that video has only been out for 2 weeks," Hall tweeted.
Hall appeared in "Pretty Boys," a video produced by the City of West Hollywood to urge residents to vote, and in "Alice in Wonderland," posted above, which warned residents to be careful crossing the street.