Boystown did not get swallowed up in the changing city. Many of the well-known venues were enlarged, some returned from the grave and new, up-scale clubs appeared for those who wished a quieter scene. The community which was so well established in WEHO continued, nurtured and cared for by its faithful. West Hollywood would not be a complete city without it.
It had been quite a while since I had waddled up to the Council Chambers for one of the Council's bi-monthly meetings. Not knowing how long it would take to manage the four-block walk, I left myself plenty of time for the trip. The pace I was able to maintain got me there quite early but the doors were open, so I found a seat not too far from the exit. I'd not be interested in staying through the entire procedure and would want to leave without much notice.
Nearly alone in the chamber, I had time to observe the hall slowly filling. The City Clerk was already there, and her acolytes were distributing papers to the Council dais and fussing with other necessary tasks to set the stage. A few well-coifed, darkly suited gents carrying small leather briefcases – the lawyers and developers' agents, prepping for battle. I was barely noticed as they went about greeting each other and establishing some sort of seating hierarchy.
Slowly, a couple of small groups, two or three individuals, appeared. Huddling, they moved as one to seats near the speaker's rostrum. One contingent wore bright red T-shirts with black legends printed on the backs. I was reminded of the early days of Council meetings in the old gymnasium when the West Hollywood West Residents Association would show up en masse, wearing their little white badges, a show of force for the Council to see.
More individuals arrived, taking seats in such a familiar manner that I surmised they attended every Council meeting and had found their regular seats. A few faces, well-known and still deeply concerned with city matters, and those who have something to state at every meeting, came in as if the chorus. Another flash-back to the old gym and recalling how the indefatigable Jeanne Dobrin slowly dragged her chair fully across the wooden floor to be near the mic as the Council, seated high on the stage, waited patiently until she had found her spot. They knew she would have something to say, and that she was so often right on target. A municipal conscience. The space was the size of a basketball court, always full as we knew that making and managing a city was everybody's job, democracy in action.
The new chamber has the feel of both a stage at a playhouse and also offers a slight ecclesiastical aura, all of which enhances the solemnity of the proceedings to take place. The Council, City Manager, and City Attorney silently appeared one by one from the anteroom with the one-way glass, making their way to their appointed seats on the dais. When seated, only their heads were fully visible, looking much like the kewpie doll prizes at the arcade plinking range. There would be verbal shots to duck. As the time to start the meeting arrived I just barely noticed, at far stage left, John Heilman, the constant member since the very first day of cityhood. I thought: "John, it's been a long road without a map and with conflicting directions from whomever was asked. Some paths were newly trod. Others, the overgrown paths, not taken. How many dreams came true, how many were deferred, changed, lost? Your demeanor is that of a teacher, keeping an eye on the class, reminding them of the subject they are to study."
Musing about the past, I recalled one of the slogans used when we were obtaining signatures on the petition: "urban village." Perhaps that came from Heilman? In any case, it was a brilliant phrase. Was its origin from the mind of Larry Gross, Tom Hayden, John Heilman or even the wonderful Ron Stone?
The phrase "urban village" offered different visions to the much diverse population of West Hollywood, long a backwater section in the far west of Los Angeles County. In 1983, we were quite a mixed lot. Toby and I bought our house in 1974 from a man who was an M.D., a classical pianist, and the president of Filmways Television, a force in TV production then. Many of our neighbors — pretty well representative of much of the population on the west side — were in the film and TV production trade and included a contingent of well-known actors who maintained pieds-à-terre here. Seeing such folk at the Safeway was part of the local scenery. The huge design industry was especially well-represented here. West Hollywood was a refuge, even a sanctuary, for what we now call the LGBTQ community, then, only called the gay community. In the beginning, the block I live on housed several elderly widow ladies, several gay couples, several single gay men and two "straight" couples. (I detest all labels but must use them in this tale.) In time, we had friends and acquaintances on the east side, had ventured into the Russian community and saw several sons and daughters of friends move to WeHo for the reasonable rent and the pace of the town. Both rents and pace are forever altered.
People often speak of how much they paid for the house they now occupy and how much it has appreciated in value. Unless one sells his house when the market is in demand mode, such conversation has little meaning. I compare today with 1984 in another way — then our three boys would often be able to toss a football to each other while in the street. Today that would be suicide. By the city's count, about 700 vehicle trips take place on out 150-yard-long block each day. We watch traffic jams as well as speeders, all sent this way by Waze or other apps. Most of the little cottages that once housed railways workers or movie studio workers are gone. In their places are reconfigured houses or the new box houses, most of which exhibit little character. A new approach to housing, Airbnb, occupies three former single-family houses on the block.
New construction has been nearly constant for the past six years as familiar buildings disappear to the constructor's front loader. Three new dwellings are in process on this block. An innovator has acquired a house on the next block and is attaching his house on this block so that we now have a "compound" instead of two single houses. It is heavily fenced and exceedingly private. Our neighborhood is shrinking in more than one sense as the former openness between residents is reduced. At this writing, there are three active construction sites adding to the almost six-year-long noise and other disquiet of construction machinery, dust and dirt and parking difficulties because of the influx of workers. This sort of change was never imagined as part of the nebulous idea of an urban village. Was it all just a campaign slogan, only a fable waiting to come true, wishful thinking? As I look at the Council dais, and especially at John Heilman, my connection with both the past and the present that night, my mind leaves the City Council meeting that opened this little essay and enters into a future I firmly hope will happen.
The only truly pressing subject for constructive political thinking – on every level – is "climate change." All of life, every single element is being affected by it right now and, as neophyte salespeople are told, "there are no problems, only opportunities for success." The entire planet is in the early throes of drastic change brought about by global warming — which is the phrase we should be using. Considering just one resource — water — is a place to begin.
In November 1993, the now sadly defunct Research and Exploration journal of the National Geographic Society, produced an issue on a single subject: "WATER- Reflections on an Elusive Resource." Its conclusions have all come true in the political world, in agriculture, culture, migration – everything. We are living in the worst-case scenario then presented. The supplier of water to my section of West Hollywood is Beverly Hills. We are asked to conserve our water use and use outdoor watering only two or three days each week, depending upon the season. Oh, so who really cares? There are some good thinkers and others willing to do the hard work of changing how we live on the water planet. It starts right here in West Hollywood.
On to Part Two….
The city got into predicting the future with its Ten-Year Plan of 1990, with subsequent plans, additions, alterations, etc. — all proof that no one can accurately predict the future. The last, and current, effort is the Vision 2050 process, which is meant to engage the community, the commercial interests, city staff and, no doubt, a merry band of consultants, to produce a document meant as a plan for the next 30 years. There are several planning elements and lots of discussions involved. Not being much educated in the esoterics of city planning and, thinking only in the broadest concepts, I can forge ahead with my wild ideas without the requisite genuflections to the shriven at their electronic drawing boards. Here goes:
Global warming (climate change to the timid), is the driving force for change. Those who cannot adjust to it will be consumed by it. The altering climate is bringing drastic shifts in every aspect of life — all life. The possibility of staving off the worst aspect of it all is slim, and most attempts have been quite insincere and too few. Thus, land use will be the first component of our modern civilization to be addressed. The call for density, as work is more concentrated in cities, will require more designs of integrated vertical structures over lesser dense buildings. West Hollywood must succumb to the need to provide living spaces for its workers that are closer to their work, which means more affordable apartments rather than condominiums. Local businesses such as hotels will pool resources, purchase property and renovate to accommodate their workers, who are tiring of one- and two-hour commutes.
The city also will get much further into the business of providing housing, not just for its employees, but for seniors and individuals with certain disabilities. The long-sought Golden Fleece of affordable housing will be realized in West Hollywood with more local investment concerned with that than with excessive short-term profits. Mixed-use buildings up to ten stories will line major streets such as Santa Monica, La Cienega, La Brea, and Robertson Boulevards. Rooftop spaces will be used for retreats, restaurants, tennis courts, and not just left to the weather. Solar panels will be one of the more ubiquitous furnishings seen. Many buildings will be connected by bridges, making a trip down to the street unnecessary in some instances. Parking garages will be obsolete and converted, with some effort, into inexpensive living spaces.
All those small convenience shops we have missed for so long will now find resurgence as their necessity grows. Big box stores may well see their demise as the convenience of local stores becomes popular, and people will walk to work, reducing the need for cars and all the attendant gear in the central city areas. Cafes and restaurants will also prosper as resident begin to enjoy their proximity. Small businesses such as these will be a welcome addition, and distinct neighborhoods will emerge.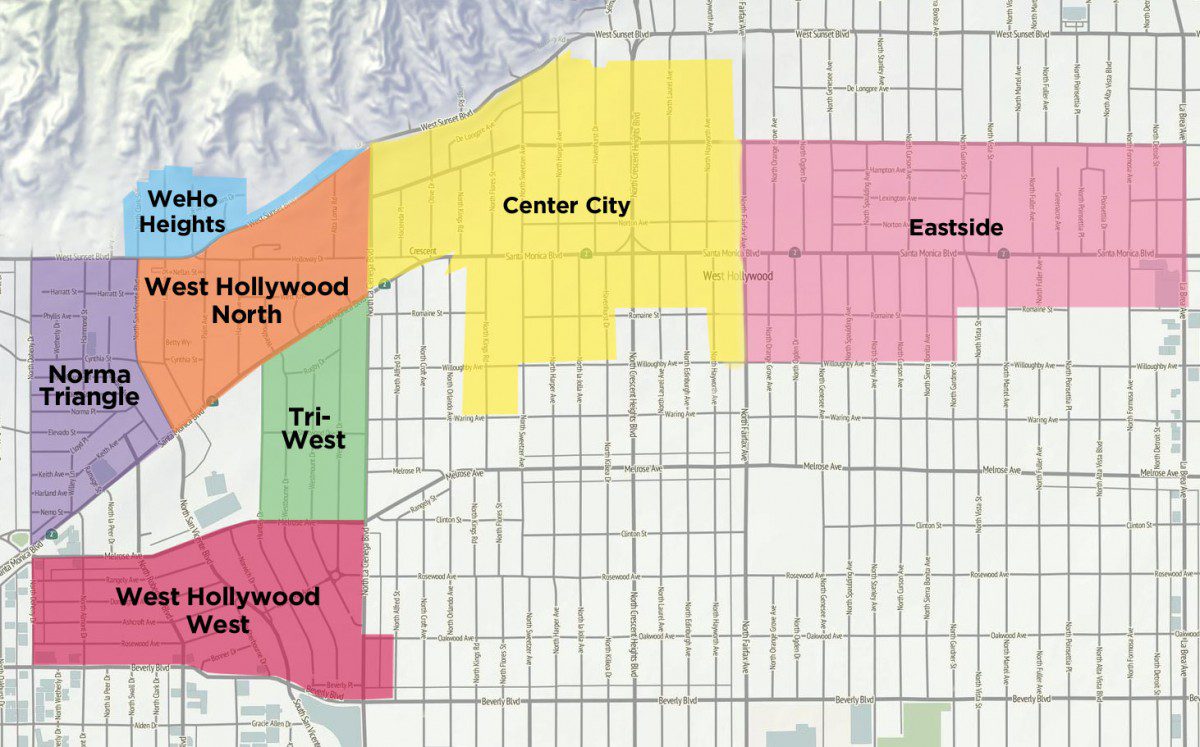 There will remain two areas known as West Village and East Village. They will be comprised of four or five square blocks of R-1 zoned houses, remnants of other days when such extravagance was considered normal. Of course, they will be pricey, very modern and sought after. They will offer net-zero housing, with true communal concerns such as shared greywater systems, shared solar backup, the streets turned into block-long garden or playground/parks with properly scaled trees lining them. All utility connections will be underground, which the rest of the city will also enjoy.
The sidewalks will be widened to accommodate electric carts (and emergency vehicles) — the only vehicles allowed. Some blocks, with enough like-minded residents, will see new land-use laws allowing them to combine their holdings into a form of common property, allowing only members to buy or sell there. All economic levels of our society should be able to find a place to live here. (I admit that this is not everyone's cup of tea.) Other green spaces will appear throughout the city, all within a few minutes walk of any resident.
For most of its first 30 years, West Hollywood has been a tourist destination, if not actually a tourist resort. A very large chunk of the city's revenue comes from hotels, restaurants, clubs and other forms of entertainment. A vibrant entertainment trade will continue to be the engine of our prosperity and allure. We will have the hospitality trade and the upscale retail establishments, which will continue to draw visitors.
Public transit will be the principal method of travel, not only in the city but the county as well since Metro finally realizes that light rail and trolley cars are far better for city dwellers than trains in tunnels as the area becomes more dense. Metro's cost will go down, benefiting riders. All transit vehicles will be operated by some form of on-board electricity. Fossil fuels will be banned in every form. Revenue from parking meters and garages will have to be replaced by such things as electric car charging portals or a revision of personal or sales taxes. With a more compact, more vertical city, municipal costs should be less. Since we are guided by state laws when it comes to taxing, we must be canny in finding new methods of extracting needed revenue from residents and visitors. Remnants of Prop 13 remain, adjusted for the new world.
The principal costs of all utilities' transmission can be greatly reduced as city density replaces suburban sprawl. Initial installation costs will be offset by less maintenance, as the shorter runs can be more easily controlled. Natural gas use will be curtailed and eventually banned as electricity becomes available for all purposes. (Those who do a lot of cooking, and prefer gas flames over electric heat may have to go through a form of therapy to adjust.)
Certainly, not the least worthy of comment is the makeup of our resident population. We will be a much more integrated lot with traditional families (of several income levels) living cheek to jowl with gay residents. Our large gay community will be more integrated into the whole community, though that might not be everyone's goal. Boystown did not get swallowed up in the changing city. Many of the well-known venues were enlarged, some returned from the grave and new, up-scale clubs appeared for those who wished a quieter scene. The community, which was so well established in WeHo, continued, nurtured and cared for by its faithful. West Hollywood would not be a complete city without it.
Sounds of children will be heard throughout the city. We will become a truly diverse city in every aspect. Some buildings will house people with more means than those in the building next door. We will be a city for Everyman.
As our unique city changes, so do the metropolitan Los Angeles and Beverly Hills that surround us. The same pressures will force them to adapt. Borders will be less distinct.
So, Vision 2050 will undoubtedly come up with many of the same ideas – and more. Looking ahead 30 years is fun, especially for me since I won't be around to defend my predictions. I wonder, though, will we still be the "urban village" of 1984?