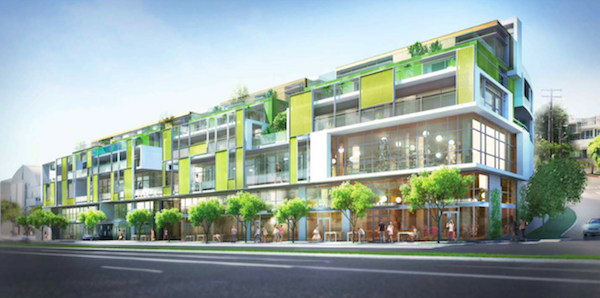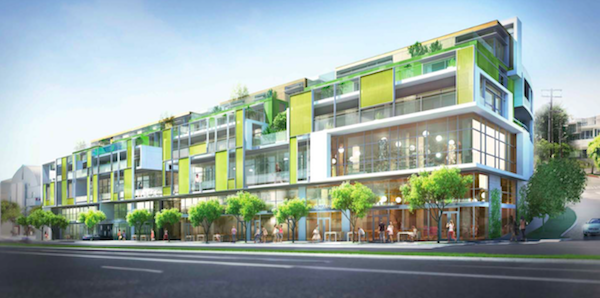 While I know that we are distracted by a host of tawdry headlines, there is an important land use issue before City Council this upcoming Monday that will impact the future of our neighborhoods and will encourage the demolition of rent-stabilized buildings.
The issue is "lot spanning," which refers to the practice of a developer connecting residentially zoned lots to adjacent commercial lots. This allows the developer to develop a larger single building across and subterranean parking under the entire "spanned parcel," enhancing its ability to build large scale developments.
West Hollywood has a unique zoning geography that reflects the fact that we were urbanized when the Red Car ran along Santa Monica Boulevard. Our commercially zoned lots tended to be relatively narrow compared to deeper lots in other areas of the county. Our abutting residential zones limit the size of commercial development, which may or may not be an issue depending on whether or not you're a tenant in a building that may be subject to "spanning."
As this issue has developed, we are seeing proposed developments such as the projects at 8855 Santa Monica at the Collar and Leash site and the hotel/retail/residential project at 7811 Santa Monica at Orange Grove on the site of Brick gym and the old Executive Car Leasing building. Both of these proposed projects "span" commercial and residentially zoned parcels. Only R3 and R4 residential zones are included in the "lot spanning," but those are the zones that contain most of our rent-stabilized units.
The issue of "spanning" is the subject of Item 3C on the City Council's upcoming agenda. The Planning Commission voted unanimously that spanning NOT be allowed. Where a project contains both commercial and residential lots, the Commission recommended the development must have separate commercial and residential buildings on the respective commercial and residential lots with their respective development standards instead of one mega building. This would maintain more green space and break up the mass of these sorts of projects.
Currently, there is a "minimum lot size" of 60,000 square feet required for spanning commercial and residential lots, which has tended to discourage spanning. But City Hall staff is recommending the elimination of the minimum lot size or greatly reducing it, which would open the floodgates for the demolition of existing housing adjacent to all our commercial streets. According to the staff report, there are 43 blocks of R3 and R4 zones that would be subject to spanning under the 60,000 minimum lot size requirement. That means hundreds of tenants' homes will be put at risk as yet another incentive is given to landlords to demolish and redevelop rent-stabilized properties.
If the City Council continues to allow spanning and eliminates or greatly reduces the minimum lot size requirement, the pace of development and demolition of rent-stabilized housing will quicken. I don't see how this fits with the city's Vision 2020 goals concerning neighborhood integrity.
When the city was pushing for mixed-use developments, the official line was that mixed-use would "take the pressure" off residential neighborhoods by directing development toward Santa Monica Boulevard. Now the city wants to create more incentives for developers to build more mixed-use but at the expense of the housing for long term rent-stabilized tenants as well as neighborhood integrity. Spanning is yet another threat to existing affordable housing.
Frankly, it is unclear if the staff has given much thought to how lot spanning will impact West Hollywood tenants. In a city that was founded to protect tenants, you would think that the preservation of existing affordable rent-stabilized housing would be part of the thought process when City Hall staff are making these recommendations. When you read the staff report it is clear that tenant protection was not even part of the staff's equation in making their recommendation. Protecting existing tenants was simply not on the staff's radar.
Simply eliminating lot spanning would help maintain the quality of life and our urban environment by ensuring setbacks and green space are preserved. It would ensure that trees remain part of West Hollywood's landscape. If the Council is hell-bent on keeping open an option for lot spanning, which I strongly advocate against, then it must keep the 60,000 square foot minimum lot size requirement and add more stringent neighborhood compatibility measures in order to discourage these sorts of projects and avoid piecemeal destruction of residential neighborhoods.
Alternatively, if the Council insists on maintaining lot spanning, then we need the city to adopt a "one for one" replacement of affordable housing in these sorts of developments, an issue the city has long avoided discussing.
While we can count on Councilmember Lauren Meister to express neighborhood concerns and challenge the staff's assumptions, we can't just sit back and hope for the best. I am hoping you will contact your favorite Council members or attend the Council meeting to ensure your voice is heard. We have already lost too much rent-stabilized housing and we need to insist that there should be a firewall between commercial and residentially zoned properties.