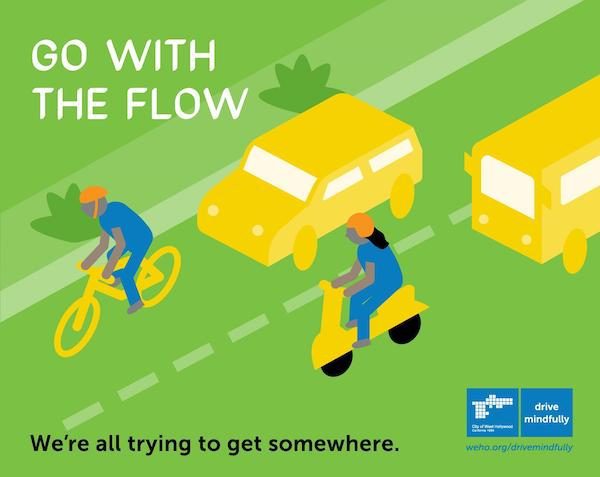 The City of West Hollywood is expanding its social responsibility campaign, "Imbibe Intelligently," and launching its "Drive Mindfully" lawn and window sign campaign reminding drivers that "we're all in this together" and to "look out for each other on the road."
The city and the West Hollywood Sheriff's Station are also getting the word out about an upcoming Sheriff's Department DUI checkpoint in West Hollywood on Friday.
"The city is dedicated to encouraging social responsibility and maintaining a safe community free from the harms of overconsumption and distracted driving," said West Hollywood Mayor John D'Amico. "Let's all look out for one another and for ourselves and make it to our destinations safely."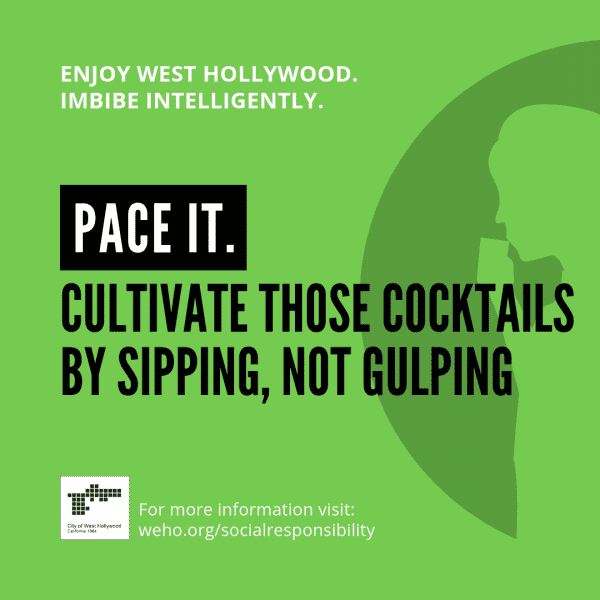 The city's Imbibe Intelligently social responsibility campaign was first launched in June 2019 as a series of colorful social media graphics with tips aimed at raising awareness about social responsibility and promoting safety regarding alcohol and overconsumption for people enjoying the city's many bars, restaurants, lounges, nightclubs, and adult recreational venues.
The first phase of this integrated marketing campaign consisted of a series of brief tips created for Pride Weekend social media distribution using a two-word main tip with a follow-up suggestion.
Imbibe Intelligently tips are:
Measure it: Set a limit and keep count of your drinks.
Control it: Just like fitness, make a goal to be responsible.
Eat it: A full stomach slows the alcohol down.
Hydrate it: Alcohol dehydrates, quench your thirst with water.
Pace it: Cultivate those cocktails by sipping, not gulping.
Pause it: Take a breath and enjoy the moment.
Switch it: For every drink, order a glass of H20
Reduce it: Opt for lower-alcohol alternatives.
Table it: Avoid salty snacks that make you thirsty.
Ride it: Set a designated driver or grab a ride share.
Leave it: Valuables are valuable, keep them at home.
Friend it: Buddy-up and look out for one another.
Protect it: Always practice safe sex.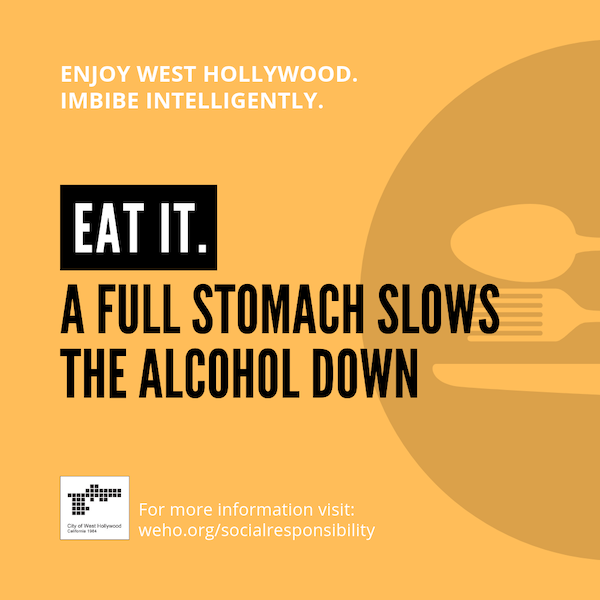 The city has announced that it is now expanding this effort with a second phase and will begin distributing a series of materials, such as postcards and drink coasters with these tips, to be distributed in restaurants and nightlife establishments reminding patrons to consume responsibly. Imbibe Intelligently information and graphics can be viewed at www.weho.org/socialresponsibility.
The city's Drive Mindfully campaign launches this month and includes lawn signs, social media graphics, and messages that encourage drivers, bicyclists, and pedestrians to look out for one another on the roads.
"I'm excited that we're taking additional proactive steps in the City of West Hollywood to promote safety and cooperation for drivers, bicyclists, and pedestrians," said West Hollywood City Councilmember Lindsey Horvath. "With our Drive Mindfully campaign, we're getting the word out with brightly colored signs throughout the city that remind everyone 'we're all in this together' and that safety must come first. When we focus on driving instead of texting, when we move over for bicyclists to have room to ride, when we remember to use our turn signals, and when we stop for people in crosswalks, we're each doing our part to be mindful and look after one another and this helps to encourage kindness, respect, and ultimately safety in our community."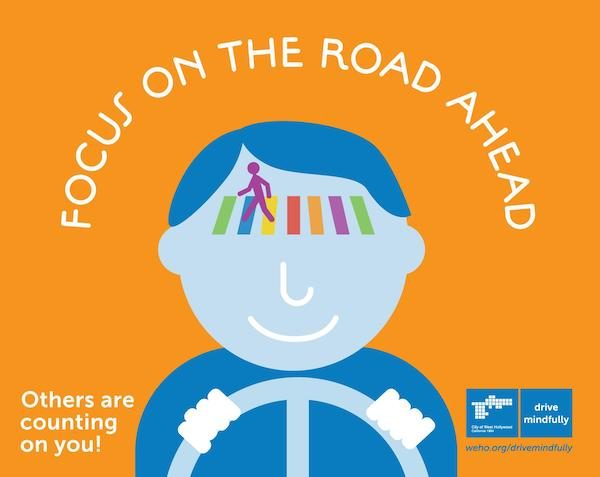 The Drive Mindfully campaign features the slogans:
Pass Peacefully: Sometimes we all have to go around.
Focus on the Road Ahead: Others are counting on you.
Visualize Your Turn Signal: Let others know where you're trying to go.
Go with the Flow: We're all trying to get somewhere.
We're All in This Together: Look out for each other on the road.
Focus on the Journey: Don't get distracted by your phone.
A limited number of free lawn signs with ground stakes are available to community members in-person at West Hollywood City Hall, located at 8300 Santa Monica Blvd. Lawn signs will also be distributed at the next regular meeting of the West Hollywood City Council on Sept. 23 at 6:30 p.m. at the City Council Chambers located at 625 N. San Vicente Blvd. More information about the Drive Mindfully campaign is available at www.weho.org/drivemindfully.
The city is also getting the word out that the Sheriff's Department's Traffic Services Detail will be conducting a DUI (Driving Under the Influence) checkpoint in West Hollywood on Friday from 6 p.m. to 2 a.m. In addition to removing intoxicated drivers from the roads, a focus of publicizing DUI checkpoints in advance is to increase awareness of the dangers of impaired driving and to encourage sober designated drivers.
Together, the Sheriff's Station and the city's Code Compliance Division work with the Alcoholic Beverage Control (ABC) to educate businesses and work collaboratively on alcohol-related issues. The Sheriff's Station has a Community Impact Team that actively patrols bars, nightclubs, and hotels. Its Entertainment Policing Team focuses on entertainment- and alcohol-related law enforcement issues in the city in order to prevent alcohol-related incidents.
One transportation alternative for people enjoying the multitude of entertainment venues in West Hollywood is the PickUp, which is an alternative to driving. For details, please visit www.wehopickup.com. In addition, Cityline operates free Saturday evening service to and from Hollywood and Highland where riders can connect with the Metro Red Line. For details, please visit www.weho.org/cityline.