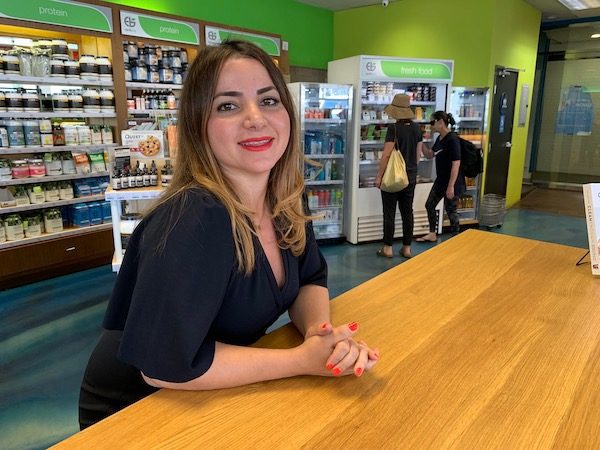 Maryam Rashtian, 38, co-owner of Earthbar, the retail health food institution at Santa Monica Boulevard and Flores Street in West Hollywood, comes across as warm, down-to-earth, and focused on the needs of others. A self-described "people-pleaser," she wonders if she answers my questions well enough, if her "ums" and "likes" will be edited out, and seems embarrassed when wandering off-topic or letting her voice trail off.
At any given moment, the popular store she manages could have more than a dozen loyal patrons within the boundaries of its snug, well-stocked floor plan. Whether waiting in line to order smoothies, asking clerks questions about supplements, or sitting at small tables eating wraps and salads, customers may not know much about Earthbar, neither its history nor its impact.
Nearly Half a Century
It all began 48 years ago, in 1971. The WeHo location is the original store, what Rashtian calls, "the flagship."
Twenty-two employees work there, and Rashtian says they are paid "very well," earning top wages for the industry. While Earthbar doesn't currently provide medical or retirement benefits, it's "something we're considering for the future as the company grows," she said.
Rashtian got involved 10 years ago. After working in pharmacies, a chance business proposal to invest in Earthbar presented itself. "I used to be a big risk-taker then," she admits with a chuckle. "Now that I'm a mother, not so much."
That explains it. I had been wondering why a gold charm dangling from her necklace reads "Liam" in cursive script. It's her son's name. Touching the charm lightly, she adds, "He's three." She, her husband and son live in nearby Laurel Canyon, a 10-minute drive away.
Three additional partners are involved in the business, which began as Great Earth Vitamins. A number of readers will likely remember the latter, oh-so-70s-era brand name. In fact, the Great Earth logo is still affixed to the outside of the store.
About 12 years ago "they added the juice bar," Rashtian says, remodeling "the whole store." "That's when Earthbar came to life."
Did it ever.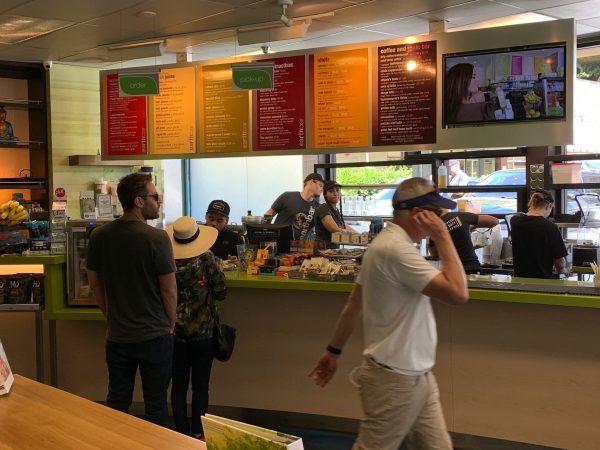 Growth and Controversy
Earthbar.com lists 32 store locations. The majority are small grab-and-go counters within Equinox gyms throughout L.A. and Orange County, but additional locations can be found in Santa Barbara, the San Francisco Bay Area and, uh…one in Kansas.
Yes, you read that right: Equinox. Owner Stephen Ross was recently thrust into the political spotlight for planning to hold a fundraising lunch for President Trump. In response, an Aug. 9 protest was staged outside the gym's Sunset Strip location, one that has an Earthbar.
Rashtian wants to address the topic head-on. Customers and staff alike have asked what her business' involvement with Equinox means and whether Earthbar also supports Trump and his policies.
"We've been in WeHo for…48 years," Rashtian says, "and we believe in diversity and inclusion." Stipulating how Earthbars within Equinox gyms are "just rented spaces," she adds, "We were in there before we knew about [the] controversy. We don't get involved in their policies."
The company philosophy published on Earthbar's website reads, "At the core of everything we do is a commitment to your health and well-being, energy and vitality, love of life and love of planet earth." Rashtian says, "We believe in wellness and helping the community with living a healthy lifestyle."
Ingredients for Success
When asked why Earthbar is successful, Rashtian answers: "I think it's the quality of [our] food and our smoothies, the consistency…It's like a one-stop-shop. Like a mini Whole Foods."
I see what she means. A cursory glance around the store reveals beauty and nutraceutical products like instant facelift serum, soaps made with charcoal and rose clay, coffee and tonic bars, and hemp oil.
Fresh foods are attractively displayed in a refrigerated case against the wall: Mediterranean tuna salad, turkey Greek meatballs, and puttanesca pasta salad.
If you prefer to make your meals at home, why not pick up the cookbook "Clean Enough: Get Back to Basics and Leave Room for Dessert" by author Katzie Guy-Hamilton?
Another reason for Earthbar's vitality may have to do with the vibe people get shopping there. Rashtian says she asks customers how they feel all the time. What she hears back basically boils down to: "I don't know what it is, but when I come here, I feel good."
Because its sliding door entrance faces the small parking lot facing Flores Street, and not the bustling sidewalk on Santa Monica Boulevard, the store feels hidden. Walking inside feels refreshing, like something one discovers unexpectedly.
Sunlight pours in, thanks to large glass picture windows. The walls are painted bright colors; the space is inviting and welcoming.
Then there are the unique products and services, and informed employees. Oh, and maybe parking. "A lot of places do not have parking in WeHo," Rashtian says.
Earthbar: More Than Smoothies, 'a Mini Whole Foods'
Supplements manager Jeremy Eissner says the most unique product they carry is living deer antler. "We get ours from New Zealand," he says. They are actually antler tips. The deer are "humanely raised" and "never harmed." "They have a lot of nutritional value in them."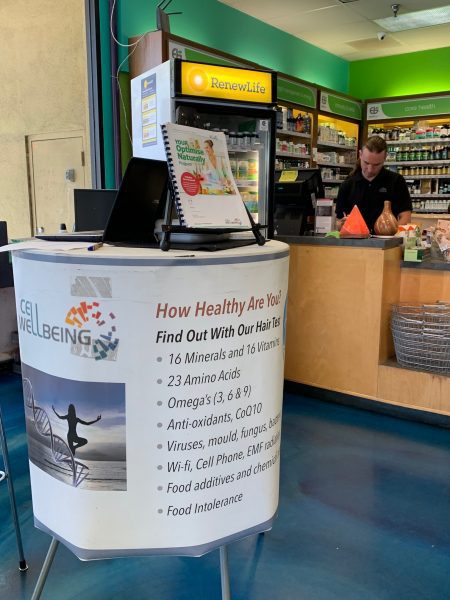 These types of products Earthbar sells are important to Rashtian. "I wouldn't have a liquor store," she says. "I don't want to sell someone alcohol and tobacco and the things that are bad for you."
No offense to Kiwi deer, if we're talking unusual, my vote goes to the hair testing service.
In between the front door and the vitamin counter, a display stretches around a table, challenging me with the headline: "How healthy are you?" The $95 service measures, but doesn't diagnose, one's vitamin and mineral levels, amongst other things.
After Eissner inputs my answers to some health-related questions into a computer, he painlessly tweezes two hairs from the back of my neck. My hair is then analyzed by computer software from Cell Wellbeing, a company out of Germany. Fifteen minutes later my results are ready.
My B6 and vitamin C are low and my DHA (Docosahexaenoic acid, one of the omega-3 fatty acids) is deficient by 40%. I also have slightly high levels of heavy metal in my body. But the biggest priority I should address is my exposure to electromagnetic field radiation. Eissner recommends I switch my smartphone to airplane mode while sleeping at night and purchasing a product called Q-Link to reduce exposure while using my phone during the day.
The consultation is followed up with a 33-page "wellness report" that is emailed to me. It contains suggestions on nutritional "optimization" from Dr. Whimsy Anderson, ND (naturopathic doctor.)
Rashtian says vitamin specialists like Eissner are crucial to her business. They have developed special training and possess valuable "niche" knowledge.
As for the future, Rashtian keeps it simple: "Anything we can do to stay above the curve" and "away from synthetic vitamins. "Just knowing that people, our customers, and the community, come here to feel good…makes me feel amazing."