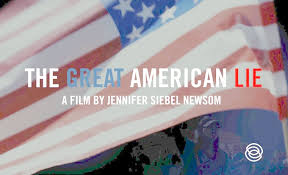 On Sunday, Aug. 25, the City of West Hollywood and its Women's Advisory Board will commemorate the historic 99th anniversary of women winning the vote in the United States with a screening of "The Great American Lie."
That documentary by director Jennifer Siebel Newsom (wife of Gov. Gavin Newsom) and The Representation Project exposes economic immobility and social inequality in the U.S. viewed through the lens of gender. The film looks at what Americans are told – through all aspects of our culture – about who and what is valued, based on how we "gender" people and things. 
The screening will take place at the West Hollywood City Council Chambers at 625 N. San Vicente Blvd., beginning at 2 p.m. Parking is free in the five story structure behind the Chambers with ticket validated at the event.
Those attending are asked to RSVP online.