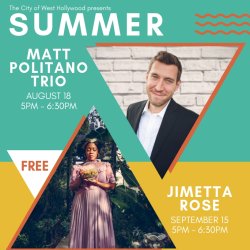 Jazz musician and pianist Matt Politano will perform from 5 to 6:30 p.m. at Kings Road Park, 1000 N. Kings Rd.
Originally a trumpeter playing in the One O'Clock Lab band at the University of North Texas, Politano decided to switch to piano and transferred to the Manhattan School of Music and later moved to California.
Attendance is free and seating is available on a first-come, first-served basis. Guests can bring a picnic basket and blanket.