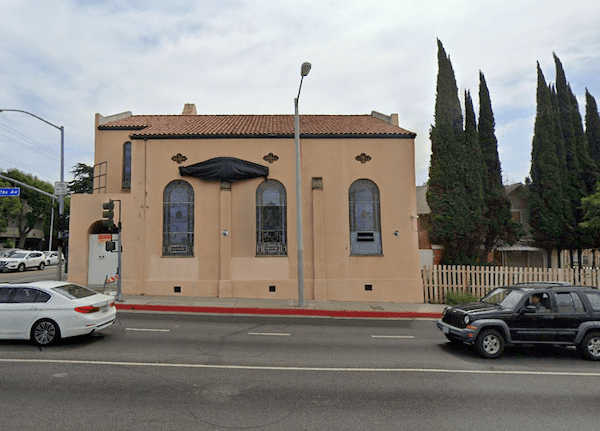 Alpine Equities, the owner of the property occupied by Crescent Heights Methodist Church, is proposing to convert the church to office space and to demolish the parsonage behind it and construct a five-story apartment building.
The church, which is at the southeast corner of Fountain Avenue and Fairfax Avenue, was closed in 2011 by its owner, the West District of the United Methodist Church, after being in operation for 97 years because of a constantly shrinking congregation. It has been designated a cultural resource and Alpine intends to preserve its historically significant character.
A search online shows that Alpine Equities is associated with Shahryar Ravanshenas. It donated $3,000 to an independent expenditure committee that supported incumbents John D'Amico, Lindsey Horvath and Lauren Meister in the March 2019 City Council election.
The closing was acrimonious, with the church's pastor, Scott Imler, refusing at first to leave the property. Imler, who died in August of last year, accused Methodist leaders of closing the church because of his reputation as an advocate for legalizing marijuana and because it had a largely gay congregation. United Methodist leaders, however, noted that the church only had 39 active congregants, not enough to sustain it.
"They were not attracting people, they were not retaining people, not paying bills and the building was falling down around them," church official Cedrick Bridgeforth said at the time. "It was not a sustainable congregation."
Crescent Heights UMC was known for its support of the LGBT community, serving as the initial home for groups such as Project Angel Food, which provides meals for AIDS patients, and the EAGLES Program, the LA Unified School District's alternative LGBT high school. It also hosted addiction recovery support groups.
The church and its adjacent parsonage were sold for $4.5 million in 2017. Last year, Village Synagogue, which had been hosting an afternoon school at Pan Pacific Park and services and festival events at locations across Beverly Grove and West Hollywood, announced that it was planning to move into the Crescent Heights United Methodist Church building.
Alpine's plan includes the addition of a 1,015 square-foot mezzanine. The lot immediately behind the church that is home to the parsonage would be replaced with a 21,711 square-foot, five-story apartment building that would be 51-ft. and 9-in. tall. The 25 apartment units would include four for low-income residents. There would nr 28 parking spaces at ground and underground levels.
The project will be presented to neighboring residents at a meeting at the church on Aug. 13 that will take place from 6:30 to 7:30 p.m.