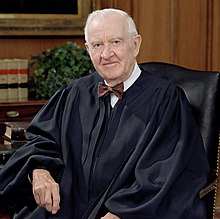 The United States flag will be flown at half-mast until sunset today in honor of former U.S. Supreme Court Justice John Paul Stevens, who died at the age of 99 on July 15 from complications of a stroke. Stevens' funeral is taking place today at Arlington National Cemetery. The City of West Hollywood also will lower city flags to half-mast.
Stevens was nominated to the court byPresidentGerald Fordin 1975to fill the vacancy caused by the retirement of JusticeWilliam O. Douglas. He retired in 2010 and was succeeded by Elena Kagan. His 35 years on the court made him the third-longest-serving justice after Douglas, who served from 1939 to 1975.
Steven was a registered Republican and considered to be moderately conservative. However, he joined more liberal justices in a number ofdecisions such asLawrence v. Texas, which in 2003 struck down sodomy laws that were used to prosecute gay people.