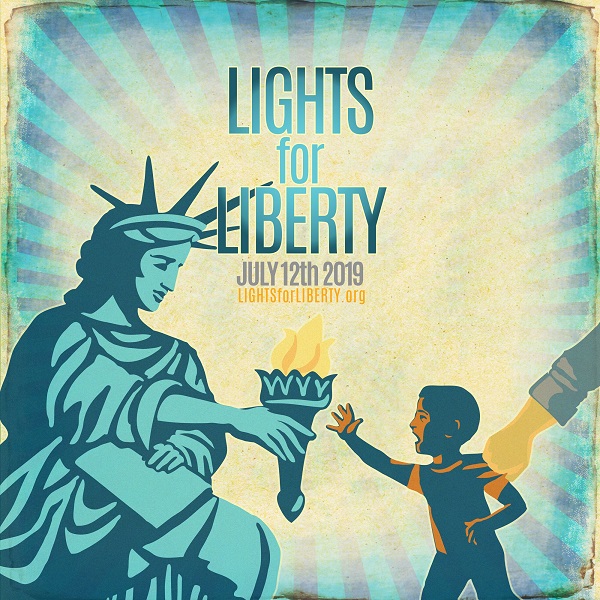 West Hollywood Park will be the site of one of many rallies tomorrow night protesting the Trump administration's treatment of immigrants held in detention camps.
The event, Lights for Liberty, is being put on by ROAR Resistance , the local chapter of Indivisible, which describes itself as a "grassroots movement of literally thousands of local Indivisible groups to elect progressive leaders, realize bold progressive policies, rebuild our democracy, and defeat the Trump agenda.
Those speaking at the rally will include Los Angeles Mayor Eric Garcetti, West Hollywood Mayor John D'Amico, West Hollywood City Council members John Duran, John Heilman and Lauren Meister as well as Antonio Villaraigosa, L.A.'s former mayor, and Tess Feldman, immigration attorney at the Los Angeles LGBT Center, Lucina Morelos, a first-generation indigenous immigrant from Mexico and an Immigration Law Project client advocate at the Los Angeles LGBT Center. Co-sponsors include Hollywood NOW, the Human Rights Campaign Los Angeles (HRCLA), the Stonewall Democratic Club, and the Westside Democratic Headquarters.
Those attending are expected to begin arriving at the park around 7:30 p.m. At 9 p.m., the rally will officially begin, with a sea of candles held up to "light the nation."  The event will be held on the paved area of the park along San Vicente Boulevard.  Parking is free in the nearby five-story garage with validation available at the park office.  Those attending are asked to bring a candle or  flashlight.
"We will be one of many, many regional and local communities and organizations taking a stand and voicing our belief that all human beings have a right to life, liberty and dignity," says an announcement of the event. "We believe that these fundamental rights are not negotiable and are willing to protect them."
The rally takes place on the eve of plans by Trump to have federal Immigration and Customs Enforcement agents conduct a mass roundup of undocumented people starting Sunday. The American Civil Liberties Union and other advocacy organizations today filed a lawsuit in federal court in New York City asking for a court order to require that all immigrants facing an in absentia deportation get a hearing in front of an immigration judge before they are physically removed from the country. Those deportations are aimed at immigrants who have failed to appear for previously scheduled immigrant court hearings, which the plaintiffs say occurs in part because of the government's failure to properly notify the immigrants of the hearings.