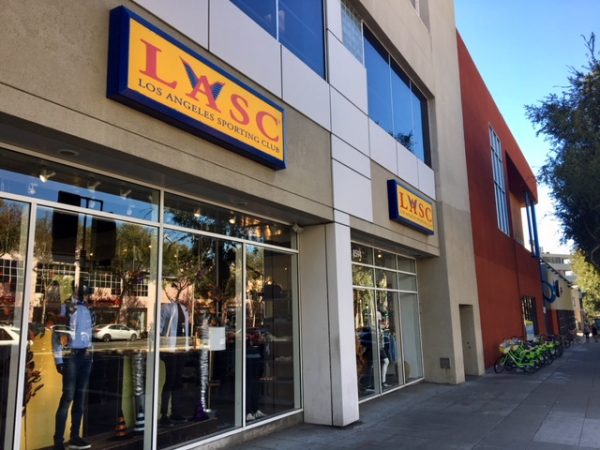 LASC, West Hollywood's best-known local men's apparel retailer, is closing its doors after completing a liquidation sale that will begin Thursday.
Don Zuidema, who founded LASC with his partner Mike McGinley in 1983, announced the closing this morning.
"LASC has been a part of the West Hollywood community for over 36 years," Zuidema said. "We are especially grateful to all our employees, past and present, who have worked tirelessly to make LASC one of the premier men's stores in the country. As we enter the next chapter in our lives we take with us the wonderful memories and special experiences that LASC has afforded us."
Zuidema, with a $10,000 loan from his parents, opened LASC in 1983 in the space on Santa Monica Boulevard currently occupied by Power Zone and Capitol Drugs. In 1988 the store grew and moved east on the same block to 8592 Santa Monica, which is adjacent to the 24 Hour Fitness Gym and across the street from Starbucks and Trader Joe's. From 1985 to 1995 LASC also operated a store on the corner of Santa Monica Boulevard and Robertson, the space now occupied by Salt 'n Straw, the ice cream shop. LASC operated a satellite store that stood for five years at 8000 Sunset Blvd. at the corner of Crescent Heights and Sunset.
In 1998 Zuidema and McGinley were joined by Alfredo Izaguirre, who is their partner in business and life.
From its beginning, LASC has carried major fashion brands such as Scotch & Soda, Fred Perry, Nike, GStar, Parke & Ronen and Emporio Armani. It has been the go-to store in West Hollywood for local gay men and visitors looking for stylish casual and sports apparel. It also created an in-house brand of LASC swimwear, thanks to McGinley's passion for swimming.
In the announcement of the closing Zuidema noted that "retail brick and mortar has changed dramatically over the past 15 years. Online continues to grow while commercial rents and operating overhead has increased. West Hollywood continues to morph into a center for a new wave of urban living and 21stcentury businesses." LASC itself operates an online apparel retail business, https://www.shoplasc.com/
That morphing is taking place to the east of the building in which LASC is located with a project by Michael Talla, who owns the building that houses LASC, Capitol Drugs, Power Zone and 24 Hour Fitness. The three-story 8550 Santa Monica Blvd. project, which is nearly completed, has 25,000-square-feet that will house Sprouts Farmers Market, a restaurant and café and a gym and fitness center. Already occupying the third floor is The Wing, an women's co-working space that has been controversial because of its ban on men, a ban that it says it no longer enforce. While approval of membership is connected to one's support for women's issues, The Wing says it now doesn't take gender into consideration.
LASC is not only known for its apparel. For most of the past nine years it has hosted a Halloween party and an LA Pride Party on the rooftop of the parking structure above it.It also is known for its support for the Varsity Gay League, a group of athletic teams that includes softball, golf, volleyball and dodgeball.
LASC also has been a supporter of organizations such as The Trevor Project, the LA LGBT Center, Project Angel Food and Labor Day LA. Zuidema has been an active member of the West Hollywood Chamber of Commerce.
Thursday's closing sale will include all clothing, displays, store fixtures and lighting.