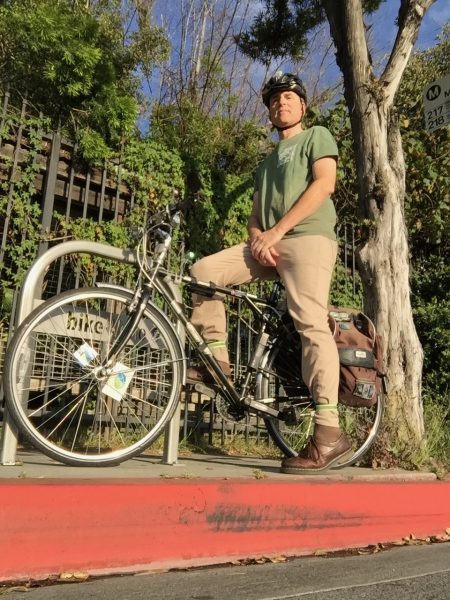 1) When did you start riding a bicycle in West Hollywood, and why?
My primary transportation had been bicycling and public transit for many years prior to moving to West Hollywood in 2005, and I continued with that soon upon arrival.
2) Do you use your bike for special purposes such as exercise, recreation, going to the gym, etc.? Or do you use it pretty much all the time?
I use a bicycle for all trips of a few miles, whether for work, running errands, attending meetings or recreation.
3) Are there special times (after dark, for example) when you don't ride your bike?
I ride at all times and in all weather. I make myself very visible at night.
4) What do you do if you're traveling outside the city limits? Do you still bike? Or do you take the bus or use Uber or Lyft?
For longer trips I combine bicycling with bus and train (subway/light rail/heavy rail).
5) What are the pluses of experiencing West Hollywood on a bicycle?
Pluses (relative to using vehicles): traffic congestion is largely irrelevant to travel time; parking is usually available very near the destination (e.g., near the front door); more maneuverable; reduced cost (purchase/maintenance/insurance/registration/parking), exercise (less so with electric bikes).
6) What are the negatives of trying to negotiate the city on a bicycle?
Negatives (relative to using vehicles): exposure to weather; reduced cargo capacity; greater potential for injury from collisions; lower maximum speed; physical exertion (less so with electric bikes).
7) What do you think the city needs to do to encourage more people to ride bikes rather than drive cars?
Install more infrastructure to increase bicycle safety, and generally implement more of the recommendations of the city's Bicycle Task Force.