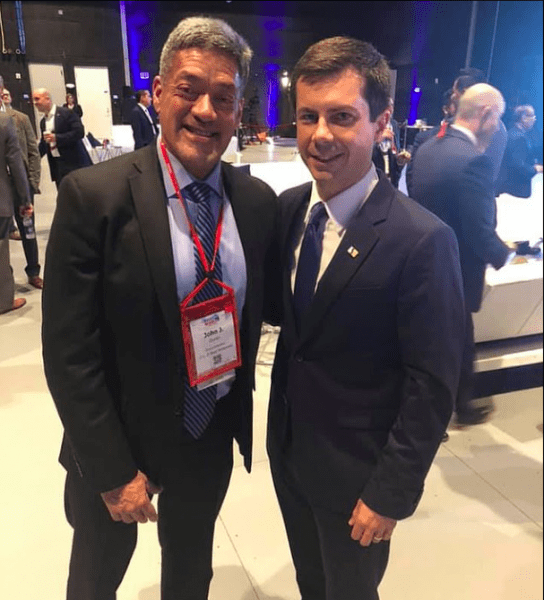 City Councilmember John Duran's Facebook post of himself sharing a hug with Pete Buttigieg, the only gay contender for the Democratic Party's presidential nomination, has gotten the attention of the U.K.'s Daily Mail, the world's most highly trafficked news website.
"EXCLUSIVE: Pete Buttigieg is pictured twice chumming it up with scandal-hit ex mayor – even AFTER 2020 hopeful's team was told of sex misconduct claims against Californian Democrat," is the headline of a story published on the Daily Mail website today.
The Daily Mail posted a photograph of Duran, 59, with Buttigieg, 37, on June 21 at the Presidential Candidate Forum hosted in Miami by the National Association of Latino Elected and Appointed Officials (NALEO), which Duran chairs. "With 8 Presidential candidates and 1000 Latino elected officials! I have to admit it – falling for this guy right here! Mayor Pete Buttigieg So bright and clever! Adelante!" Duran wrote under the photo which he posted on his Facebook page, where he identifies himself as the mayor of West Hollywood and says he "invented homosexuality."
The Daily Mail also published another photo that Duran had posted on his Instagram account of him with Buttigieg, Buttigieg's husband, Chasten, and several others attending a fundraiser for Buttigieg at Gwyneth Paltrow's Los Angeles mansion in May.
"The photos with the #MeToo-hit former mayor, however, could prove embarrassing for Buttigieg, who is the first openly gay presidential candidate," says the Daily Mail story.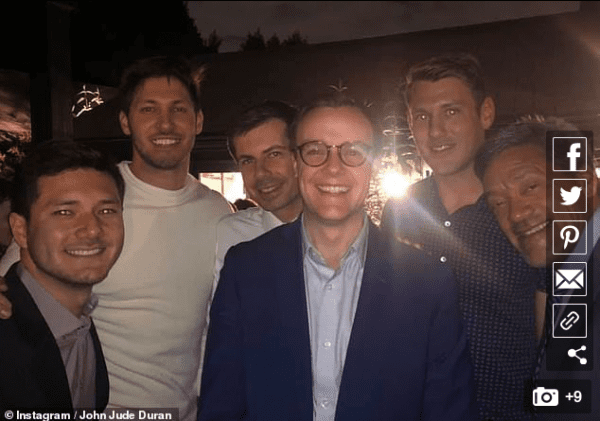 In its story, the Daily Mail says that after publication of the photo of Duran and Buttigieg together at Paltrow's event, one ofits reporters had reached out to Buttigieg's campaign to ask if he was aware of allegations of sexual misconduct and other behavior by Duran that led the West Hollywood City Council in April to censure him, the Stonewall Democratic Club to demand that he resign from the Council and various other LGBT organizations to condemn him. Those allegations were that Duran acted inappropriately with young members of the Gay Men's Chorus of Los Angeles, whose board he chaired until February. He denied the allegations but stepped down from his longtime position as chair after facing criticism from many of its members for his conduct and for GMCLA's dismal financial position, which led some to fear it would declare bankruptcy.
The Council's decision to censure Duran also was inspired by his claim in a radio interview that he was the only sexually active member of the City Council and  his claim in an interview posted on Splinter, a website published by Gizmodo, that two of his fellow Council members hadn't had sex in 20 years, one rarely has sex because he is married and the other has trouble getting a date. The Splinter story called out organizations such as the Los Angeles LGBT Center, the Human Rights Campaign, the LGBTQ Task Force, the ACLU and Equality California for declining to comment on the accusations about Duran. Duran also was quoted making a derogatory comment about one of the chorus members who accused him of inappropriate behavior, saying "he's not my type" because he is "a skinny Korean kid with pimples on his cheek."
"The campaign didn't invite him (Duran), he hasn't contributed to the campaign, and we don't believe they had ever met prior to Thursday's event," said a statement from Buttigieg's campaign about the Gwyneth Paltrow event. Responding to Duran's post on Facebook of a photo of himself embracing Buttigieg, the Daily Mail reports that a spokesperson said:Buttigieg "meets any number of people at events, especially an event as busy and crowded as NALEO, and he meets and takes photos with hundreds of people without knowing their backstory.'"
In an interview with the Daily Mail, Duran described Buttigieg as an "extraordinary" man and said the presidential hopeful recognized him at the conference.
"He caught my eye across the room and he smiled, you know, I smiled back, it's the third time I've seen him, he came up, we embraced each other and I said 'how's it going?' I thanked him and we took our photograph together.
"I think he continues to amaze and impress me, but it's still so early. He's just doing an incredible job."
In response to an inquiry from WEHOville, Duran criticized the Daily Mail, alleging that its reporter claimed to be calling from the Buttigieg campaign when he interviewed him and only revealed that he was working for the Daily Mail during the ensuing conversation.
"The Daily Mail is a tabloid known best for its unreliability and sensationalism. Wikipedia won't even allow for the Daily Mail to be used as a reference," Duran said, criticizing WEHOville for reporting on the Daily Mail's reporting. Duran also claimed that Newsguard, an online service that rates news site for their accuracy, says of Daily Mail "this website generally fails to maintain basic standards of accuracy and accountability." That, however, is not true. Newsguard gives the Daily Mail website a "green" rating, stating that it ""generally maintains basic standards of accuracy and accountability."
In its story, the Daily Mail recited the controversy over Duran's hiring his City Council deputy after soliciting him for sex on Grindr. A dispute between that deputy, Ian Owens, and Duran led to Owens suing the city and Duran, alleging sexual harassment. Duran denied the allegation, and the city settled the suit with a payment of $500,000 in 2015.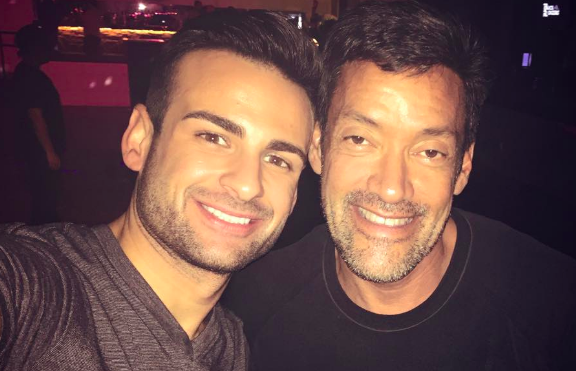 Duran responded to questions from the Daily Mail about the photo he posted from the NALEO conference. "I think only people who are ridiculous would say that," Duran said, when asked if being photographed with Duran could hurt Buttigieg's campaign. Duran said it was unlikely that Buttigieg knew much or anything about the allegations about his behavior.
"I've been doing LGBT rights for 40 years and in 40 years I had this thing happen in January with the Gay Men's Chorus, one complaint was filed, and it was determined not to be true," he said.However, the only complaint that was formally filed and investigated was not determined to be untrue.The outside investigator reported that there was insufficient evidence, given that the alleged encounter involvedonly Duran and his accuser, to verify the accusation. Three other young men made other accusations of sexual misconduct in a story published in the Los Angeles Times but didn't file complaints with the then-director of the Chorus, Jonathan Weedman, who was forced to step down after he was alleged to have forced a young man to perform oral sex. Weedman has denied that allegation..
"People here in town they love me or they hate me," Duran told the Daily Mail. "What made such a scandalous headline for people has now mostly blown over here and people know me for my 40 years of work."
Indeed, prominent local leaders continue to appear in photographs with Duran that he posts on his Facebook page. Recent ones have featured City Councilmember John Heilman, California State Treasurer Ricardo Lara, and Tom Kiely, head of the West Hollywood Travel + Tourism Board.