Simon Boctor, 43, the Australian entrepreneur behindMiss Melbourne Coffee, is not only a man who believes in bold, full-flavored, caffeinated drinks. He speaks bold words as well.
"I'm gonna be honest with you," Boctor begins, as plastic Pride flags in the shape of little triangles flap underneath his café's black awning in the early June breeze. "The coffee here in America is shit."
Wow. What's wrong with it? "With all due respect to the Americans, they drink coffee that is from the '60s and '70s. Percolated, drip feed. I call it toilet water."
Whether you cheer or bemoan the sentiment, you may not be wise to dismiss him. Boctor and his wife, Mandy, have 38 (yes, three dozen plus two) Miss Melbourne locations throughout Australia. Beginning their caffeine empire 18 years ago in theArmadale section of Victoria's capital city, it would appear he has major coffee cred.
"If you have a coffee, it should be full-bodied," Boctor continues. "Full texture, earthy notes." He mentions "creamy," too. Ironically, Boctor doesn't drink much coffee. He prefers tea.
Which coffee brand does Miss Melbourne brew? Lavazza, the brand ofthe Torino, Italian company founded in 1895. According to Boctor, no other business serves it in Los Angeles besides Eataly "and they're in Century City."
Even a drip coffee, like the one Boctor offers me gratis, is made differently at Miss Melbourne. "Depending on the grind, drip coffee is quite easy. You're actually having aFrench press drip, not something that's just put through a filter and that's dripping out of a machine. That's not true coffee."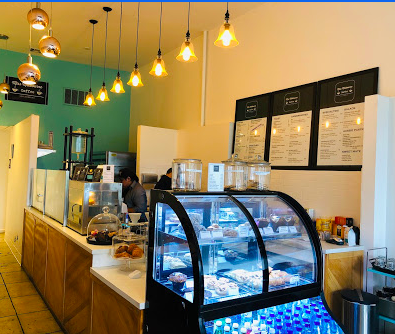 Take that, Starbucks and Coffee Bean.
Suddenly sliding into an Italian accent, Boctor discusses more complex beverages. "So when you go to your lattes, your cappuccinos, your piccolos, your restrettos…completely different. It's an even longer process."
They Came From Overseas
Boctor, his wife and three kids gave up their life in Melbourne to make their mark in the City of Angels. Currently renting in the Palazzo apartments near The Grove, Boctor says, "We'd been to LA two to three times a year. We were in negotiation on this property for probably a good six months before we arrived."
Yes, they had a plan. Boctor is dead serious about his business and he did his market research first. "We know that this area does very well with, not just along Santa Monica, all the way down to Olympic. It's a very good culture with coffee."
But as he has made clear, "not the best coffee." So WeHo's dearth of quality joe fueled Boctor's commercial dreams.
"We didn't necessarily want to be on the main strip of Santa Monica," he adds. "We wanted to start off small…off the main hustle and bustle." Just one storefront south of Marco's Trattoria on Havenhurst Drive, Boctor felt the location was "ideal."
He also "got it for a reasonable price … It was perfect for us."
But trekking across the largest ocean in the world to start a new life, with a family, is a big deal. So why? "The opportunities here are endless," Boctor said. "The travel bug that we have and the opportunities for our children are what brought us here."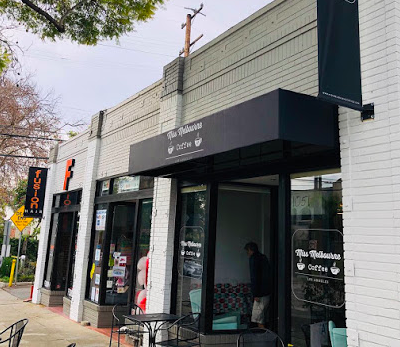 What is it about WeHo that appealed? "The people here are so friendly. You don't get that in Australia. And it's really an eye-opener. It's fantastic. We love West Hollywood."
In case you're curious about the business name, Mandy is a former Australian beauty queen. It has a nice ring to it and the whole business is a family affair. "My kids," Boctor adds, "they've reconstructed the logo a few times and this," pointing to the white silkscreened design on his black t-shirt, "is our current logo. So it's ready for Los Angeles."
Business Filtered in Right Away
Although Miss Melbourne Coffee has only been open since late January, a mere five months, Boctor says business has been good. And on the morning of our chat a steady stream of customers flowed in and out.
"People just warmed to us. I think, maybe…the Ozzie accent?" (Truth be told, Boctor's voice is rather captivating.)
They haven't done any significant marketing. With no dedicated website, they rely on Facebook, Instagram, Twitter and Yelp to build exposure, which seems to be having the desired effect.
Hemang S.'s Yelp review calls Miss Melbourne "adorable" and gives a shout out to the more customized brewing process Boctor wants Angelenos to crave: "I ordered a drip coffee and it was freshly brewed for me."
Boctor and Mandy also made physical improvements to the location formerly known as Black Bicycle Café. Customers noticed. Again, Boctor: "'Oh, you got new signage. Oh, hang on, your toilet's working now. Oh hang on, you've got A/C on.'"
"Customer service is the most important thing," he adds. "We want you to be comfortable. We want this to be like your second home."
Boctor's style may be working. Chris Phillips, a screenwriter and filmmaker who lives nearby, says, "I like that the people that work here are super friendly. It's very chill. It's not a lot of craziness like you get at the big gay Starbucks down on Santa Monica." (That would be the one across the street from 24 Hour Fitness.)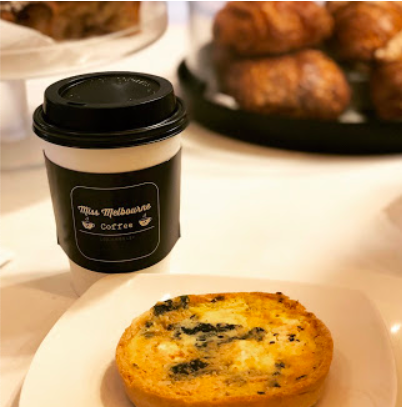 It may be surprising to hear what Boctor considers his biggest challenge in getting Miss Melbourne going: "Being accepted."
"I'm an Ozzie," he begins. "We sound different, look a little bit different. No, I'm just joking. But that was probably the biggest challenge."
"In Australia, a different story!" he says, emphatic. "It's very hard to be accepted in a lot of things. I love that about here. Everyone is accepted no matter what sex you are, no matter what way you look at life, no matter…anything. That's what I love."
Well, acceptance no longer seems to be his challenge. Working several hours each morning at the café, Boctor has made friends. "I know everyone by their first name. But they know me. I'm not just the Ozzie guy. I'm like their family now. And I love that. Because to me, family's everything."
Miss Melbourne's Future
Boctor speaks quickly and loudly. A geyser of energy, he describes himself as a "workaholic," a trait he says he inherited from his accountant-entrepreneur father. Naturally, he anticipates the course of our interview. "Now, this is probably one of your next questions: Where are we going?"
Do tell, Simon. "We want to be at five stores by the end of the year. We want to open up as many Miss Melbournes as we can in LA and then move on to Nevada, Arizona, New York. That's our aim. Eventually franchise."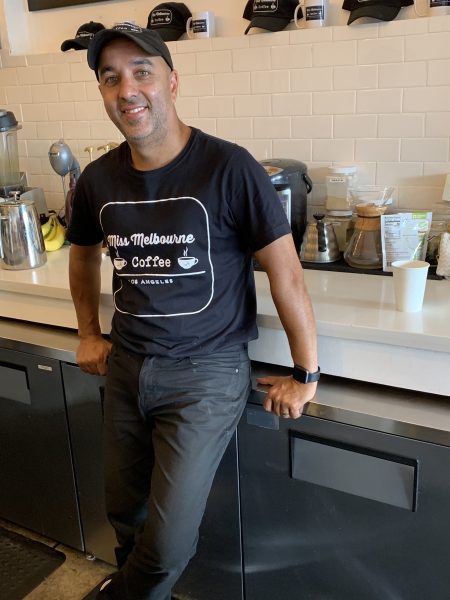 Already negotiating their "second location on Third Street opposite Cedars-Sinai," the process is going on three months now. "Every day the goal posts are changing," Boctor said, "and it's killing me. It's frustrating as."
"That's one thing, probably, the Australians have over the Americans. Stuff gets done very quickly in Australia."
"But then again," he reasons, "we have a small population. We have a small amount of people to deal with. Here you gotta deal with this permit and that permit, and this council, and this city, and oh my God…." Many of WeHo's small business owners might concur with such laments.
Concerned about Miss Melbourne's impending nationwide domination? Boctor wants to assure you."We're not here to come take over America. Far from it. But we want you to drink good coffee."
One cup at a time, I suggest. Boctor laughs. "Exactly right."
CONTACT INFO
Miss Melbourne Coffee
1051 N Havenhurst Dr.
West Hollywood, CA 90046
(310) 871-0653