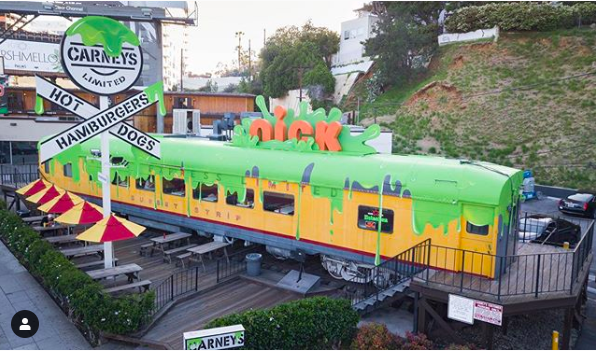 While it's known worldwide as the "Sunset Strip," some have speculated that that 1.5 mile stretch of West Hollywood's Sunset Boulevard will become known as the "Netflix Strip" now that the digital movie producer and distributor is taking over a rumored 35 billboards to promote its films.
But in the meantime, there is the "Slime Strip," a promotion by Nickelodeon that has involved covering Carney's restaurant at 8351 Sunset Blvd. with a flood of green paint that oozes over the roof and down the yellow sides of the iconic train car that houses the restaurant.
Carney's has been dripping with green paint since June 11 as part of a campaign called "Nickelodeon x Carney's." That campaign extends to the inside of the restaurant, where the menu now includes a chocolate-slime–dipped banana and a virtual sliming photo station where you can take an icky selfie.
NickAlive, a blog that celebrates Nickelodeon, reports that the slime campaign is part of an effort to celebrate the 20thanniversary of Nickelodeon's "SpongeBob SquarePants" show. The show takes place in the fictional undersea city called Bikini Bottom, which offers a comedic contrast to what some gay WeHoans might call Speedo Bottom. Rodger Bumpass, the voice actor for the Squidward character, recently visited Carney's. He will be seen playing a live-action version of Squidward on "SpongeBob's Big Birthday Blowout," an hour-long special that will be aired on July 12 at 7 p.m.
The slime will be gone after July 9.But if that's your kind of thing, you might consider a trip to Atlanta, where Nickelodeon has opened Slime City, the first-ever immersive slime experience. Or visit Walmart, which has also launched its own line of Nickelodeon Slime ice creams and popsicles.