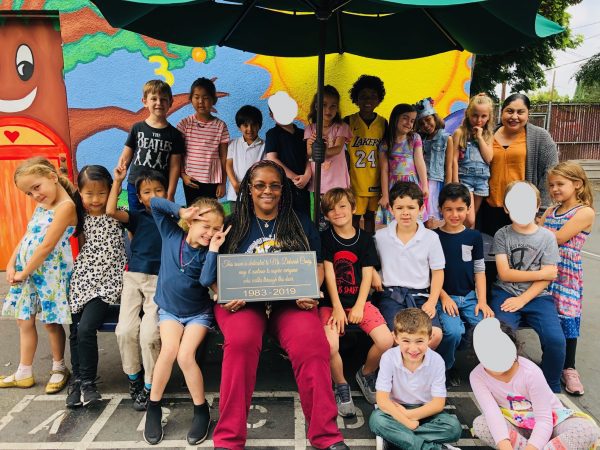 Deborah Craig came to West Hollywood Elementary School in 1983 and taught 3rd, 4th and 5th grade classes before landing in her coveted role as the school's kindergarten teachers. Now, after 36 years at West Hollywood Elementary, she has announced that she is retiring. To honor her, the school has dedicated her classroom to her with a plaque over the door that reads, "This room is dedicated to Ms. Deborah Craig, may it continue to inspire everyone who walks through this door 1983-2019." The City of West Hollywood also honored her for her years of service.
What better way to send her off than by having one of her former students, 5th grader Willa Cross, interview her about her time at WHE.
Willa Cross: What was your favorite type of student?
Deborah Craig: All students. The ones that get excited and enjoy learning.
Willa Cross: What did you like teaching the best at school?
Deborah Craig: In kindergarten, social studies/ history. It is the same with any grade.
Willa Cross: What advice would you give the next kindergarten teacher?
Deborah Craig: Be patient. It takes time.
Willa Cross: What farewells do you want to say to your coworkers?
Deborah Craig: I would just say good luck next year! Continue to work together. Don't get discouraged and enjoy your students. I have enjoyed working with all of you, you are like family. I hope to see you soon.
Willa Cross: What were some of your best memories at West Hollywood Elementary?
Deborah Craig: That's a tough one. Some memories the newer teachers won't understand. When I first came here everyone was welcoming. I hadn't been assigned a classroom and got to look around, which was very helpful.
Willa Cross: What is your favorite room or area at the school?
Deborah Craig: My favorite room is my own room, Room 5. Besides my own room, probably the staff room, because we all get together and talk.
Willa Cross: What are your fondest memories of West Hollywood Elementary?
Deborah Craig: I would have to say the annual Halloween parade. It's always so much fun watching both students and my fellow teachers and teacher's assistant's dress up and participate in the parade.
I also will never forget the 100th anniversary of our school in 2010. It was truly an amazing day. I truly enjoyed learning about the school's history. My kindergarten class at the time was fascinated with the entire day.