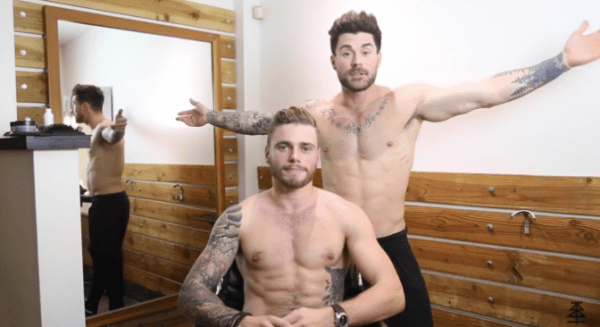 AIDS/LifeCycle lists two West Hollywood residents as among the top 10 fundraisers for this year's charity event.
They are Gus Kenworthy, who has raised $224,065 — the largest amount raised by a single person in the charity event's 26-year history, and Kyle Krieger, who ranks sixth among the top 10 fundraisers, having raised $56,026.
Kenworthy, 26, is a freestyle skier from Telluride, Col., who won the silver medal in men's slopestyle at the 2014 Winter Olympics in Sochi, Russia. Kenworthy also competed in slopestyle at the 2018 Winter Olympics in Pyeonchang, Korea, where he finished in 12th place. He has been a guest star on "Snatch Game of Love," the third episode of the fourth season of RuPaul's Drag Race. In 2017, Kenworthy appeared on the MTV series "The Challenge: Champs vs. Pros," which featured former competitors as well as professional athletes.
In a post on the AIDS/LifeCycle website, Kenworthy says "the ride is 545 miles long over the course of six days which, to put that number in context, is 545 miles more than I've ever ridden before. To be completely honest my experience is limited to a Soul Cycle class a few years ago and one short bike ride a few weeks ago to capture images for my fundraising efforts… Needless to say I'm in way over my head!"
Kenworthy came out as gay in 2015 in an interview on ESPN. He got worldwide attention when he kissed his boyfriend, Matthew Wilkas, before his qualifying run in the men's slopestyle during 2018 Winter Olympics in Pyeongchang – a kiss that was broadcast live.
Krieger, 35, is celebrity hairstylist and an Instagram celebrity with nearly two million followers and is known as Kyle Krieger Hair on YouTube and Instagram. His clients have included YouTube stars like Tyler Oakley. He also is one of the few social media stars invited to the White House by President Barack Obama.  His short film "Boyfriend" screened at London's BFI Flair Film Festival. Krieger also is known for disclosing his struggles with drug addiction in the past.
AIDS/LifeCycle announced yesterday that participants had raised more than $16.7 million—the highest fundraising amount in the history of the event—to support San Francisco AIDS Foundation and the HIV/AIDS-related services of the Los Angeles LGBT Center. AIDS/LifeCycle is the world's largest single event HIV/AIDS fundraiser. More than 2,200 cyclists pedaled out of Cow Palace in San Francisco yesterday on the 26th year of riding to end AIDS with more than 650 volunteer "roadies" supporting them during the seven-day, 545-mile journey.
Cyclists are expected to cross the finish line at Fairfax High School as early as 11 a.m. The riders will be headed north on Doheny Drive and then will turn right on Santa Monica Boulevard in West Hollywood. They will continue along Santa Monica until they reach North Ogden Drive, at which point they will turn right and head towards Fairfax High School.